'I'd call him a B-grade actor' – Matthew Hayden recalls sledging Shoaib Akhtar in 2002 Sharjah Test
Hayden got under Akhtar's skin in all possible ways in that game.
Updated - Aug 10, 2020 3:11 pm
515 Views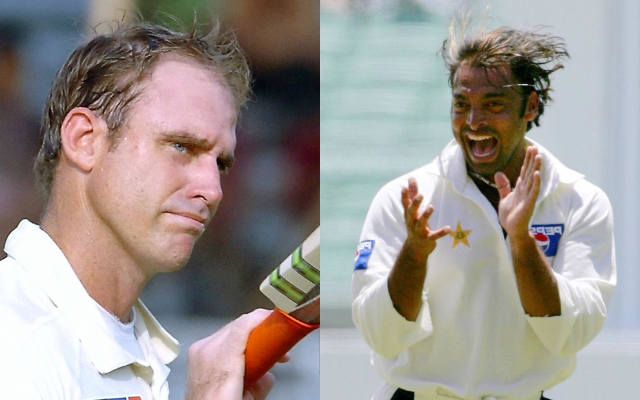 Follow us on Google News
Former Australian cricketer and commentator Matthew Hayden was known for his powerful and aggressive batting during his cricketing days. He entertained cricket fans for 15 years with his ability to score quick runs in all formats. Hayden is no stranger to sledging his opponents.
The Australian cricket team of the 2000s was probably among the strongest the world had ever seen. Barring their excellent on-field play, they were also famous for their sledging. A team with various strong characters gave no respite to their opponents. Hayden recently recalled an incident from the 2002 Sharjah Test where he played mind games to rattle 'Rawalpindi Express' Shoaib Akhtar.
Matthews Hayden reveals how he frustrated Shoaib Akhtar
"Someone like Akhtar for example, I'd call him 'B-grade actor' for a start, which used to get under his skin a bit," Hayden said on The Grade Cricketer podcast.
"We were playing in Sharjah and it was 58 degrees out in the middle and Akhtar, when we walked out, said, 'I'm going to kill you today' in a whole lot more colourful language. And I said, 'Mate, that's terrific, you know I'm looking forward to that challenge' in a lot more colourful language."
"So I said, 'But here's the thing, Dumbo. You've got 18 balls to do it'," he added.
Hayden further used Indian umpire to get under Akhtar's skin
He said this in the context that the conditions were very warm and as a fast bowler, it was almost impossible to last long. The left-handed opener just did not sledge Akhtar but also used Indian umpire Srinivasaraghavan Venkataraghavan in getting under the pacer's skin.
"I go right, how can I get Shoaib looking like an absolute goose and how can I tell Venkat about this? Now India and Pakistan, there's no love lost there, so I thought that's my point (of leverage)," Hayden said.
He kept pulling out when the Pakistani speedster ran into bowl. He also believed that the umpire was not going to give him LBW and the only way Akhtar could dismiss him was by getting him bowled as the pitch was an absolute Bunsen Burner.
"So as Shoaib's running into bowl and he's cursing every profanity under the sun at me, I get to his bowling mark as I'm counting down his balls from one to 18. He gets to his delivery stride and I pull out. He runs at me going, 'What's the problem?', I said, 'I've got a problem'. I storm up to Venkat and say, 'I give everything on the game, I deserve everything I get, but within the protocols and etiquette of the game, surely you can't be running in and abusing someone'."
"I think the only way that Shoaib is going to get me out here, is bowled — because Venkat's definitely not going to give me LBW and I'm not going to get caught behind because this thing (the pitch) was an absolute Bunsen burner. It wasn't bouncing more than a centimetre," Hayden added.
"So all I had to do was stand my ground and that was it. He (Akhtar) got through his 18 balls and he collapsed at the end of it. And of course, I take the opportunity to get my (fresh pair of) gloves I didn't need and just go up to Shoaib and said, 'You want to go off, don't you?'
"And he says no. And I say, 'Mate, come on. There are no heroes in Test cricket. David Boon once said that to me. It's hot and I know you're busted. Just go off, I promise I won't think any worse of you'.
"Anyway, he called old mate on and he's gone off and he didn't participate in the rest of the Test match," Hayden concluded.
Some of the facts the Aussie revealed in this incident do not add up. In the only Test that Akhtar played Hayden in Sharjah, he bowled 14 overs and picked up one wicket. However, Australia went on to win that match by an innings and 198 runs while the opener scored a century.
Follow us on Telegram