If Wasim Akram had asked me to do match-fixing, I would have killed him: Shoaib Akhtar
He recalled the times when he played with Wasim Akram.
Updated - Apr 21, 2020 1:47 pm
7.4K Views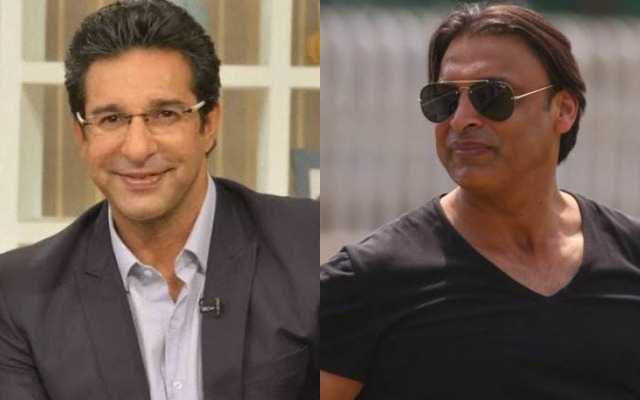 Follow us on Google News
Shoaib Akhtar is rated as one of the finest quick bowlers in the history of international cricket. He played alongside some of the finest bowlers during his career and one of them was Wasim Akram. Praising his former skipper he has said that it was amazing to watch Wasim Akram winning games for Pakistan from critical situations.
Akhtar was known for his quick bowling that used to create problems for every batsman on the crease. His high arm bowling action used to help him in reaping out more pace and bounce from the wicket in comparison to other bowlers of his time. He still holds the record for bowling the fastest delivery in the history of cricket.
In a local television show, Shoaib Akhtar said that he was watching games from the '90s in which Wasim Akram brilliantly won the impossible-looking games for Pakistan. In the meantime, the 44-year-old also added that if the former Pakistan skipper would have asked him for match-fixing then he would have killed him. However, the swing of Sultan never asked him to do so according to Rawalpindi Express.
"I was watching few matches of the 1990s and I was amazed to see how Wasim Akram got Pakistan through impossible situations with his brilliant bowling. I will say it very clear that if Wasim Akram had asked me to do match-fixing, I would have destroyed him or even kill him. But he never said such a thing to me," Shoaib Akhtar said as quoted by The Tribune Pakistan.
Shoaib Akhtar describes the greatness of Wasim Akram
Shoaib Akhtar recited that he played with Wasim Akram for about seven or eight years. As per him, there were many instances when the former Pakistan skipper came out in his defence while he was struggling with poor form. But he never appreciated his greatness. The 44-year-old former pacer said that after watching the old games, he called Wasim Akram and apologized for the same.
"I played with him for seven to eight years and I can quote many instances where he gave me cover by taking the responsibility of picking up the top-order wickets while leaving the tailenders for me. He even let me bowl from my preferred bowling even though he had a lot more wickets that I did. After watching these old matches, I called him and apologised to for not truly appreciating his greatness while playing with him," he added.
Follow us on Telegram