In the future, The Hundred will be the vehicle that fine-tunes emerging talents: Eoin Morgan
The second edition of the Hundred commences from the 3rd of August.
Updated - Jul 31, 2022 11:13 am
280 Views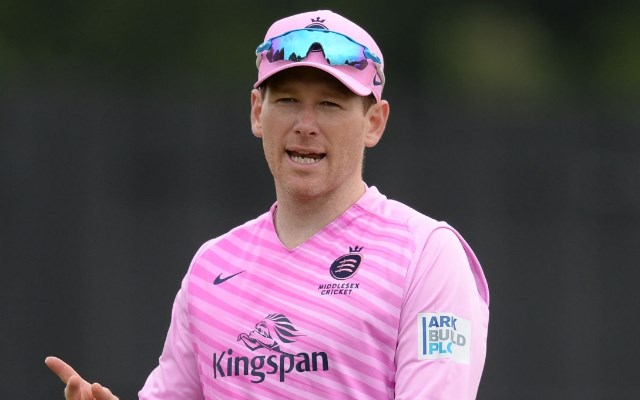 Follow us on Google News
Former England skipper Eoin Morgan, who retired from international cricket after England toured the Netherlands, is a firm believer in the country's recently incepted franchise cricket tournament, The Hundred. With the second edition less than a week away, the Englishman revealed that the controversial tournament has the potential to strengthen English cricket.
Morgan, who will lead the London Spirits in the upcoming edition, donned the role of a commentator since his retirement from international duties in June. Although England has had a successful T20 tournament in the form of the T20 Blast, which has been in place since 2003, Morgan believes that The Hundred will be essential in preserving the cream of the next generation of talents in the country.
The Irish-born cricketer also stated that he has advocated players plying their trade in foreign leagues and tournaments but believes that with the advent of The Hundred last year, they no longer need to follow the same route with such great competition in the country itself.
"For the majority of my career, I've been a huge advocate for players going abroad and playing in big tournaments and taking on different roles, either as one of the senior players within the group or one of a number of overseas players within a team. There's a different level of expectation around that. But when we have such a good tournament at home now, there's no reason for that to happen in the same way. We're very, very lucky the Hundred has been the success it has, so we can develop the product and have the players involved." Morgan said in a chat with ESPNCricinfo.
Strong domestic tournaments produce is your domestic heroes: Eoin Morgan
One of the biggest impacts of the newly incepted tournament was the resurgence of Liam Livingstone on the international stage, who had featured in just two games for the England team before 2021. Morgan hailed the impact of the tournament and stated that domestic competitions always produce domestic heroes. He sighted the example of Chris Lynn, who hasn't had the same success for the Australian team as he did with Brisbane Heat in the BBL but is a heroic figure in the land for his batting prowess in the Big Bash.
"I think the one thing that strong domestic tournaments produce is your domestic heroes. You normally only experience it when you play international cricket, but tournaments like the Big Bash have produced Chris Lynn. He is a magnificent domestic player – international cricket hasn't worked out for him – but when he walks around Australia, he's a massive hero. People know exactly what he does and how he does it," the 2019 World Cup-winning skipper added.
Follow us on Telegram