IND vs AUS: A beautifully flighted delivery from Kuldeep Yadav bamboozles Peter Handscomb
Kuldeep proved just too tough to read for the Aussie batsmen.
Updated - Mar 2, 2019 5:21 pm
3K Views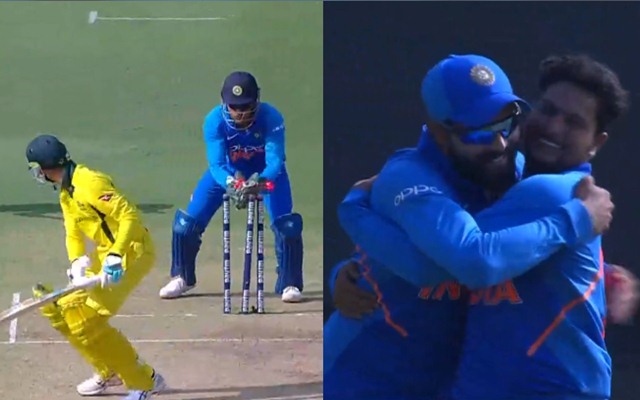 The first ODI between India and Australia that is being played in Hyderabad seems to be inclining in the favour of the home team. Choosing to bat first after winning the toss, the Australian team put itself in a tough spot as they struggled to deal well against the Indian bowlers. The track had a slight swing on offer early in the innings and there is a lot of assistance for the spinners. Kuldeep Yadav, who was benched during the T20I series, made his way back into the eleven.
Replacing his spin twin Yuzvendra Chahal, Yadav made an impact straight away. The chinaman bowled beautiful lines and lengths and often outfoxed the batsmen with his variations. The wicket of Peter Handscomb that he picked in the 30th over of the game is a wrist spinner's delight.
Flight and spin – Everything on point
In his sixth over of the innings, Kuldeep was hit for a four off the first ball by Glenn Maxwell. The next delivery was a dot and then the batsman picked up a single rotating the strike. Then came the brilliant act from the bowler. The fourth ball was bowled at 71.1kph and was his stock leg-spinner. After defending that delivery, Handscomb had to deal with a shorter ball which he pushed towards the bowler again.
The last ball of the over was yet again a slower ball at 73.9kph. Kuldeep set the batsman up by flighting the ball, given it a lot of revs. Since it was bowled outside the off-stump, Handscomb quickly tried to dance down the track and sneak a single in. However, he failed to get to the pitch of the ball as it dipped on him and turned. Thus, it missed the inside edge of the bat.
One cannot escape after he missing the ball on the front foot with MS Dhoni behind the stumps. It was one of the easiest stumpings for the former skipper.
Here is the video of the stumping:
— DRV (@OyePKMKB) March 2, 2019