India in no danger of losing hosting rights for WC 2023: ICC CEO
"We've still got a lot of time."
Updated - Jan 31, 2019 6:53 pm
5.5K Views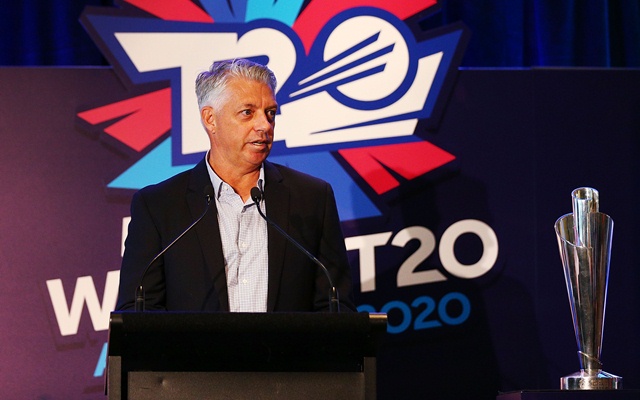 Follow us on Telegram
India is arguably the biggest powerhouse of cricket in this era and the International Cricket Council (ICC) has said that it is in no danger of losing the hosting rights for the World Cup in 2023. ICC CEO Dave Richardson made the announcement on Thursday and buried the speculation that the mega-event, India is set to organise in the next decade, could be jeopardised owing to tax exemption issues.
The Government of India had refused to grant tax exemptions to the cricket's international body when India hosted the 2016 World T20 at which the latter had asked the Indian cricket board to either pay USD 23 million (Rs 161 crore) as compensation or lose the hosting rights of the 2023 edition of the quadrennial event. It will be the fourth time the WC will be hosted in the sub-continent although this time only India is going to organise it, unlike in 1987, 1996 and 2011.
'Tax exemptions important for the interest of cricket'
"Getting tax exemptions is very important for world cricket because every cent that is made by the ICC revenue wise is put back into the game. This helps countries like the West Indies who don't generate as much revenue," said Richardson at an event to announce a five-year partnership with Coco-Cola.
"But having said that there are no plans of taking away the hosting (from India) and I'm sure we will get it (exemption) in the end, we've still got a lot of time."
India is perhaps the biggest draw in international cricket not only for its cricketing skills but also commercial offerings. Richardson also said that India and Pakistan were not meeting in the group stages of the 2020 World T20 (in Australia) the schedule of which was unveiled recently.
He said the groups were decided on the basis of rankings and there was no credible way to make the two arch-rivals meet each other before the semis. This will be the first time since 2011 that India and Pakistan won't meet in the group stages.
Follow us on Google News