India in World T20 2014: A full assessment
Updated - Apr 7, 2014 8:11 am
48 Views
The fifth edition of the T20 cricket world cup ended with Sri Lanka finally breaking their 'final jinx' by beating traditional rivals India on 6th April'14. Leaving aside,the nightmarish final,India seemed brilliant on the field. Here's the individual assessment for all the Indian players:
1. Virat Kohli: 10/10 The only player in the tournament to have hit 4 half-centuries. His ability to assess the conditions and playing as per the situation were one of the main reasons that India progressed to the final. With 319 runs from 6 innings at an astonishing average of over 100, he undoubted gets a 10 on 10.
2. Ravichandran Ashwin: 9.5/10 He,once again proved the reasons behind Dhoni's faith on him. 11 wickets in 6 matches @ 11.16 is a record to show-off in any format of the game and add to it, an economy rate of under 6 in T20, anybody would rate him 10. But considering the number of wickets other slower bowlers got, 11 seems quite less. He gets 9 out of 10 and a 0.5 more for the carrom ball doosra that bamboozled Hashim Amla.
3. Rohit Sharma: 9/10 Came into the tournament in the midst of criticism. Looked in full flow after the warm-up matches scoring 2 half-centuries and providing starts in the rest,he made 200 runs in 6 matches at an average of more than 40.Provided the starts he got and the mode of his dismissals, he gets 9/10 for throwing away his wicket at crucial junctures.His knock in the final could have been crucial but a rash shot became the reason of his demise again.
4. Amit Mishra: 8/10 India went into the finals with strong bowling performances and this man was one of the sole reasons. With 9 wickets in the 4 matches with his flight,spin and variations, he looked all set to get India the coveted trophy but a dismal show(2 wickets at an economy of over 8) in the knock-out stage led India's dismay. He gets 8 on 10 for his clinical show in the group stage matches.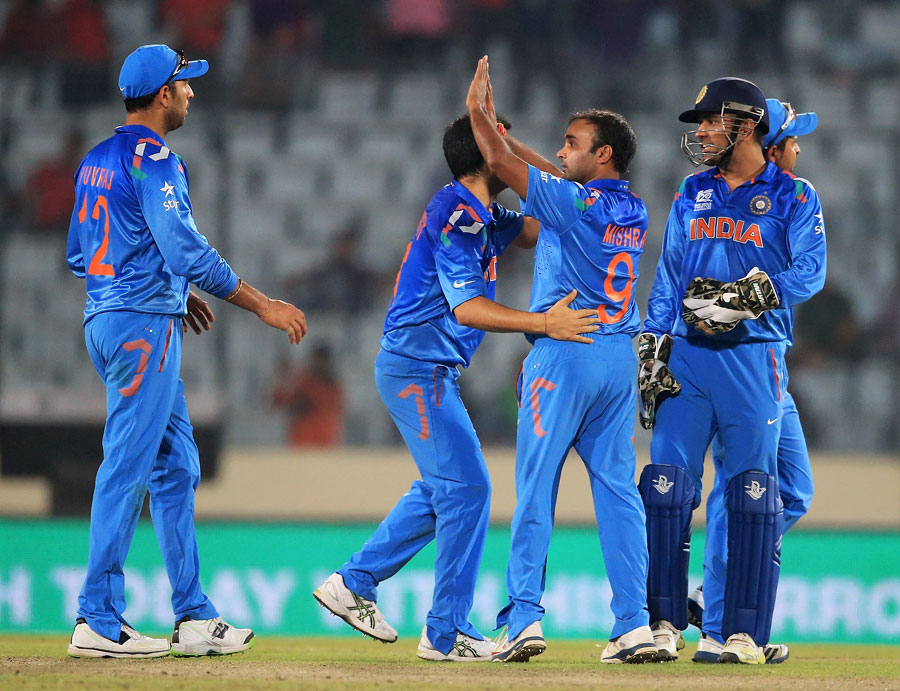 5. Mahendra Singh Dhoni: 6/10 With 50 runs in the 4 innings that he played and remained unbeaten in 3 of them,he surely did not set an example like a captain should. His repeated ignorance to come up the order ahead of Yuvraj and Raina was ultimately the reason for India's loss in the finale. He gets 2/10 for his batting while he gets an additional 4 for leading his bowlers well on the field.
6. Suresh Raina: 6/10 Looked in good nick whenever he batted but hardly got a chance to build an innings. He became Dhoni's go-to man for chipping in the 2-3 overs in the middle. With just around 60 runs in 4 innings at an average of 31 and 2 wickets to show,he gets 6 on 10,also considering his brilliance on the field.
7. Yuvraj Singh: 5/10 India's world cup hero who became the culprit of India's loss in the final for taking too much of time to settle in. He looked unsettled throughout the tournament with the exception of the 60 against the Australians,the only game that he looked comfortable in. Lacked match- practice before coming into this big tournament and the rustiness showed in his strokes. He gets 5 on 10.
8. Mohit Sharma: 7/10 A revelation for team India with the new ball. A CSK find in the IPL, MSD kept faith in his abilities to replace the over-burdened Shami with him in the later part of the tournament. He got the ball to do it's bit at a brisk pa e getting India,an early breakthrough every time.
9. Bhuvneswar Kumar: 6/10 Bowled his heart out on pitches that didn't support swing,his main weapon. He went back to accuracy and variations to keep his economy under 6 and also came up with 4 wickets.
10. Ravindra Jadeja: 4/10 India's only spinner who failed to make a mark in the tournament. Failed to stop the run flow and was even unable to take wickets. With just 5 wickets from 6 innings at an economy of over 7,he didnt look the bowler,one expected him to be. His fielding often impressed the spectators and the commentators, and hence he gets 4 on 10.
11. Ajinkya Rahane: 4/10 Looked sublime in each of the 3 matches he played,before being dismissed softly. Replaced the struggling Dhawan but couldn't make much of the opportunities with just 54 runs to show at an average of 18.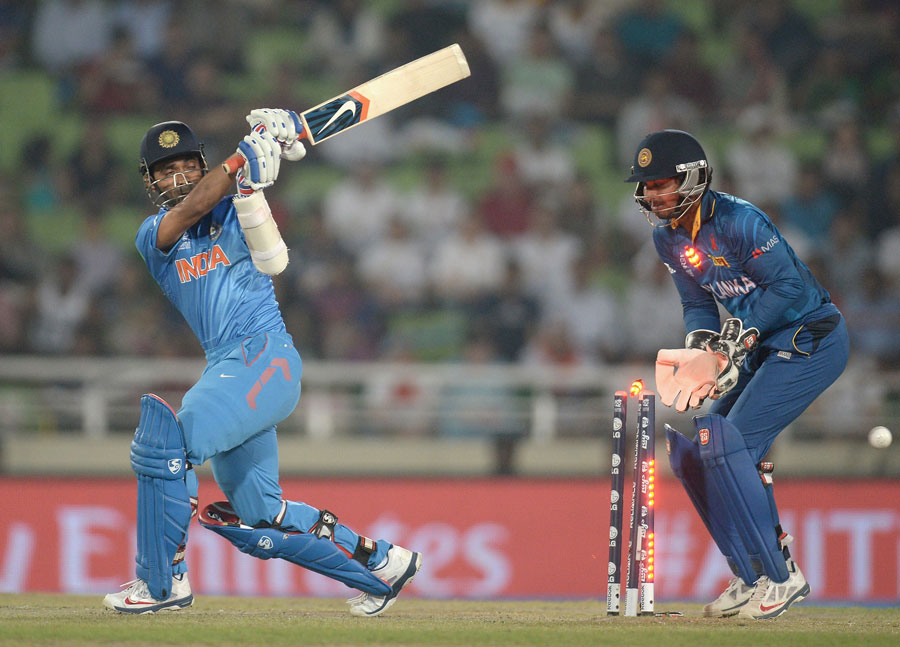 12. Shikhar Dhawan: 2/10 The captain of the IPL franchise Sun Risers Hyderabad failed to get going and was ultimately ousted out of the playing XI after hardly looking himself in the 3 group matches with just 31 runs to show.
13. Mohammad Shami: 2/10 Looked over-burdened and mentally unfit because of the hectic international schedule in the past few months. Was replaced with Mohit Sharma for the last 3 matches who played exceptionally well,further dampening his chances to make it into the final XI. With 2 wickets in 3 matches at an economy of over 8,he definitely didn't look like the bowler he is.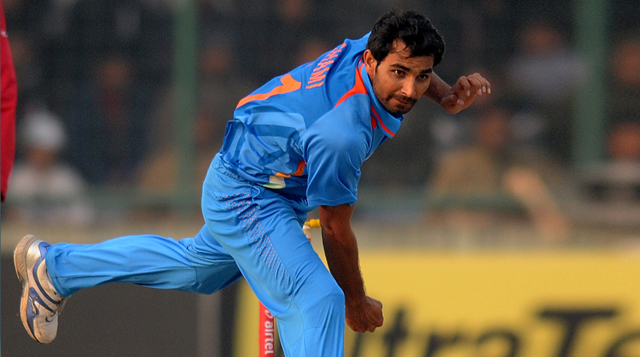 Note: Ishwar Pandey,Stuart Binny and Varun Aaron didn't get a single match in the tournament and hence,not mentioned above.
Follow us on Google News