India looking to use KL Rahul as a full-time wicketkeeper, hints Virat Kohli
Rahul has the experience of keeping wickets as he kept wickets for Karnataka in the Vijay Hazare Trophy and Syed Mushtaq Ali Trophy.
Updated - Jan 20, 2020 3:11 pm
4.9K Views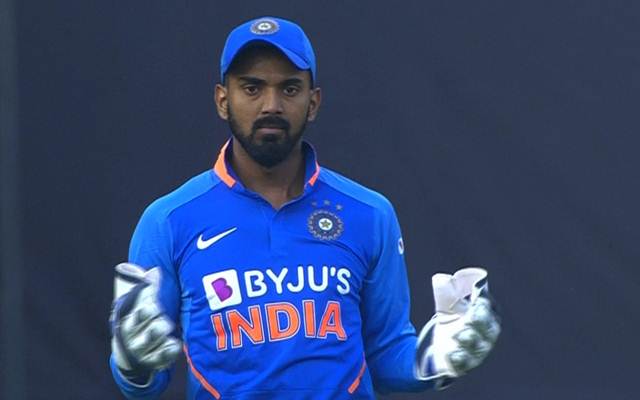 Follow us on Telegram
India concluded the Three match series by defeating Australia 2-1 in Bangalore yesterday. Rohit Sharma struck 119 off 128 balls, while Kohli contributed with 89 of 91 balls. The finishing touches were given by Shreyas Iyer as he scored 44 of 35 balls to give India the win. Earlier Steve Smith scored a 131 off 132 to balls to reach Australia to a total of 286 runs.
There have been constant batting order changes which took place during this ODI series. There weren't any fixed positions for the batsmen. Virat Kohli tried to bat at No.4 but failed to score big. KL Rahul was used as a floater in all the 3 games. KL Rahul now has an added skill in his artillery, and that is wicketkeeping.
KL Rahul predominantly was used as a wicketkeeper when Rishabh Pant was out due to a concussion in the first ODI. Rahul kept wickets for the team in all the three matches. Virat Kohli was impressed by his keeping skills. The Indian skipper even tried to cheer up the crowd when Rahul missed a stumping and the crowd started to chanting MS Dhoni's name.
Kohli even mentioned a reference where Rahul Dravid donned the gloves back in 2003, to provide the team stability to add one extra batsman. "If you look at the 2003 World Cup where Rahul Bhai started keeping, the balance became different because you could play an extra batter and guys at the top could really play positive cricket, " Kohli said after the post-match briefing as quoted by IndiaToday.
Will India Persist with KL Rahul as their wicketkeeper?
KL Rahul did a fine job behind the stumps in this series. Rahul has the experience of keeping wickets as he kept wickets for Karnataka in the Vijay Hazare Trophy and Syed Mushtaq Ali Trophy. He was calm and composed behind the stumps as compared to Rishabh Pant who seemed to be more excited. If we compare their batting, Rahul has the flexibility to bat anywhere in the top 5.
"He can open the innings; he can bat at No.4 or No.5 depending on the situation. He is very open to playing anywhere because he is a proper batsman who can do you any good in any format and at any position in the game," Kohli said on KL Rahul performing multiple roles. Rahul showed his flexibility when he smashed 80 off 52 balls in the second ODI, batting at No.5, to take India's score to 341.
When Kohli was asked whether Rishabh Pant, Sanju Samson and probably were pushed down the order to keep wickets, he said, "That is a spicy question as he laughs. Rahul provides us batting stability at No.5. We have seen how destructive player he can be. He has come into the slot and maybe we shall stick with him for the time being and not get confused regarding the options that we have.
Rishabh Pant, no doubt is an excellent player but in comparison to Rahul, he needs to be calmer and more composed. It will be interesting to see whether India stick to this same combination or they chop and change to make way for Rishabh Pant.
Watch: Irfan Pathan's interview post his retirement
Follow us on Google News