India picking Shardul Thakur over Mohammed Shami in 2nd ODI against New Zealand leaves Twitter baffled
India allowed the Black Caps to reach 273 for 8 in 50 overs despite having them at 197 for 8 in the 44th over.
Updated - Feb 8, 2020 5:24 pm
27K Views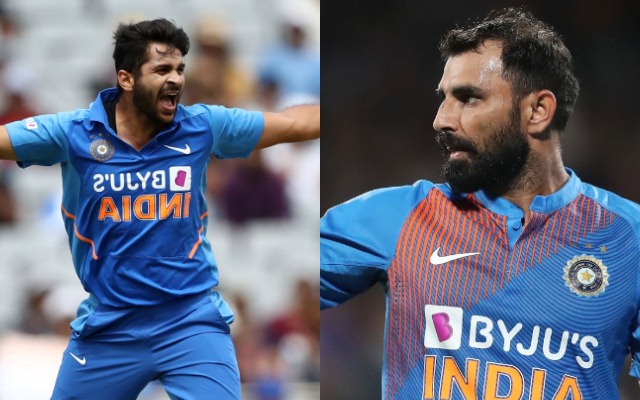 Follow us on Telegram
India's decision to play Shardul Thakur and not Mohammed Shami in the second ODI against New Zealand has sparked a debate on Twitter. While the experts and supporters expected that the Virat Kohli-led think tank would pick Navdeep Saini in the place of Thakur after the latter proved to be too expensive in the first match in Hamilton, he was eventually chosen to replace Shami, who has been in a good momentum. The social media went abuzz whether India fielded their best team in a game that they had to win to keep the three-match series alive.
Kohli said at the toss that Shami was rested for the match keeping in mind the upcoming Test series. The 29-year-old is one of India's potent weapons in the long format and he is being used judiciously to prevent an early burn-out. But senior cricketers like Harbhajan Singh were not convinced with the decision.
Shardul Thakur scalped two wickets in the 2nd ODI
On the other hand, Thakur was tossed the ball to open the bowling innings in Auckland and he ended up with 2 for 60 in 10 overs. India made another change in their playing XI and it was picking Yuzvendra Chahal in the place of Kuldeep Yadav who also proved to be expensive in the first match. Chahal, who played in an ODI after six months, picked up three wickets for 58 runs.
In batting, Shardul failed to impress as he fell for only 18 off 15 balls and despite playing some good shots. But Saini, who made his international debut only in December, scored a counter-attacking 45 in only 49 balls to add 76 runs with Ravindra Jadeja for the eighth wicket.
India allowed the Black Caps to reach 273 for 8 in 50 overs despite having them at 197 for 8 in the 44th over. An unbeaten 76-run partnership between Ross Taylor (73 not out) and debutant Kylie Jamieson (25 not out) took them the challenging total.
The Twitterati at once found it disappointing and reactions started pouring in thick and fast. One user on the social media platform even said that India would never win a World Cup under the captaincy of Kohli because of the team they select.
Here are a few reactions:
Just switched on the tv and saw that they dropped Shami instead of Shardul to play Saini. This team ain't gonna win any world cup ever. Especially under Virat Kohli. Note it

— Vαιbhαv (@beardpencoffee) February 8, 2020
Pm and Hm reaction after Kohli selected Shardul Thakur over Shami.#shami#INDvsNZ#NZvIND pic.twitter.com/tWkdV6wSCI

— thesarcastic1 (@edwinthegreat22) February 8, 2020
People's reactions after Virat Kohli select Shardul Thakur over Shami #INDvsNZ pic.twitter.com/TITKm726y9

— NavedMalik🇮🇳 (@Navedkhanmalik1) February 8, 2020
#shami no shami in Indian lineup… What is virat kohli thinking..

Reaction from fans #ShardulThakur #Shamiexcluded in #INDvsNZ 2nd ODI #ViratKohli foolishness pic.twitter.com/HK242EsP0l

— Sir Ravinder Jadeja (@SirJadeja7) February 8, 2020
Well Virat Kohli I thought is madly in love with Anushka Sharma only but no looks like he loves #shardulthakur equally #IndNZ

— Sunil Shenoy (@sunil_shenoy) February 8, 2020
Breaking : Virat Kohli said that he will celebrate this year's Valentine's Day with Shardul Thakur 💕 #NZvIND #NZvsIND #ShardulThakur pic.twitter.com/bv6bfRLy1I

— Come On India 🙏🇮🇳 (@madam_jadeja) February 8, 2020
Virat Kohli to Shardul Thakur 😑 #NZvsIND #NZvIND #ShardulThakur pic.twitter.com/sKUEzjFCIo

— Come On India 🙏🇮🇳 (@madam_jadeja) February 8, 2020
Shardul Thakur is so lucky coz Kohli likes him for his batting..that's why he is giving him chances even after getting smashed all around the ground..perhaps they should use him as all-rounder who could bowl 5/6 ovrs instead of asking him to bowl 10 overs #NZvIND #ShardulThakur

— Sakthi (@Sakthi79499123) February 8, 2020
So, the premise to select #ShardulThakur above #NavdeepSaini was his batting… 🧐#TeamIndia management.. Do you have any clue about your player capabilities? 🤔#INDvNZ #INDvsNZ #NZvIND #NZvsIND pic.twitter.com/S5PeBYe4WE

— Cricket Fanatic🏏 (@ACricfanatic) February 8, 2020
Shardul Thakur wahi banda hain jiske parents bolte hain

"Beta bowing me kuch nhi rakha batting sikh le bahot Scope hain" #ShardulThakur #NZvIND #NZvsIND

— Naseem Akram نسیم اکرم (@naseemakram100) February 8, 2020
I really wanted to tell this as I have been watching this now for a long time. Shardul Thakur is a proper batsman and he is more confident of all. Sir Ravindra jadeja always proves his selection in team by giving 100% effort.#INDvsNZ #NZvIND #jadeja #ShardulThakur

— Rohit mali (@rohitknowsu2) February 8, 2020
#ShardulThakur gives the impression of hope & despair in equal measure, former with his batting & latter with his bowling. #INDvsNZ #NZvsIND

— Ansuman Rath 🇮🇳 (@_AnsumanRath) February 8, 2020
Solid jack hai bande ka k basics skills hone par bhi playing 11 mein hai. Where is shaami, #shardulthakur

— Sachin Chandra (@iSachin_chandra) February 8, 2020
#NZvsIND
Jo Jo shardul thakur ko troll Kar Raha hai remember that he is bowling better than hardik and can hit big as well !!
He is a wicket taker and a bit expensive which is okay I think!!#shardulthakur #thakur #AskStar #AskTheExpert @StarSportsIndia @cricbuzz

— NIKAI ROY (@NikaiRoy777) February 8, 2020
#shardulthakur he zz type of bowler Who can take wickts by giving runs..one bowler need to like that bcoz when they loft fr shots they misjudge n get caught out…. A Bowler who risk giving lofting shots fr a wicket 👍

— Rony … (@Chay_Dq) February 8, 2020
yo #ViratKohli r u nuts,
who bowls last ovrs frm #shardulthakur
u shud hav compltd his spell earlier.
poor captaincy…😑#NZvsIND #INDvsNZ #INDvNZ

— subin (@Being_Subin) February 8, 2020
@imShard kyu khilana hai bar bar isko! He gets wicket only when batsman hit his ball. @imVkohli Please bring dube atleast. #ShardulThakur #INDvsNZ https://t.co/Qw2Yq6zx79

— AR (@ARathore06) February 8, 2020
#INDvsNZ
I say enuff of #ShardulThakur.
More than an extended run.
He just doesn't have that #XFactor.

— Reddy S C 🇮🇳 (@reds66s) February 8, 2020
#shardulthakur to NZ batsman – mere tharaf se ek boundary/over muft me lelo, Par wicket Muje hi dedo 😂 #NZvsIND

— Game on (@Gameon7285) February 8, 2020
Follow us on Google News