India vs Australia: Twitter unhappy over Shikhar Dhawan's golden duck
The fans were quite disappointed with the opener's drought with the bat.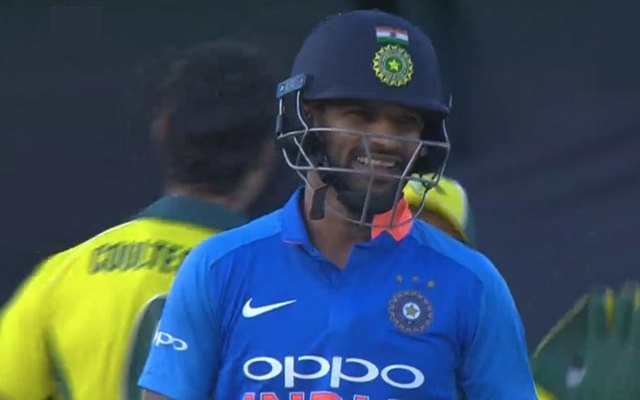 Follow us on Google News
The first One Day International between India and Australia kickstarted at the Rajiv Gandhi International stadium in Hyderabad. Australia. After winning the T20I series 2-nil, the visitors began in style winning their third consecutive toss on the trot. Skipper Aaron Finch elected to bat first as Australia were off to a poor start. 
Usman Khawaja scored a fifty to rescue the Men in Yellow after a slow start. Glenn Maxwell looked good again but had his stumps knocked down by Mohammed Shami who seemed in some extraordinary form. Alex Carey and Nathan Coulter-Nile provided the finishing touch as Australia managed to post a total of 236/7 on the board.
As for India, Shikhar Dhawan continued his poor run in the ODIs. The opener was dismissed for a golden duck. As usual, Dhawan walked back to the pavilion with a cheeky smile on his face. Known for his big knocks at the top order, the Delhi lad hasn't been able to replicate the same ever since the Asia Cup.
While the left-hander did score a couple of half-centuries in New Zealand, he hasn't been anywhere near his best. With the series being India's last assignment before the World Cup, it may be worrying signs for the Men in Blue. However, the positive aspect is that Dhawan has been renowned for his batting in ICC tournaments. He was India's leading run scorer in the previous World Cup as well as the Champions Trophy in 2013 and 2017.
The fans were quite disappointed with the opener's drought with the bat. Moreover, his smile even after getting dismissed irked many. Many felt that Dhawan should be wary of displaying such a reckless attitude. While some feared he may get dropped for KL Rahul, others were of the opinion that he will prove his worth in the upcoming games.
Here are some of the Twitter reactions based on Dhawan's golden duck:
KL Rahul would be the happiest watching Dhawan's form right now#INDvAUS

— Sourav Kundu (@babai_1997) March 2, 2019
Badtameez Dhawan was laughing after getting out on first ball. 😡😡 #INDvAUS

— Faad Dunga BC (@naalaYUCK) March 2, 2019
I literally abused Dhawan for laughing after dropping that catch in Edgbaston test… He did the same today. Which player laughs after golden duck? 😒
Thora to idhar udhar Dekh lo shameless.#INDvAUS

— Akshay Sharma (@akshaypasu) March 2, 2019
Shikhar Dhawan in last 8 International Innings :

Score – 0,14,5,30,29,6,13,28
Average – 15.6

Are Stars Aligning For KL Rahul ?!?#INDvsAUS #AUSvsIND

— Rafeek Saifi (@Rafeek_here) March 2, 2019
The yardstick for Dhawan is so small compared to Rohit and Rahul

— Adharsh Bharadwaj (@cricadharsh) March 2, 2019
Dhawan kabhi toh run mar Bhai#INDvsAUS

— A-K-A-T-S-U-K-I (@Shinra_tensei21) March 2, 2019
Ek Banda #INDvAUS Match dekhte dekhte bola ki

" Bhai ye Shikhar Dhawan hi rinkiya ke pappa hai, saala out ho gya phir hhi hihihihi hass rha hai "

— sameer shah (@sameers715) March 2, 2019
Shikhar Dhawan is making KL RAHUL case stronger with the amount of his flop shows..

— Jameshubert  (@ImJames_) March 2, 2019
Dhawan had a century to score. Shit!
Never mind, Chase Master will be here.#INDvAUS

— Jaanvi 🏏 (@ThatCricketBuff) March 2, 2019
For every Finch, we have a Dhawan. #INDvAUS

— Manya (@CSKian716) March 2, 2019
It's ok to get out but smiling after getting out just dhawan things😕

— kingkohli (@Kingkalyann) March 2, 2019
Why is Dhawan smiling as if he has scored a Century …..?? #INDvAUS

— Aditya Vora (@DaantTodDunga) March 2, 2019
How can dhawan give such a big smile at his wicket?! So amusing 😂

— saumya. (@dilsevirat18) March 2, 2019
I think Shikhar Dhawan is the only player I've seen who has a smile every time he gets out. How much does he enjoy getting out.. thu ne batuku 🙏🏼 #INDvAUS

— Chaitanya Somavajhala (@ChaitanSrk) March 2, 2019
Every time Shikhar Dhawan gets out his heartwarming smile is like a son has bowled out his father on zero and the wife is laughing from the 1st floor balcony of the house. Such a lovely sight😍

— ṗṻṅȠỏẙ (@MixedRaita) March 2, 2019
What kind of rush is Shikhar Dhawan in always? There are ppl who don't get opportunities to play for the country and he throws away his wicket almost all the time #INDvAUS

— Jason Dsouza (@jdnats) March 2, 2019
Sometimes Dhawan's smile is so irritating. #INDvAUS

— Jaanvi 🏏 (@ThatCricketBuff) March 2, 2019
Lol, Dhawan doesn't give a damn. Smiled like the ball raced through the outfield for four when it was actually caught by Maxwell. #INDvAUS

— Shubh AggarWall (@shubh_chintak) March 2, 2019
Dhawan needs some big scores to seal place in WC squad no questions asked. Couple of batsmen breathing down his neck

— Cricketwallah (@cricketwallah) March 2, 2019
One smile is equal to 100 runs – Shri Shri Dhawan

So Dhawan made zero #INDvAUS pic.twitter.com/PKVMx5v6UH

— Rishabh Srivastava (@AskRishabh) March 2, 2019
Did anyone question Dhawan's form and his place in the Indian side ahead of WC? #INDvAUS pic.twitter.com/W34O1tpxzx

— Vignesh Ananthasubramanian (@MadridistaSays) March 2, 2019
Listen you all Dhawan haters, our sir is just 1 ICC tournament away to silent his critics till the next ICC event. #BleedDhawanian

— Mufaddal Vohra (@mufaddal_vohra) March 2, 2019
Don't think Dhawan can keep smiling, he has good record in ICC but low scores could get Rahul in early

— Nikhil 🏏 (@CricCrazyNIKS) March 2, 2019
Dhawan on a run drought so that he can score plenty in WC pic.twitter.com/8e6RU4mLf2

— Ritika (@RitikaSays) March 2, 2019
Shikhar Dhawan's kids are very lucky. Even if they fail in the exam, he will just look at their report cards and smile.

— Jai (@singh_jaiveeer) March 2, 2019
Follow us on Telegram