India vs West Indies: Virat Kohli's 'WOW' expression after hitting Kesrick Williams for a six at the Wankhede
Kohli was just timing the ball superbly on the day.
Updated - Dec 12, 2019 8:22 pm
902 Views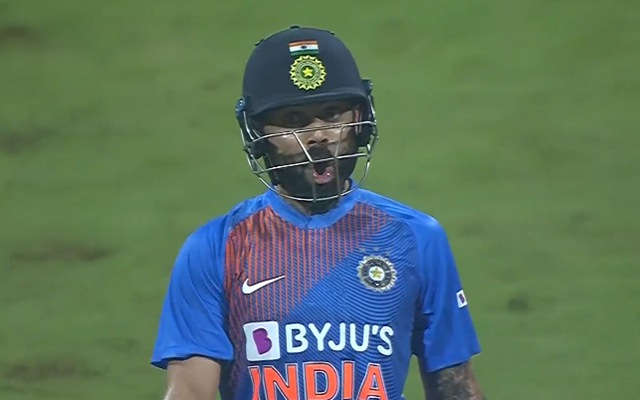 Follow us on Google News
Apart from scoring truckloads of runs and bamboozling bowling attacks around the world, if there is one thing that Virat Kohli never fails to enthral the folklore is his expressions. If you have just tuned into a match and the first thing that pops up on the screen is the face of Virat Kohli, then just by looking at his expressions you can fathom about the current situation of the game.
Kohli's expression might change depending on the situation that India is in but for the onlookers- that means everyone ranging from fans to cricketers to pundits to media, everyone- there is only one expression on our face when Kohli is creaming those sumptuous extra-cover-drives dissecting cover and point or when he is nonchalantly depositing balls over deep square-leg or deep extra-cover with his flick-of-a-wrist- Gobsmacked. "Geez, How could he do this?";  " How did he do this?"; "Wow! You aren't allowed to do that!"
Kohli's poetic violence at the Wankhede is a testimony to his versatility
These are generally our first reaction. Of-course normal people aren't allowed to do what Kohli does. But, he isn't a normal man. Hs is a freak. But, even a freak like him was gobsmacked as to what he had done. That nonchalant flick-of-a-wrist off Kesrick Williams at the Wankhede was so outrageous that even Kohli- as soon as he hit it, went like 'Wow! That was pretty cool!', and each and everyone was nodding our heads in absolute ecstasy.
After having produced an innings for the ages in the first T20I, Virat Kohli had said he doesn't play for the gallery, and that he is not a six-hitting machine but a guy who depends on finding the gaps and get the job done. On Wednesday, Kohli did turn into a six-hitting juggernaut but wasn't by any stretch of the imagination an innings where he was muscling the ball, he was just timing it.
He was just flicking his wrist and the ball was sailing into the stands, once again proving is how having a solid base as a batsman can pave way for versatility where you can turn from a Test cricket grinder to a six-hitting machine in slam-bang Twenty20 cricket.
Here's the video:
Follow us on Telegram