Indian flight attendant accuses Arjuna Ranatunga of sexual harassment
The reception said, "it is your private matter" and that they can't help me."
Updated - Oct 10, 2018 7:52 pm
400 Views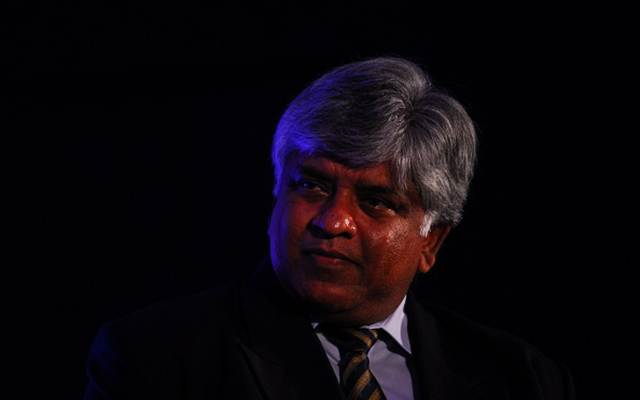 Follow us on Telegram
The #MeToo movement is blowing strong in India at the moment. Since actress Tanushree Dutta has come out with allegations against senior actor Nana Patekar, women from all parts of the country have come out with several other allegations. Amidst all this, an Indian flight attendant has recently accused former Sri Lankan skipper Arjuna Ranatunga of sexual harassment.
The flight attendant revealed the matter through a Facebook post. Ranatunga was the skipper of the Sri Lanka side when they won the World Cup in 1996. Currently, he is the nation's Minister of Petroleum Resources Development. The attendant said that the former cricketer has grabbed her by waist although she didn't mention when the incident took place.
The Facebook post which accuses Arjuna Ranatunga
"My starstruck colleague spotted Indian and Sri Lankan cricketers in the elevator of Hotel Juhu Centaur, Mumbai and decided to meet them in their room for autographs. I decided to chaperone her, fearing for her safety, we were offered drinks (perhaps laced) I declined and stuck to my bottle of water I'd brought along. They were 7 and we 2, they latched the room door putting the chain secure. My discomfort growing inside of me, I urged her to get back to our room."
"She was smitten and wanted to go for a stroll by the poolside, this was at 19:00 hrs, the walk to the pool a desolate, unlit pathway at the back of the hotel, I look back to find (her friend) and the Indian cricketer nowhere in sight."
"Ranatunga grabs me by waist, sliding his hands along the side of my breasts, I scream fearing the worst, kicking on his legs and feet. Threatening him of dire consequences, passport cancellation, reporting it to the cops etc., for he is a Sri Lankan misbehaving with an Indian. Wasting no time, I dashed for the hotel reception a good run on an incline screaming on top of my voice. The reception said, "it is your private matter" and that they can't help me," the Facebook post read.
Here's the screenshot of her Facebook status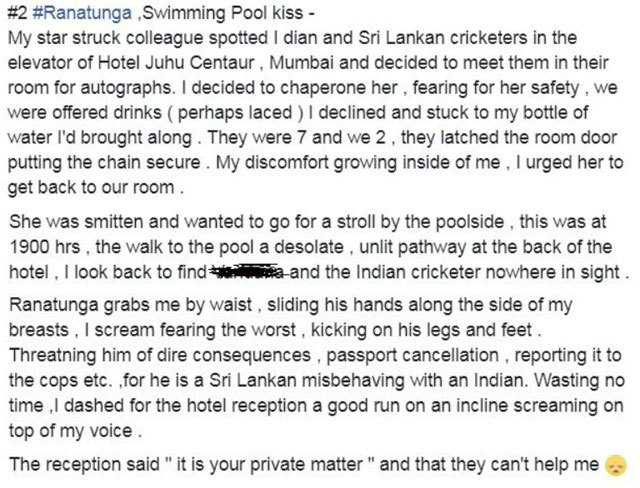 Follow us on Google News