Indian tail-enders asked me to get them out, but not hit them: Shoaib Akhtar
In 38 international matches against India, Shoaib picked up 69 wickets.
Updated - Aug 15, 2020 7:30 pm
2.7K Views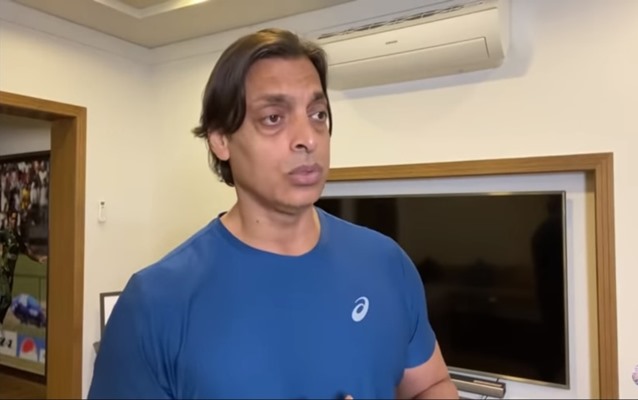 Shoaib Akhtar, the former Pakistan bowler, was someone, who ruffled a lot of feathers with his deadly bouncers. The Rawalpindi Express hit a number of batsmen flush on their helmets and he used to be filled with guilt after doing so. The 45-year-old Akhtar said that the legendary Muttiah Muralitharan had asked him not bowl quick at him.
Going down the memory lane, Akhtar talked about an incident from county cricket when he represented Worcestershire. The veteran said that Matthew Maynard of Glamorgan once copped a blow on his jaw and fell flat on the ground. Apart from that Shoaib also said how the Indian tail-ender would prefer getting out to him, but not getting hit.
There were a lot of batsmen like that: Shoaib Akhtar
"In county cricket, while I was playing for Worcester, a lot of players got hit by my ball when I thought Oh God I have done something wrong. But I don't know why I was so mean," Shoaib was quoted as saying to Sawera Pasha on the YouTube show Cric Cast.
"There were a lot of batsmen like that. Muralitharan was there, a lot of players from India, all tail-enders. They used to ask me to get them out but not hit them as it would hit them hard. They used to say that they have wife and kids and that their parents wouldn't like it," he stated.
Shoaib has a decent record against India across formats. In 10 Tests, he picked 28 wickets and dismissed the likes of Sachin Tendulkar and Rahul Dravid. In 28 ODIs versus the Men in Blue, Akhtar notched 41 wickets.
Once even Gary Kirsten, the former South African batsman, had to bear the brunt of Akhtar. The left-hander went for a hook shot, but ended up getting hit under his eyes. Shoaib said that the retired Proteas always remind him of the incident.
"I had warned Gary Kirsten as well, asking him not to hook me. I told him not to do it as a 36-year-old to the fastest bowler. He also got hit very hard. Whenever he meets me, he shows the mark under his eyes as a souvenir from my side," Shoaib added.