Injured Shikhar Dhawan missed nets as Indian Team opted to practice with yellow and pink balls
The reason for Shikhar's absence is assumed to be pain in his rib
Updated - Jun 4, 2017 12:23 am
5.5K Views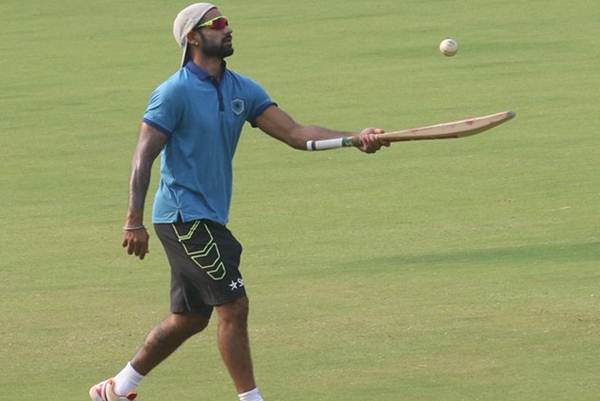 Indian team is all set to take on arch-rivals Pakistan in their first group stage match on Sunday (4th June). The excitement has reached the highest echelon and both the teams looked geared up in their respective practice sessions.
Australia faced New Zealand in their first group stage match and unfortunately, the match was abandoned due to rain. As India will take on Pakistan on the same venue, it has become all the more interesting to see how weather plays its role.
Indian Team Practiced With Yellow and Pink Ball:
Both the teams are looking forward to ticking all the permutation and combination and cover all aspects. Moreover, with new ball expected to swing a lot more in Birmingham, it was seen, Indian team practicing with the yellow and pink balls as both balls swing a lot more than the white ball.
Though pillars of Indian Cricket Virat Kohli and Yuvraj Singh opted to practice with white ball, it was Rohit Sharma, Dinesh Karthik, Ajinkya Rahane and MS Dhoni who made sure to practice with yellow ball. Moreover, it was seen, that they (players) practiced with heavier and lighter version of ball, which further helped them to be used to English conditions.
The star of second warm-up match, Dinesh Karthik first opted to play with pink ball, even when the visibility was less in Indoor arena. Seeing Dinesh Karthik and Rohit Sharma practicing with pink ball, Kumble bowled few deliveries to Yuvraj Singh, helping him to get used to the conditions as the 35 year old missed out both the warm-up games due to viral.
Injured Shikhar Dhawan:
On Friday, the practice session was an optional one and bowlers decided to rest. However, the notable absentee was Shikhar Dhawan who looked in great nick in both warm up matches. He scored 100 runs in two warm-up matches, helping India to have thumping victory over two quality sides. The reason for his absence is assumed to be pain in his rib. Indian team will be expecting him to get fit before the important clash against Pakistan.