The humble beginnings of India U19 cricketer Yashasvi Jaiswal
The youngster is certainly one of the big stars to watch out for in the future.
Updated - Jul 4, 2018 3:06 pm
3.9K Views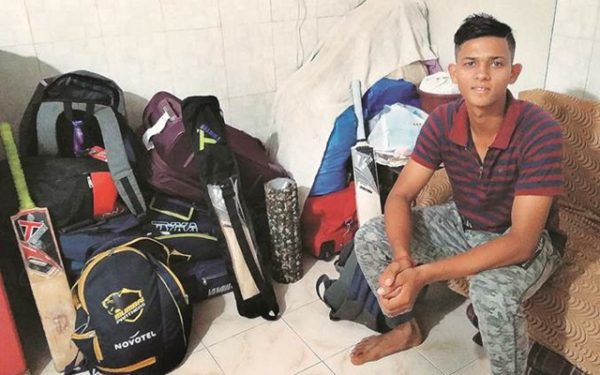 Sometimes you have to work extremely hard and fight with the odds to live your dreams. Yashasvi Jaiswal, the India U19 cricketer, has done the same and is finally living his dream to play for his country. He has been picked in the team for the upcoming Sri Lanka tour and is set to join the team. However, his emotional story before he was picked in the junior national side will surely make the cricket fans respect him more.
Yashasvi is the younger of the two sons to a small-time shopkeeper in Bhadohi in Uttar Pradesh. He moved to Mumbai to pursue his dream of playing cricket and his father also did not object him and allowed to live it. But the main problem for the 11-year old kid was to stay. His uncle, Santosh had a house in Worli but it wasn't big enough for another occupant. But he had requested the owners of Muslim United Club, where he was a manager, if the boy could stay in the tent.
He was thrown out of a dairy shop where he used to sleep early on and and then started living with the groundsmen in Muslim United Club thanks to his uncle. "This was after I was asked to leave the dairy at Kalbadevi. After playing cricket the entire day, I would get tired and go to sleep. One day, they threw out my luggage saying I do nothing, don't help them and only sleep," Jaiswal was quoted as saying by Indian Express.
Used to Sell Pani Puri for his living
Yashasvi never went back to his home for the next three years as that would have ended his cricket career. Occasionally, his father used to send some money but that was never enough which led to Yashasvi Jaiswal selling Pani Puri during the Ram Leela in Azad Maidan and help sell fruits. "During Ram Leela, I earned well. I prayed that my teammates would not come there for pani-puri. Sometimes they did and I would feel bad serving them," he added.
Next big player in Mumbai
Mumbai U19 coach Satish Samant speaks highly of the youngster believes that Jaiswal has extraordinary game sense and unflappable focus. He also remarked him as the next big thing in Mumbai cricket.
"He has this ability to read a bowlers mind and adapt to a situation. Most under-19 players get tempted to play too many shots too early. He does not. The other thing is, he does not have a smartphone, is not on WhatsApp. This is rare for a teenage cricketer these days. He is cut off from social media. He has talent and if he keeps focus like this, he will be next big from Mumbai player," Samant said.
Yashasvi will join the India U19 team which will soon embark on Sri Lanka tour to play 5 One-Dayers. The series will start on July 30 and the youngster who lives in a small chawl in Kadamwadi will be eager to make it big and hog the limelight.
[interaction id="5b39d4ba96df428308afda36″]
For more news and developments, stay tuned on CricTracker.com.