Instances when IPL teams changed their captains mid-season
Karthik giving captaincy to Morgan is the latest instance of captaincy change in IPL.
Updated - Oct 16, 2020 9:19 pm
3.7K Views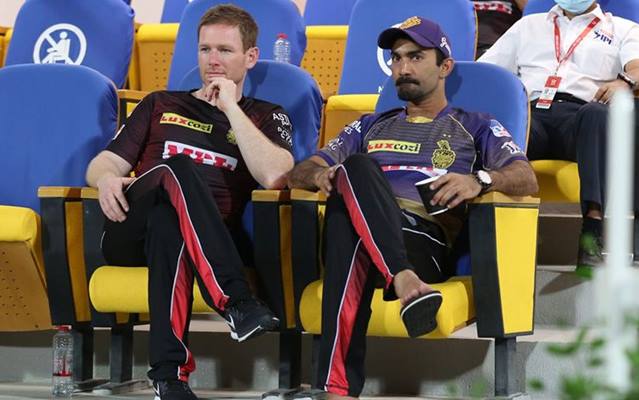 The 13th edition of the Indian Premier League is making its way in full swing in UAE and a lot has been going over its development. Even though franchises try their best to find the groove, some or the other factors keep hindering the flow. Sometimes they are injuries, and other times, it can be dipping form of the players. In the latest turn of events, fans witnessed how Dinesh Karthik stepped down as the skipper of KKR midway. It was assumed that his form was not able to do justice with the role of captain.
In fact, just before KKR's match against MI, Karthik handed over the captaincy to England WC winning skipper Eoin Morgan. However, it has to be noted at this very point that it is not the first time when captaincy roles were changed midseason in IPL. There have been several similar instances in the IPL season where roles were switched.
Let's see all the instances when the same story unfolded:
1. 2008- DC: VVS Laxman to Adam Gilchrist
Laxman was leading Deccan Chargers in IPL 2008, but he had to quit the season midway due to an injury. Just after DC's six games, the captaincy roles were handed over to Australian great Adam Gilchrist.
2. 2012- DC: Kumar Sangakkara to Cameron White
In the year 2012, Sangakkara was going through a rough phase with his bat. The Lankan set himself aside and allowed Australian batting all-rounder, White, to take up the charge. The decision allowed the best foreign players to be part of the team.
3. 2013- MI: Ricky Ponting to Rohit Sharma
Ponting was roped in as skipper of Mumbai Indians in 2013 and used to open with Sachin Tendulkar. However, his form with the bat wasn't of any help for his side. Rohit Sharma was assigned captain duties, and MI lifted its maiden IPL trophy that year.
4. 2014- SRH: Shikhar Dhawan to Darren Sammy
Shikhar Dhawan had a great season with SRH in 2013 and was leading the side in 2014, but some losses in a row made team management rethink their decision. West Indian great, Sammy was assigned the captain's duties.
5. 2015- RR: Shane Watson to Steve Smith
When Watson got injured in the season, Smith led the team to get four victories in a row. Even after when Watson returned, he couldn't bring the desired results with the team, and captaincy was finally handed over to young Smith, and RR reached the playoffs.
6. 2016- KXIP: David Miller to Murali Vijay
Punjab found themselves at the bottom of the table in the 2016 season. Skipper David Miller was just able to get 76 runs in the six games, and he was soon replaced by Vijay from his position. However, even after the change, KXIP finished last on the table that year.
7. 2018- DD: Gautam Gambhir to Shreyas Iyer
After leading KKR to two victories in 2012 and 2014, Gambhir was snapped by Delhi Capitals. However, Gambhir managed to produce only 85 runs from his end, and DC were in the last spot. He stepped down from the role and gave responsibility to young Shreyas Iyer.
8. 2019-RR: Ajinkya Rahane to Steve Smith
Rahane had a disappointing campaign in the IPL 2019 and was removed as a skipper of Rajasthan. Great batsman Steve Smith was given the charge for the rest of the season. However, RR didn't make it to the playoffs.
9. 2020- KKR- Dinesh Karthik to Eoin Morgan
Karthik was leading Kolkata till their 7th match, but his form with the bat was in a lot of questions. He finally stepped down and gave charge to Eoin Morgan, and it will be a thing to see how he will lead from this point in time.