Interview Anirudh Sitaram: 'Its great to have Badrinath and Bharat Arun in Hyderabad team'
Updated - Sep 9, 2016 9:08 am
145 Views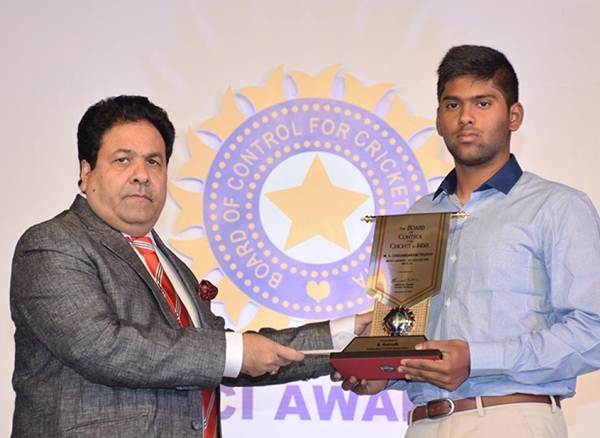 Follow us on Google News
Balachander Anirudh Sitaram is a promising youngster from Hyderabad who has bagged the BCCI's U19 player of the year award for the 2013-14 season for his incredible performance as he scored 908 runs in just 7 games at the Cooch Behar trophy.
The left-handed batsman, who was raised up in Chennai is looking forward to play for the Hyderabad side and help them advance out of the Group C in the upcoming 2016-17 Ranji Trophy. The 22-year old is currently enjoying success with the LycaKovai Kings in the TNPL and has shared about his TNPL experiences and his plans for the upcoming domestic season in an exclusive interview with Sampath Bandarupalli of CricTracker.
Excerpts from the interview:
Your team has registered three consecutive wins after losing the opening game which went down to the Super over. How is the atmosphere in the team?
The atmosphere is good. Everyone is backing each other. As a team, we are doing really well. Momentum is really important in T20 cricket and we have gained that. Hopefully we will continue to do well in the upcoming games.
145 runs in 4 innings, standing at No. 3 in the list of highest run-getters so far in the TNPL. Are you satisfied with your performances?
As far as the team is concerned, I am satisfied. Because in the games I have done well, we won. But personally, I would have done much better considering the starts I got. So hopefully I will do that in the coming games.
You batted in the middle order in the first game and opened the innings in the next 3. How tough is it to adjust to the batting positions during a tournament?
No, not in this format. Because this is the format where everyone should play according to the team's need. The team wanted me to open, so I opened. Because, basically I am a top order batsman. It was not difficult for me. I think we should be flexible to play according to team's need. So it was not a big task for me to open.
Talk about your cricketing journey, from Chennai to Hyderabad and back to Chennai for TNPL again?
It's good to be back to where I belong and playing TNPL really gave me the much needed experience and the confidence before the Ranji season starts. So its good to play at this level. All over India, everyone watches this. So I think it is a good thing for me personally as well as for other young players who are coming up the ranks. It will be a good exposure for them.
From the time you chose to pursue professional cricket to this day, how supportive have your parents been?
It's very important. Basically for me, both my father and mother are very much interested in sports and that is the reason why I am playing cricket. Right from the start they have encouraged me. Actually, because of them I stayed back in Hyderabad as they were back here (Chennai) so I stayed back there (Hyderabad) for cricket. My mom was there with me in Hyderabad while my Dad was back to Chennai. So we were shifting bases only for cricket.
Talking about the domestic season, this time you will play under Badrinath and Bharat Arun for Hyderabad. How are you looking forward to it?
I think it is a learning experience for me to play under Badrinath as you know he has played the highest level. So there is a lot to learn from him and as well as the team. It is a good move by the HCA to bring in someone of that caliber. Basically, if you see our team, the average age of players in the side is 23. We are all youngsters. So there is so much to learn from both of them. Bharat Arun has been part of the India team for the past 2 years as well as the junior cricket U19 team. So these is lot for us to learn from them. It will improve our cricket. I think this year we will do much better.
As you said, this year, every player in Hyderabad team is 1-2 seasons into the senior level just like you. How are you looking forward to the challenge of playing along with the young team which is placed in Group C from quite a long time?
The challenge is to do well this year and reach the quarter-finals from there, we have to pick up. So that is the big challenge for us. Because it is group C and I know people won't look up to that group. So the challenge for us is to do really well in these two years in Ranji. This year if we come up to elite, from there we have to kick on because if you take down the Hyderabad history, we do not belong to this group. Because you can see many legends have represented Hyderabad as well as the country. So I think it is high time that we put in that and come up to elite and do well this year. 
What can we expect from Anirudh in the upcoming season?
Just perform. That's it. To perform to the expectation because I have scored 6 fifties in 8 games in the Ranji Trophy so I would like to better it this time by scoring at least 3 or 4 hundreds. That is not my goal but I am looking forward to it. To enjoy the cricket as well as to perform and to see that my team performs well, because the last season even though I scored, nothing went in favor of the team. So I feel that even if I score a fifty and the team wins, I will be happy with that. So basically, individually I would like to do well this year to score runs, nice heavy runs.
Follow us on Telegram