Interview Jatinder Singh: I want to be the Virat Kohli for Oman
Updated - May 2, 2016 2:29 pm
491 Views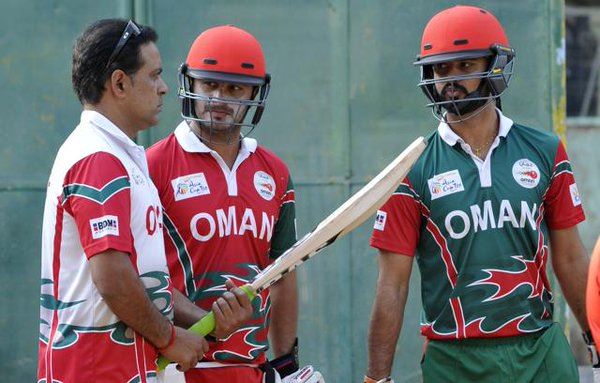 Follow us on Google News
Jatinder Singh is an Omani cricketer who was born in India only to move to Oman to play cricket, in a bid to fulfill his dream of playing the sport he loved. At the moment, one would certainly say that he has accomplished the same. Having made his debut in July 2015 against Afghanistan, he has played 10 T20Is matches including a portion in the recently concluded World T20. This also included a fixture where they defeated Ireland in the tournament, as they got agonizingly close to qualifying for the group stages. Currently, he is the face of the Oman cricket courtesy of demonstrating adequate leadership abilities as well as his consistency in playing the big shots.
Jatinder Singh in an exclusive interview with Umangkumar Pabari of CricTracker talks about his journey thus far, Oman cricket's domestic structure and his role models.
First of all, tell about your childhood. How did cricket begin for you because you were born in India and now represent Oman in international cricket, how difficult was this journey?
Frankly speaking, I had no clue about cricket and I did not know about the formats like Under-15s, Under-19s etc. I came to Oman in 2003, and from 2004 onwards, things started to change for me and that's when I slowly started playing in Oman. We never had grounds like this. We played on cement wickets. So yeah, it was a tough journey, but I am happy that the hard work is paying off.
What was the feeling when you made your debut for Oman in international cricket in 2015 against Afghanistan?
It was in Scotland during the World Cup qualifiers, when we qualified for T20 World Cup and at that time I played against Afghanistan. It was an awesome feeling and it was like a dream came true.
You guys showed tremendous character in this year's World T20 by beating Ireland, and at one stage your team was on the verge of making it to Super-10 but lost to Bangladesh in a do or die match. What did you learn from that match? What were the positives the team picked from the ICC World T20 2016 campaign?
I think Bangladesh team played better than us in that match. Tamim Iqbal played a remarkable knock on that day and of course, the D/L method and the rain was not in our favor, but we can't give any excuses. As far as the positives are concerned, there were many, but what I believe is that if we need to win big matches, we need to sharpen our basic skills and then back our skills. So yeah, it is part and parcel of the game but we learnt many things from that tournament and we would not repeat those mistakes in the future.
Did you catch up with the other teams in the World T20? What are your thoughts on Indian team's performance, Virat Kohli's batting and the crunch moments of the final?
Of course, while playing the tournament, we did keep eyes on the other teams in case we did qualify for the Super 10's, but we didn't and that was unfortunate. Yeah, India played brilliantly throughout but in the semi-final against West Indies, luck was not on India's side. As far as Virat Kohli is concerned, he gave his hundred percent right through the tournament. The final was also amazing, both teams played well, but West Indies played slightly better in pressure moments and emerged as the champions.
How was the feeling coming to India and playing? You know that India is a country crazy about cricket. How was the hospitality and reception in India?
The hospitality was amazing. Cricket is a religion in India and we were all charged up and by the time we reached there. We were in the newspapers and whenever we went out, people used to come to us to chat with us, to take photos with us and yeah overall it was a nice experience in India we had and the protocol was also good for us.
Your next assignment is World Cricket League-5 this month. How excited are you after being named as the vice-captain of the team?
I am very excited because it's the first time, a young guy like me has been appointed as the vice-captain. It's really amazing and I am looking forward to it and hopefully, I will do my best for the team in upcoming days. I am very happy being appointed the vice-captain as of now. Earlier whenever we went in ICC tournaments, other teams looked at us as underdogs, but now they are taking us seriously due to our recent performances in international cricket.
Tell us about other members of Oman team and the training regime.
Our skipper, Ajay Lalcheta is from Porbandar (Gujarat), Vaibhav (Wategaonkar) and I are from Mumbai. In Oman, we all do jobs in private companies. We train every day for one hour in the morning from 5.30 to 6.30 am after which we go to our offices from 9 am to 1 pm then we come back to training at 3 pm. This is our schedule on most days.
Tell us about the domestic cricket structure in Oman. Is it well established?
We have 92 teams here. Only 7 teams can play in national premier division level, the tournament that the selectors use to pick the squad. As far the structure is concerned, if we need to qualify regularly for ICC tournaments and to play higher level cricket; we need to play domestic games, and it is something that seriously needs to be implemented in Oman should we become a force in world cricket any time soon. Currently, we play 50 over games on weekends and on working days we play T20 games at night, something we have started only this year since we have the facilities.
Duleep Mendis is the head coach of the team, how have your interactions been with him?
He is very supportive. If we want some advice, he is always ready to help us. He also listens to our suggestions as well and welcomes ideas, he is very co-operative.
Your spin-bowling coach is India's Sunil Joshi. How has he helped you and team Oman thus far?
He gave us ideas on how to play on Indian wickets (referring to ICC World T20 2016 which was played in India). He also tells us how to bat and how to bowl individually because he likes to spend time with players more. I had an amazing time with him when we were in India and gained some knowledge from him.
Who were your cricketing role models growing up?
My cricketing idols are AB de Villiers and Kevin Pietersen.
The best compliment you have received in your brief cricketing career so far.
People call me here 'Virat Kohli of Oman' due to my consistency and I would like to play like him and be like him for Oman.
What was your favorite cricketing moment?
Well, it is obviously, playing T20 World Cup for Oman and it was dream come true.
Follow us on Telegram