Interview: Julien Fountain on successful transformation to cricket, Switch Hit 20, coaching Pakistan & his future plans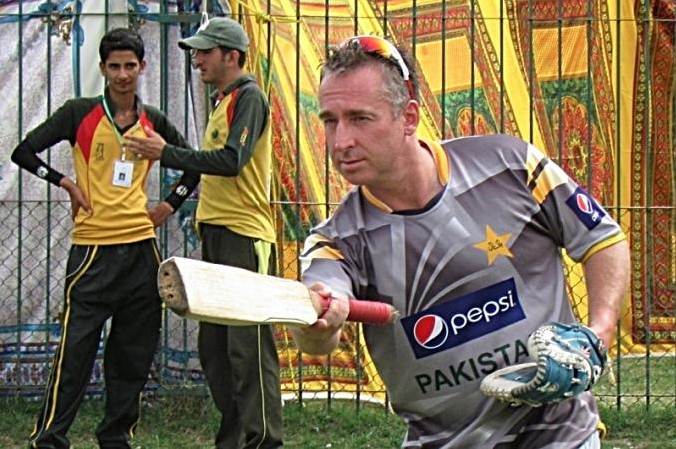 Interview: Julien Fountain on successful transformation to cricket, Switch Hit 20, coaching Pakistan & his future plans: A pioneer for baseball players seeking cricket as a second profession, Julien Fountain is a specialist fielding coach and has remained assistant coach and head coach for Bangladesh in the past years. He was recently with Pakistan as their fielding coach and made immense improvements in the fielding attitudes among players that did reflect in the grounds and on the screens. Israr Ahmed Hashmi for CricTracker asked him for an interview and he obliged happily. Here are the questions he asked and the replies from the coach.
Hashmi: From a professional baseball player to one of the best fielding coaches in the cricket fraternity. How would you describe this?
Julien: Well I started out as a cricketer then moved to baseball, finally returning to cricket in 1996 as a coach. I have continued to play cricket as and when I am able to along with a range of other sports. The two sports are intrinsically linked, so moving between them either as a coach or a player is normal.
Hashmi: As a 19-year old, you were already in the senior team for the Olympics and had played a game against Major League Players Alumni Legends. Who do you owe for this early success?
Julien: Having played cricket for Somerset U19 as a 15 year old, I was quite used to punching well above my weight on a sports field. Playing for Great Britain at U18 level after only 6 months in the game gave me the boost to pursue a spot at the senior level. At that point a number of my former cricket teammates were playing pro at Somerset CCC so it seemed quite normal to be competing in major championships overseas, it just happens to be a different sport!
Hashmi: The internet says that you weren't given a chance by any of the Major League teams in the US except a few try-outs, probably for cricket's greater good?
Julien: It wasn't that I was not given a chance, it was the fact that I was simply not good enough, and a fraction too old unfortunately. But it was a great experience and I enjoy visiting the US both for cricket & baseball opportunities even now.
Hashmi: Cricket had already been a friend to you during your growing days but how did you decided to be a Specialist Fielding Coach, a rarity in 90s?
Julien: Well to be honest I always really loved fielding as a cricketer and became a wicket keeper simply to get me in the action as much as possible. When I switched to baseball I learnt both tactical and technical aspects of fielding; which is why I became a fielding coach so I could transfer those skills to professional cricketers in the UK.
Hashmi: What is your philosophy of coaching, I mean, what is your first advice to a rookie fielder?
Julien: Be brave, and do everything possible to stop / catch the ball. If you get a chance to throw it, make it hit the target every time.
Hashmi: You were recently with Pakistan and had been previously involved with them in 2001 and 2007. How would you rate their fielding standards before you and the priority they give to their fielding?
Julien: The subcontinent has always been considered a weak fielding region, for a whole range of reasons. However in the last ten years, times have changed and this is down to coaching & coaches. If the team puts fielding as a priority, and the head coach backs it, selectors back it, captain backs it, fans and media back it; it's going to happen. Pakistan has an unjustified poor reputation with regard to fielding in my opinion. During my tenure I collected data for every game we played, including the opposition teams data for comparison purposes. Pakistan certainly did no worse, and on many occasions did better than other teams who were considered "Elite" such as Australia or South Africa. That's not to say they couldn't have done even better with a change in their approach to fielding, but in terms of results achieved they did OK. Remember its actual balls stopped, runs saved & catches caught etc that counts not just looking athletic!
Hashmi: Why is it that Pakistan is so well behind in fielding as compared to other countries? How can they match to the current international standards?
Julien: See answer above, they're not!
Hashmi: Who are the best fielders that you coached with Pakistan?
Julien: Younis Khan, Umar Akmal, Shan Masood, Misbah.
Hashmi: You had much success with Pakistan and it did show in their fielding attitudes. Don't you think you deserved a 'contract extension'?
Julien: Well those decisions are made by board members; so it was out of my hands. They had decided that local coaches were the best way forward at that point. History & fielding performance statistics will tell us if that was a good decision or not.
Hashmi: What things make a 'better fielding team'? Is it the 3-4 guys who throw themselves at every chance or the whole team have to make a combined effort?
Julien: It's a combination of both. Raise the standards expected and raise the quality of practice, along with placing a higher priority of fielding performance both as a team and individuals.
Hashmi: Introducing 'Pro Batter Video Simulator Pitching Machines' to England and being the designer of 'Direct Hit', how do you think technology helps fielding and cricket itself?
Julien: Technology has entered most sports and cricket is no different. Sport is a business, and high performance requires athletes to squeeze every drop of talent out of themselves possible. Our job as coaches is to help them achieve just that. If a piece of technology can assist the process then so be it. We should not be afraid of using new tools.
Hashmi: Tell us something about 'Switch Hit 20'?
Julien: Switch Hit 20 is a ground breaking project aimed at helping former minor league baseball players switch to playing T20 Cricket. These professional athletes are perfectly suited and very motivated to achieve great results in T20. We have had loads of great media coverage and are talking to some very influential people about partnering with us to achieve success. Look out cricket world, the USA is coming!
Hashmi: Representing your country in Olympics, successful transfer from baseball to cricket, specialist fielding coach, head coach and coaching in all of cricket's major trophies and being on a honorary board. Do you believe that you could have achieved all this?
Julien: I have been really fortunate to have been able to experience the incredible people, places and events over the length of my career. Yes there have been testing times and periods of frustration, but I am a great believer in what comes around, goes around; so every dog has its day, eventually!
Hashmi: Where do you see yourself in the coming future? Any plans you want to share?
Julien: Well Switch Hit 20 is on the top of my list of things to do, however I have recently taken on a consultancy role with a company looking at an in game solution to the "15 Degree" bowling action adjudication process; so if that proves to be a workable solution, we could see some incredible new technology introduced into world cricket, that will enhance performance beyond what is currently being achieved.
Hashmi: What will be your advice to the young generation chasing cricket as a profession?
Julien: Get fit, stay fit, aspire for excellence, don't be discouraged by people who doubt you (as they usually have their own agenda), get an education, be positive, be polite, be competitive, be the hardest worker in the team (Younis Khan!) and never ever accept second best from yourself or anybody else.