Inzamam-ul-Haq's son reveals his admiration for Sachin Tendulkar
Apart from the cut-throat competition, camaraderie can also be seen between the two sides.
Updated - Jun 10, 2018 12:36 pm
5K Views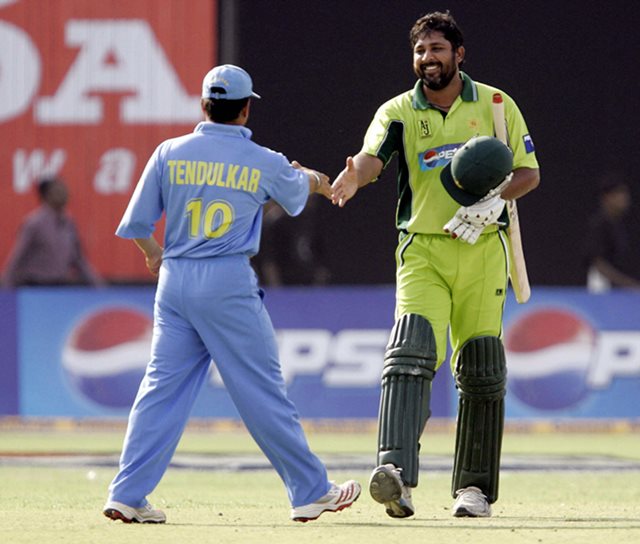 There has been no love lost between India and Pakistan, being the arch-rivals. Their competition takes place both on and off the cricket pitch as both the teams leave no stone unturned in dictating terms to each other and hold on to their domination. Their clashes are deemed to be marquee encounters and turn out to be splashes, irrespective of the results of the matches.
Sachin Tendulkar and Inzamam ul Haq were two of the stalwarts, indispensable as well, for their respective sides. The duo racked up runs at will and most importantly, carved a number of victories over the years. They always employed a calm and collected approach while wielding their magic on the field of play. Moreover, they played a number of times versus each other.
Inzamam played nearly 500 international matches in which he racked up over 20,000 runs, batting in the middle order. He also notched 35 centuries and 129 half-centuries in the international format. On the other hand, Sachin's record is colossal, to say the least. The Mumbaikar plied his trade in 663 matches and plundered over 33,000 runs with 100 international tons in his kitty.
The admiration across the border
However, apart from the cut-throat competition, camaraderie can also be seen between the two sides. Players from both the sides have admired each other that has been breath of fresh air amidst the heated altercations. Recently, Inzamam's son met Sachin and the Indian batsman was awestruck by his fandom in Pakistan. He mentioned
"We had a practice session in Lahore & before we began Inzi brought his son to me & said 'He's a big fan & wants to meet you'. With the rivalry we had & Inzi was Pakistan captain, to say something like this to a player from the other team takes a lot"
Here is a post from a Pakistani sports journalist
Sachin Tendulkar "We had a practice session in Lahore & before we began Inzi brought his son to me & said 'He's a big fan & wants to meet you'. With the rivarly we had & Inzi was Pakistan captain, to say something like this to a player from the other team takes a lot" #Cricket

— Saj Sadiq (@Saj_PakPassion) June 9, 2018