IPL 2018: Match 44, KXIP vs KKR- Who Said What
With the victory, the Knights move one place up to the fourth position.
Updated - May 13, 2018 12:18 am
2.2K Views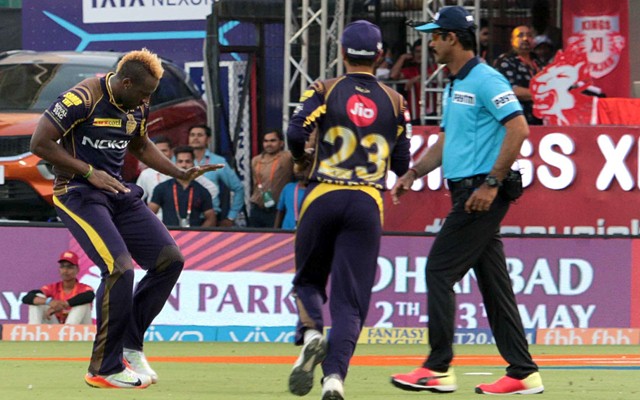 The match between the Kings XI Punjab (KXIP) and the Kolkata Knight Riders (KKR) eventually turned out to be a one-sided contest. Nonetheless, the audience was kept engaged throughout as both teams churned out runs, much to the despair of the bowlers. KKR muscled their way to a humungous score following which their bowlers backed them up and won them the game by a substantial margin of 31 runs.
KKR maul Ashwin's bowlers
Ravichandran Ashwin's decision to field first on a pitch which seemed like a bowler's graveyard, backfired miserably as the Knight Riders racked up 245 runs, which turned out to be the highest team score of the season. Sunil Narine and Chris Lynn opened the batting and went berserk from the outset. They muscled their way to a half-century run stand inside the field restrictions and kick-started proceedings.
The Windies-cricketer scored his second IPL fifty this year in 26 balls and then went on to score 75 runs. Thereafter, the Men in Gold and Purple didn't look back and haemorrhaged runs at will. Every batsman who took charge played breezy cameos, which never allowed the momentum to shift to the opponents' camp. Dinesh Karthik scored 50 off 23 balls and a 14-ball 31 runs blitz by Andre Russell gave the final kick to the innings.
A bridge too far for Punjab   
The target of 245 runs was always going to be a tough ask, but with KL Rahul and Chris Gayle in the side, KKR couldn't have afforded to let complacency sneak in. The duo started in an explosive manner and racked up a fifty run stand in double quick time. However, Andre Russell dismissed him and Mayank Agarwal in the same over, which pulled back the momentum for the Knights.
Nevertheless, KL Rahul carried on his own merry way and scored 66 runs off 29 balls. Narine picked him in the ninth over, which made KKR the firm favourites. Ravichandran Ashwin notched 45 runs off 22 balls and lifted Punjab up to 214/8. The breezy knock also meant that Punjab's net run-rate doesn't get dented. With the victory, the Knight Riders move one place up to the fourth position.
Ravichandran Ashwin, the skipper of Kings XI Punjab, said
245 was a little too many. We didn't execute our plans really well. The bowlers were just caught under the fire. They were all over the place up front and in the middle overs as well and it cost us the game at the latter end. The yorkers weren't falling in the right place. When Dre Russ came in to bat it was quite evident that we needed to bowl wider and then change up with the yorkers. It wasn't going to plan, it wasn't our day to be honest. Mujeeb got injured very early and a couple of inside edges went at the start of the game. If we had batted a touch better it would have been a closer game than what it was. It is a small ground, but we don't want to give that as an excuse. I would say we have got ourselves into an interesting situation. We still have got enough games to try and get through to the play-offs. One positive is we have never lost a game that's been hands down. The middle-order has been a concern for us and that's why we brought in Finchy. He hit the ball well. He is a world-class player and I am sure he will come good.
Dinesh Karthik, the skipper of Kolkata Knight Riders, said
We batted really well. This is a small ground, mishits go for sixes and it is hard on the bowlers, especially the spinners. Our seamers are coming up, Prasidh is coming up really well, Searles has a lot of variety and Russell is really special. For the last five games he's been doing the job for us, keeps asking me for the ball and I have to calm him down (smiles). What I like the most about Narine is that he thinks of himself as a batsman now and no longer only as a pinch hitter. One more game against Rajasthan and putting up a good performance against them would be great.
Player of the Match, Sunil Narine, said  
I just try to stay as still as possible and make contact. Get as close to the ball as I can, and go after it, because the ground was small to hit a six have to be still. It was a flat wicket. When the spinners were bowling, I just tried to back myself. Tried to keep it as simple as possible and hope for the best. If I bowl bad, it gives a chance to do well with the bat and vice versa. It helps as I can contribute somewhere in every game.