IPL 2018: Michael Clarke laments blunders by umpires
The umpiring has been horrible in this season's IPL.
Updated - May 10, 2018 6:26 pm
532 Views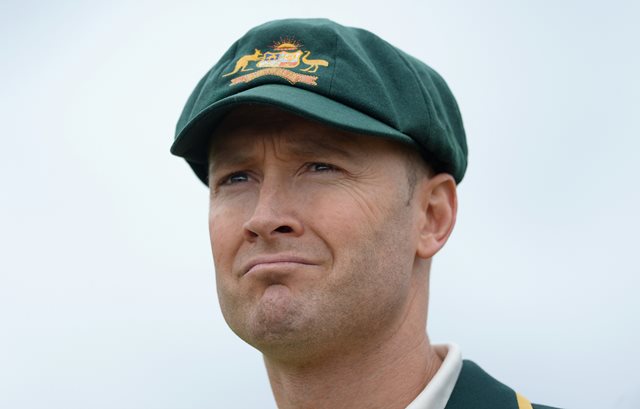 The eleventh edition of the Indian Premier League (IPL) is currently underway and has been a witness to some stupendous cricket dished out by the participating teams. Amidst some jaw-dropping competition on the pitch, there have also been some horrendous performances by the umpires, which have attracted quite a bit of flak from the public and the cricketing fraternity.
The Kolkata Knight Riders (KKR) locked horns with the Mumbai Indians (MI) at the Eden Gardens in Kolkata and yet another time, the umpires made some glaring errors. The incident panned out in the penultimate ball of the 16th over by Tom Curran to Rohit Sharma. The MI skipper punched the delivery through the covers for a single and KN Anantha Padmanabhan signalled a no-ball.
The poor piece of umpiring
The decision baffled both Curran and Dinesh Karthik and they urged for the call to be re-looked into. However, the umpire declined their request and asked them to carry on with the match. Later, replays showed that Curran's front foot landed behind the bowling crease and subsequently slid forward by a fair distance. The umpire was unable to spot the slide and he raised his right-arm.
Hardik Pandya faced the free hit and could muster a single out of the freebie, much to the relief of the Knights. Nevertheless, the decision was lamented as an utter disgrace by the commentators. Michael Clarke, who is an expert at the Star Sports Select dugout, also couldn't hold himself back and bashed the umpires to the core. He took to Twitter and vented his dissatisfaction in a reply to Boria Majumdar, a renowned journalist.
Here is the post  
The reason @MClarke23 is a personal favourite is because he calls spade a spade. Said The no ball call was not a mistake, it was a disgrace. And he was spot on.

— Boria Majumdar (@BoriaMajumdar) May 9, 2018
That's our job buddy, see it and make a call. Horrible umpiring on this occasion and with all the technology in our game these days it should be overturned https://t.co/1ovnOlac4H

— Michael Clarke (@MClarke23) May 9, 2018
Mumbai thrashed the home-team by 102 runs, defending a mammoth target of 210 runs in 20 overs. Ishan Kishan's blitz of 62 runs of 21 balls dented the Knight Riders following which Karthik's boys couldn't get a foothold into the game. Mumbai's victory also meant that they are in the fourth position of the table. Meanwhile, KKR slip to the fifth spot.