IPL 2018: Presenting the rescuer of batsman around the world
The eleventh edition of the IPL is currently taking place.
Updated - Apr 30, 2018 4:46 pm
829 Views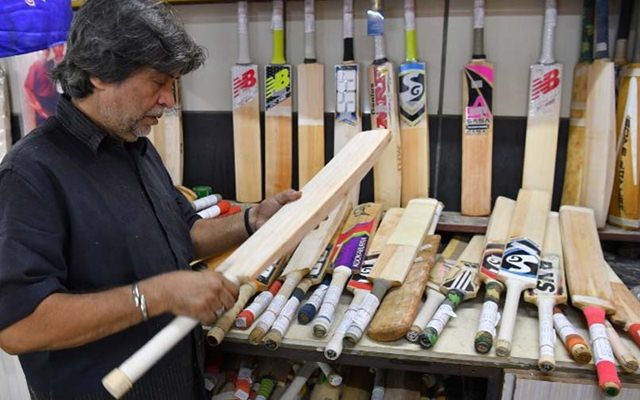 Bat is a crucial gear for the batsman, which helps them score runs across the world. Moreover, several batsmen have their own choices in terms of bat sizes. Also, some of them resort to bats of different attributes as per the formats. Meanwhile, the manufacturers shoulder the responsibility to understand the necessities of the batsman and cater to the needs of the players.
Many batsmen also have the urgent requirement of getting their bats repaired. Aslam Chaudhry, the owner of the M. Ashraf Bros, a bat manufacturing shop set by his father in the late 1920s does exactly the same as per reports in Sport 24. Recently, he spoke to the media and mentioned about his work. "I've done bats for Sachin (Tendulkar), for (Faf) du Plessis, for (Steve) Smith, for Chris Gayle, for most of them," he said.
"IPL is the busiest time"- Aslam Chaudhry
The 65-year old Chaudhry, who is popularly referred to as Batman, works tirelessly during the Indian Premier League (IPL) and gets regular work from the cricketers. T20 cricket demands big hitting and the shots take a toll on the bats and the breakage of bats doesn't spring a surprise. "The IPL is the busiest time because the bats break quite often," the bat manufacturer added.
"They ring me up, I go to see them and then bring the bats back here. It's a short deadline because they often have to fly off the next day so I have to fix the bats and take them back again asap," Batman highlighted the prominence of the task and the efficiency that needs to be maintained. The veteran has also worked for the likes of MS Dhoni and Virat Kohli.
The manufacturer also talked about how Lasith Malinga visited his place and had to stay there before the police came. "All the big stars dare not come here because they will never get out of this lane alive, there will be so much crowd," he iterated.
[interaction id="5ae6e243bb7c0ae8caac4f03″]
Here is MS Dhoni's journey
Stay updated on every 'cricket news' and developments with CricTracker.com.