IPL 2018: Twitterati share hilarious memes as curtains come down on IPL 2018
The first match was played on April 7 between Mumbai and Chennai.
Updated - May 28, 2018 4:05 pm
420 Views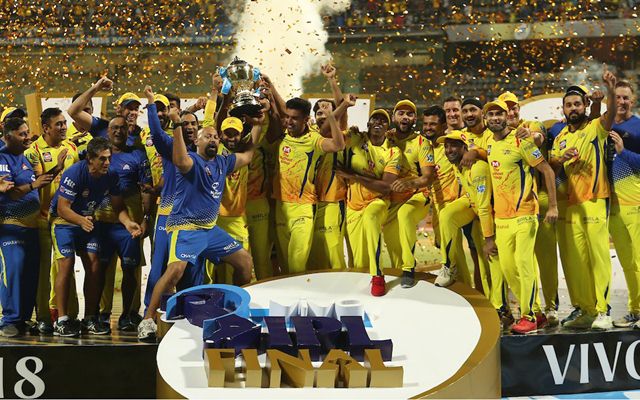 Follow us on Google News
The eleventh edition of the Indian Premier League (IPL) came to a close yesterday with the Grand Finale between the Chennai Super Kings (CSK) and the Sunrisers Hyderabad (SRH). The match was staged at the iconic Wankhede Stadium in Mumbai and MS Dhoni's men steamrolled the Orange Army by eight wickets with nine balls to spare.
Despite the one-sided finish, the match wasn't short of any excitement as the crowd was treated to some enthralling cricket by both franchises. Dhoni won the toss and elected to bat first. The Sunrisers lost the wicket of Shreevats Goswami, but Shikhar Dhawan and Kane Williamson's fifty-run stand bailed them out. However, the SRH skipper was dismissed for 47 runs by Karn Sharma.
Following Williamson's dismissal, Shakib Al Hasan, Yusuf Pathan and Carlos Braithwaite took the CSK bowling by the scruff of their necks and ensured that SRH reach 178 runs in 20 overs. In the start of CSK's run chase, the Sunrisers' got them on the mat and never allowed them to blaze away. Shane Watson took eleven balls to open his account.
The extravaganza comes to an end
The Yellow Army didn't stop thereafter the bashed the bowlers across the entire circumference of the park. Watson notched a jaw-dropping knock of 117 runs from 57 balls, which included 11 boundaries and eight sixes and took the sting out of the SRH bowlers. The dying stages of the match turned out to be a cakewalk as the former Australian's blitz took the target down by a significant extent.
Apart from the final, the event was also a witness to some riveting contests between bat and ball. A number of matches went right down to the wire and kept everyone on the edge of their seats. Meanwhile, Twitterati is shell-shocked by the conclusion of the cash-rich league. A number of users have shared hilarious memes surrounding the conclusion of IPL 2018.
Here are some of them  
The IPL is finally over pic.twitter.com/t5mOHubnqj

— Sibongile Mafu (@sboshmafu) May 27, 2018
When you realise IPL is over….#MostJoblessFeelingEver pic.twitter.com/YsHc4lsLIq

— AkShAtA (@MenInBlueDvotee) May 28, 2018
When you realise that ipl is over pic.twitter.com/U0g5H8lneb

— Itish🍂 (@itishx) May 27, 2018
When IPL is all over and you don't know what to do next. #IPL2018 pic.twitter.com/pJ0h03NRhj

— Prakhar Srivastava (@ImPrakharS) May 27, 2018
IPL IS OVER pic.twitter.com/JsrrPkXfv9

— Sriram (@ImSriram_) May 27, 2018
When you got to know that now even #IPL is over and you are single af and didn't even completed your homework pic.twitter.com/IILkJcILVl

— हरSH🌪🌪🌪 (@_Msdian_07) May 28, 2018
IPL is Over.

Me till EngvIND series 👇👇#CSKvSRH #IPL2018Final pic.twitter.com/TQ5lBEIojS

— Sudhanshu #17 (@beingsudhanshu_) May 27, 2018
Just realised, #IPL is over. Never watch it but it's literally on everywhere ffs 🙄 pic.twitter.com/lNrlUDpdnJ

— Ronak Kamat (@Ronak_Kamat) May 28, 2018
Thanking God IPL is finally getting over #SRHvCSK pic.twitter.com/JimE9P8VQe

— Iyeronical (@LosingMotion) May 27, 2018
Now that the #IPL2018Final is over all the cricket lovers can go back to saying how "IPL is not real cricket ya. I watch only Tests" 🤭😬

— Rashi Kakkar (@rashi_kakkar) May 27, 2018
Finally #IPL is over now🎉🎊

Finallyyyy I'll see people supporting one team.. And not their individual idols 😇#TeamIndia 🇮🇳

— мαℓvιкα🇮🇳 (@AdorablyyDishyy) May 28, 2018
When told #IPL is over and now all media attention will be back with him pic.twitter.com/1By0Q9TSss

— The-Lying-Lama (@KyaUkhaadLega) May 28, 2018
Not sure about that but he allegedly said,
"finally IPL is over and media can focus on me…" pic.twitter.com/rR1ftZcvXd

— Devil (@Baredevil_) May 27, 2018
That moment when #IPL is over and you have to officially give the government(boss of the house) remote back.
She be like – abhi remote milega muje??
me-😟😠😷😷

— Sindhian (@vishy_vishal) May 28, 2018
Now that IPL is over, back to watching what we will always love!

With a tiny twist though! Coz you know!#ShaneWatson #whatason #IPL2018Final #IPL2018 #IPLFinal #ipl pic.twitter.com/PXKg3Dysxs

— RJ Prerna (@mirchiprerna) May 27, 2018
So happy that IPL is over so that I can indulge in a better sport called 'running away from my responsibilities'.

— Sundar Rajan (@csundar86) May 28, 2018
Ab #Twitter ka kharcha paani kaise chalega!#IPL is over!

— Aamir Raza (@aamirraza036) May 28, 2018
Now that #IPL is finally over wonder what ppl are going to do. get back on twitter and rant like hell am sure

— Latha Srinivasan (@latasrinivasan) May 28, 2018
Now that IPL is over pic.twitter.com/y13PDrgaDR

— SAGAR (@sagarcasm) May 28, 2018
#IPL2018 is over but it's gonna take some time for Twitter to get over it
IPL all over 😂
✌👍

— Sarath (@Iamgsk_) May 27, 2018
IPL is over and Rahul Gandhi is out of this country.. so no more interesting and funny tweets😔

— Anuj Tripathi (@anujtripathi06) May 28, 2018
Ok IPL is Over now, Singles may switch to porn.. Married can sleep now ! #bye

— Sash❤ (@sashbv) May 27, 2018
Please come back soon. iPL is over. Need entertainment

— krishnakumar (@khkrishnakumar) May 27, 2018
Follow us on Telegram