IPL 2018: The way MS Dhoni and co. have backed me is amazing, says Lungi Ngidi
Ngidi returned with magnificent numbers of 4-1-10-4 and bagged the big wickets of Chris Gayle and KL Rahul.
Updated - May 21, 2018 12:09 pm
1.2K Views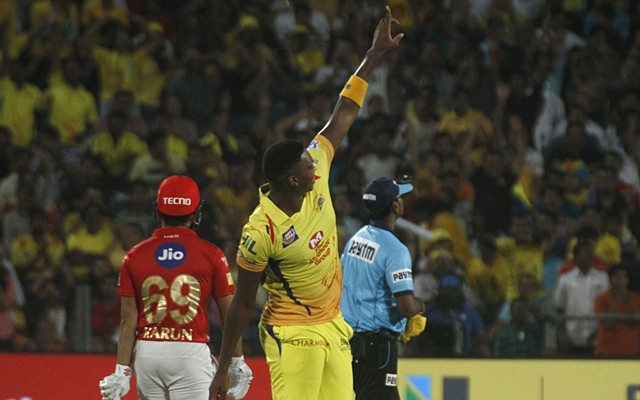 Follow us on Google News
The Chennai Super Kings look like a very formidable outfit in the ongoing edition of the Indian Premier League. Time and again, their batting has been in the limelight with the likes of Ambati Rayudu, Shane Watson, Suresh Raina, and MS Dhoni scoring great runs. Amidst this, many tend to ignore that the bowlers have been performing very well for the Men in Yellow as well. In the last league game of the season, it was Lungi Ngidi who turned things in the favor of the Super Kings.
Ngidi returned with magnificent numbers of 4-1-10-4 and bagged the big wickets of Chris Gayle and KL Rahul. Commenting on the performance after the game, Lungi Ngidi remarked that he feels humbled to play in the IPL. He noted that he never thought he would be picked at the auctions. Furthermore, he thanked MS Dhoni and the CSK management for showing immense faith in his abilities.
"First of all it was the last thing I expected; I never thought I would get picked up in the auction. But the way the coaching staff and MS Dhoni have backed me has been really amazing. The experience here has been eye-opening, I have never played in front of such crowds but then again this is where, the kind of stages (you find yourself in) you find out how good you are. It has been very good for me and I am looking forward to learn even more," Lungi Ngidi quoted.
On the lively Pune pitch
Also, it is worth noting that the track at Pune was not the usual one that is seen on Indian wickets. There was life in the wicket and had some serious carry and swing. Having a word on the same, Lungi Ngidi noted that he loved bowling on the surface. He added that he knew the track will give assistance to his style of bowling. When he saw Deepak Chahar getting serious swing and bounce, he was happy to think that this could potentially be his day to shine.
"Having seen (Deepak) Chahar bowl that first over I had seen a bit of bounce. He really swings the ball so I knew there was a bit of movement. When I bowled my first ball I actually saw that it was a very quick wicket and it is playing a lot in my favour," remarked the South African pacer.
"I try to keep it simple as (much as) possible, try and pitch it on the fourth-stump line with it swinging away and swinging back in, let the batsman deal with that. It was a very good wicket for fast bowlers I would say, and it was very exciting to see Indian conditions offer such a fast-bowler friendly wicket," Ngidi added.
On Harbhajan, Chahar promotion
Another surprising thing that took place in the game was the promotion of Harbhajan Singh and Deepak Chahar ahead of the likes of MS Dhoni, Dwayne Bravo, and Ravindra Jadeja in the batting order. The CSK skipper MS Dhoni later revealed the reason for doing so. When Lungi Ngidi was asked to comment about the same, he noted that he had no idea about it. He felt that it was perhaps to get the run rate going in the game.
"To be honest I was not a part of that conversation. Watching them go out and bat at that time I was thinking probably (it was to) get the run-rate high, they (had) put us under a bit of pressure upfront so to try (for about) five overs was fine. Taking a win into the qualifiers puts the guys in a good place," conceded Ngidi.
For the latest cricket news, follow CricTracker.
Follow us on Telegram