IPL 2019: Indian fan left red-faced after an attempt to mock Mitchell Johnson backfires
The fan thought he had an edge over Johson but got pushed down the hill himself.
Updated - Dec 20, 2018 11:57 am
4K Views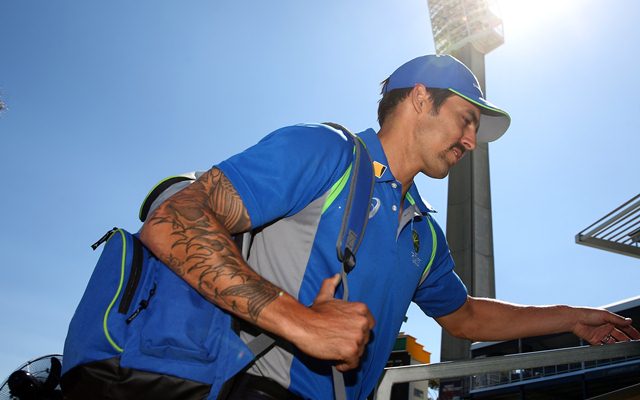 Follow us on Telegram
The Indian Premier League (IPL) 2019 auction though not a mega version, it lived up to the reputation. Over the years, the event has made a name for itself for throwing surprises and this year was not an exception either. From relatively unknown names earning deals worth millions to big names likes Brendon McCullum, Cheteshwar Puajra and Alex Hales going unsold, the auction in Jaipur saw it all.
And as soon as the auction got over, one fan tried to take a sly dig at Mitchell Johnson for going unsold in the auction. Johnson, who had plied his trade for the Kolkata Knight Riders, had retired from all forms of the game earlier this year. However, the fan was unaware of the fact and went on to execute his plans to mock Johnson who is not very popular among the Indian fans.
Calling Johnson silly, the fan tweeted: "Hey silly unsold @MitchJohnson398."
Hey silly unsold @MitchJohnson398, 😂😂😂

— Pandiyan (@Paandi_Cricket) December 18, 2018
Johnson was quick to notice the tweet and hit back immediately. Calling the fan champion in his sarcastic tone, he wrote: "Hello champion, just a reminder, I retired from all cricket earlier this year 🍻🥴🤦🏼‍♂️"
Hello champion, just a reminder, I retired from all cricket earlier this year 🍻🥴🤦🏼‍♂️

— Mitchell Johnson (@MitchJohnson398) December 18, 2018
Johnson criticizes Virat Kohli again
The former Australia speedster must have lost some more fans in India after his latest criticism of India skipper Virat Kohli. Time and again, the World Cup-winning bowler has targeted Kohli and did it again after the conclusion of the second Test in Perth. Johnson slammed Kohli as "disrespectful" and "silly" for his on-field antics during the Perth Test.
"At the end of the match, you should be able to look each other in the eyes, shake hands and say 'great contest'," Johnson wrote in a column for Fox Sports.
"Virat Kohli could not do that with Tim Paine, shaking the Australian captain's hand but barely making eye contact with him. To me, that is disrespectful," he added.
The fan, meanwhile, had mentioned that he called Johnson silly only because the Australian had used the same word for Kohli.
Answer for those criticizing me.@MitchJohnson398 mentioned kohli as silly,so I mentioning him.thats all.😏😏

— Pandiyan (@Paandi_Cricket) December 19, 2018
~ Written by Bijoy
Follow us on Google News