IPL 2019: Kuldeep Yadav breaks down after Moeen Ali smacked him for 27 runs in an over
It was one of the tough days at the office for the talented chinaman.
Get every cricket updates! Follow us on
It was carnage at the Eden Gardens on Friday. No, it wasn't Andre Russell for a change. It was the Royal Challengers Bangalore (RCB) batsmen Moeen Ali and Virat Kohli smacking the ball to all the parts of the ground. The duo literally ripped apart the KKR's bowling attack to propel the team to a huge total of 213 runs after 20 overs. Though Kohli scored a century and stole all the limelight, it was Moeen who started it all against Kuldeep Yadav.
The chinaman had a tough day at the office on the day. One felt that all was going KKR's way until the 14th over started and the momentum completely changed in the 16th over. Moeen Ali launched an assault on Kuldeep who had conceded 32 runs in his three overs by then.
No one saw the brute force coming from Ali. He shuffled around his crease and even as Kuldeep flighted every next delivery, the southpaw got under it to smack it over the boundary. The bowler also tried to throw in a pacy delivery but the England batsman was in the zone on the day and he didn't spare the 24-year-old.
Kuldeep dejected after the over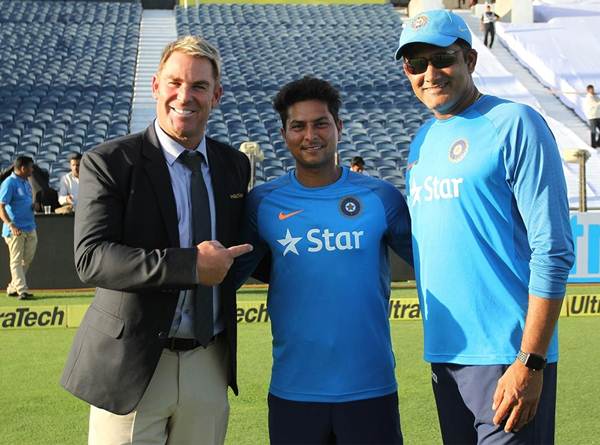 After going for 27 runs in an over, Kuldeep Yadav managed to have the last laugh. He finally got the better of Moeen Ali and most importantly, he had a chat with his skipper Dinesh Karthik before the delivery. But the damage was already done and he didn't celebrate the wicket.
Rather after the over, in the strategic time out, Kuldeep, sat down at the boundary dejected and there were tears coming out of his eyes. His teammates tried to console him but his confidence was completely and his poor season turned worse on Friday. Kuldeep returned with the figures of 1/59 in his four overs as RCB posted a mammoth total on the board.
Here's how Twitter consoled the youngster:
While I really enjoyed Virat's batting innings thoroughly, a part of me felt really sad for Kuldeep Yadav.
He was in tears when he was taken apart by Moeen Ali.
Chin up, young man.
Brighter and better days are to follow. You are an absolute star👍#KKRvRCB #VIVOIPL

— Abhishek Barthur (@imabhi27) April 19, 2019
Cricket is a sport played with a lot of emotions and life into it. It is so endearing to see kuldeep break down. Endearing could only be the best word to use instead of disheartening. #kuldeepyadav

— Protip (@Protip9) April 19, 2019
Kuldeep Yadav looked absolutely distraught after that Moeen Ali onslaught.

Looks absolutely stressed and tired. He is one of the major cards for India in the World Cup and should be looked after well.

Hope the BCCI takes some stand. #KKRvsRCB

— Suraj Shukla (@suraj_writes) April 19, 2019
English Cricketer Moeen Ali smashed 26 runs To Kuldeep Yadav he conceded 59 runs in his quota of four overs against RCB Kuldeep burst in to tears! pic.twitter.com/WK5xxmj43l

— muhammad Noman (@muhamma62025313) April 19, 2019
After this match I'm officially worried about Kuldeep Yadav's form going into the worldcup, just doesn't look like getting a wicket! #KKRvRCB #IPL2019

— Sanket Jain (@JainSanket1461) April 19, 2019
I Feel Bad For Kuldeep Yadav !
Don't Cry Champ, Need To Relax, Chin Up And Comeback As Hard As U Do Like Always ! #KKRvRCB #rcbvskkr @imkuldeep18 pic.twitter.com/LYCUiD07wb

— MiSs BaGhEl (@IamSiyuBaghel) April 19, 2019
Kuldeep Yadav looks better only if Mahi is behind the stumps..#KKRvRCB

— legendrock31 (@Munnaaaaahhhhh) April 19, 2019
The Kuldeep Yadav was really having a bad day today at Eden Gardens! #PlayBold #KKRvRCB #VIVOIPL2019 #VIVOIPL #IPL2019

— Kashmira (@thebigtinny1) April 19, 2019
Sometimes people have bad days! #KuldeepYadav will bounce back very soon! Stop trolling and bashing him!#KKR #KKRvRCB #KKRvsRCB #IPL2019 #IPL12 #IPL

— S. (@its_s20) April 19, 2019
Kuldeep Yadav seriously deserve a break as I feel he has reached his break-in point & for the sake of the Indian team KKR management rest him #KKRvRCB

— Abhijith S (@Abhi_mania) April 19, 2019
[interaction id="5cb98f396fdf9a7b31e42a5b"]