IPL 2019 R Ashwin calls for alteration in Mankading rule, if it is against spirit of game
Ravichandran Ashwin opines that he was playing in the limits of the spirit of the game
Updated - Apr 5, 2019 7:15 pm
1.3K Views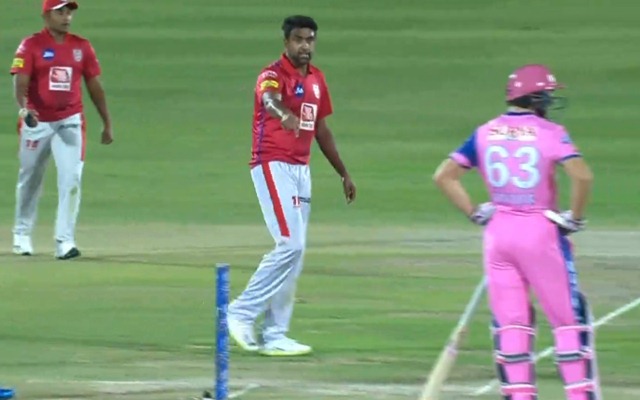 Follow us on Telegram
Kings XI Punjab captain R Ashwin shook a hornet's nest when he decided to Mankad Rajasthan Royals' Jos Buttler in their contest which was the fourth match of the IPL 2019. His actions enabled his team to win the match, which was going in way of RR, as Buttler had scored a fifty and was taking the team to a comfortable win.
Ashwin was bashed on social media by former cricketers and experts of the game for his actions, while some others defended him. Buttler was a habitual offender and was dismissed in the same way in an ODI against Sri Lanka in 2016. Ashwin is not at all regretful of his actions as he feels he was playing within the rules of the game. But it was seen that Ashwin had not warned Buttler before running him out. Seemingly, waited for the RR opener to move out of the crease before releasing the bails.
Ashwin calls for change in rules if it is against the spirit of the game
Though the off-spinner received a lot of flak for his action, Ashwin is not backing down and cleared that the dismissal was instinctive and it was not planned. Ashwin said that his conscience is clear and said if someone finds the rule is against the spirit of the game then the rule should be altered.
"And whatever rule is there in the game, I took advantage of that. I'm not denying I did that, but that's the rule. If someone doesn't like it, and you think it doesn't fit into 'sportsmanship' in cricket, then you should remove the rule. As long as the rule is there… see our (bowlers') foot can't go beyond the line.
Even the line belongs to the batsman. And in this rule, the only thing is the bat should stay in the crease. The batsman still gets two yards, he can be outside the crease, with his bat inside," Ashwin was quoted as speaking on Aaj Tak channel.
The game in favor of batsmen feels Ashwin
According to Ashwin, the game is heavily tilted in favor of the batsmen, as bowlers have to tell all the things to the umpire as well as the batter. But when it comes to the batsmen, it is not the same, who can also switch hit the ball.
"I have to inform which side of the wicket I am bowling from, I have to bowl from behind the crease, the line belongs to the umpire, the line sometimes belongs to the batsman — the inner half of it, he can stand right-handed and hit me left-handed, he can make a switch hit and he can actually walk down the pitch and hit me too. What about the spirit of the game when it comes to bowler's psyche?," Ashwin further added.
[interaction id="5ca62eed4869a84efcd1f2f5″]
Follow us on Google News