IPL 2019: Twitter not impressed with CSK signing the rape tainted New Zealand cricketer Scott Kuggeleijn
Kuggeleijn recently made his international debut for New Zealand.
Updated - Mar 31, 2019 2:44 pm
16.4K Views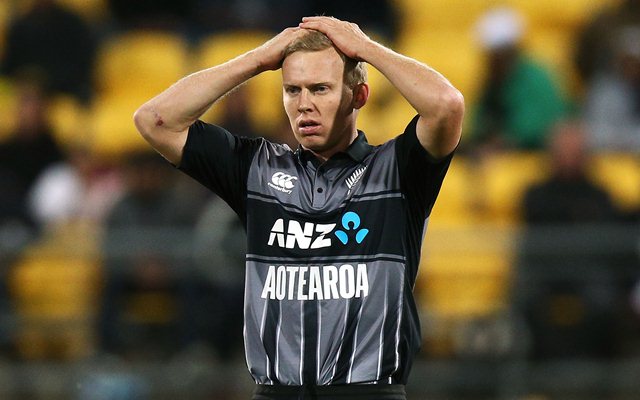 The defending Indian Premier League (IPL) champions Chennai Super Kings (CSK) on Saturday announced the signing of New Zealand's bowling-allrounder Scott Kuggeleijn to replace injured South African bowler Lungi Ngidi in their squad. The 27-year-old who played in four ODIs in 2017 and a couple of T20Is earlier this year, however, is a tainted individual and not many are happy with his inclusion in the CSK squad.
Kuggeleijn faced rape trials in 2016 and 2017
Son of former Kiwi cricketer Chris Kuggeleijn, Scott has a bit of history. He has faced two rape trials in 2016 and 2017 where he was charged with violating a woman's modesty in a flat in 2015. The first jury couldn't arrive at a verdict while the second found him not guilty. The allegations came from two different individuals in March and May 2015. However, Scott still faced outrage and during his recent appearance for the Black Caps in a home series against India, signs against him had appeared on the stands after details of the cases emerged.
According to New Zealand's stuff.co.nz, Scott said to have admitted that the woman had told no at least twice to his persistent attempts to have sex with her and he apologised to her the next day. Also, the defendant's line of questioning was perceived as outrageous and insensitive.
There is even controversy over the 'not guilty' verdict. As per New Zealand Herald: "The New Zealand justice system determined that it was not possible to ascertain beyond a reasonable doubt that Scott Kuggeleijn held a young woman down and raped her. That's what a not guilty verdict means. That the jury could not be certain – beyond reasonable doubt – whether a crime had been committed."
There have been a whole lot of controversies surrounding the case and the deafening silence over it has been criticised. And now, the addition of the tainted cricketer in the CSK team has added fuel to the entire episode. Even the New Zealand cricket board was criticised in the past for remaining silent over the case even as Scott went on to make his debut in international cricket.
Here's how the fans reacted:
For context on the latest CSK member. Whose rape trial is not even discussed in sports media back home.

Silence about Scott Kuggeleijn reinforces a culture of sexual violencehttps://t.co/ES1P6xA8yx
via @MalhotraSaurabh & @Arey_Yaarhttps://t.co/CVUQMLI6Pc

— ZENIA D'CUNHA (@ZENIADCUNHA) March 30, 2019
He was cleared by court but if we follow the case we can easily say he is guilty @ChennaiIPL @BLACKCAPS pic.twitter.com/cBLV5KEQvB

— Dhoni gadi fan (@yaswanth434) March 30, 2019
#JustIn: Harbhajan Singh decides he will take OLA and not travel in same Team bus as Scott Kuggeleijn.

— Good Kid Maad City (@ohgoditsmayhem) March 30, 2019
Interestingly, last year, Steven Smith and David Warner were axed by the IPL for the ball-tampering for which they were already punished by their home board. It was an interesting precedent set. It sits uncomfortably with the Scott Kuggeleijn signing.#IPL2019 #ipl

— Suneer (@suneerchowdhary) March 30, 2019
.@ChennaiIPL have signed this guy

Daddy's army, who have families and play rooms for kids, are now going host this guy. #CSK trying to top their previous controversy. #IPL2019 pic.twitter.com/QZv1cHRnNb

— Akhil Nair (@akhiln) March 30, 2019
Interestingly, last year, Steven Smith and David Warner were axed by the IPL for the ball-tampering for which they were already punished by their home board. It was an interesting precedent set. It sits uncomfortably with the Scott Kuggeleijn signing.#IPL2019 #ipl

— Suneer (@suneerchowdhary) March 30, 2019
Scott Kuggeleijn is a rapist who got away.
Details here.https://t.co/ImhqZC81W4

New Zealand Cricket doesn't care.
Chennai Super Kings don't care.
ICC doesn't care.
Nobody cares.
Maybe @jacindaardern will.

Pardon me if this comes across as an ageing man's rant. https://t.co/MJa98M4CHF

— Abhishek Mukherjee (@ovshake42) March 30, 2019
News coming in that Harbhajan has decided to leave CSK as he can't tolerate his wife sitting in the same bus with Scott Kuggeleijn .

— ABHISEK (@ISHanKISHAN_) March 30, 2019
Think Harbhajan is going to get more mentions now than CSK after Scott Kuggeleijn is signed up. Considering what he preached during the "Koffee gate", he is now in a deeply awkward situation.

— Saurabh Malhotra (@MalhotraSaurabh) March 30, 2019
People calling Scott Kuggeleijn a rapist when he joined @ChennaiIPL , where were you when he played the t20is against India ?
Hypocrites🤔

— riddhi17 (@riddhi171) March 30, 2019
CSK bought a rapist Scott Kuggeleijn 🙊

— arfan. (@Im__Arfan) March 30, 2019
[interaction id="5c9f3d70cd7bd9795414831d"]