IPL 2019: Umpire K Hariharan comes down hard on MS Dhoni for storming onto the field in Jaipur
Dhoni was furious with the call and has already been fined 50% of his match fees for his conduct.
Updated - Apr 12, 2019 4:45 pm
10.6K Views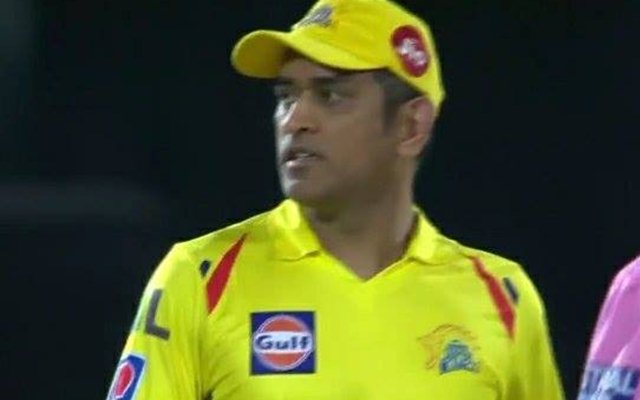 Follow us on Telegram
The recent spats between the captains and the umpires in the ongoing Indian Premier League 2019 have become the controversial highlights of the tournament. The umpiring standards in the ongoing T20 league have been on a downfall and something that has brought the BCCI under criticism too.
Last night's incident in the match between Rajasthan Royals and Chennai Super Kings match could prove to be the last straw in relations between the captains in IPL and the officials. MS Dhoni was seen barging onto the field and was seen arguing with the on-field umpires. The issue was that umpire Ulhas Gandhe had reversed his decision of calling a waist-high full toss a no-ball off Stokes' bowling to Santner.
MS Dhoni rushed onto the field to argue with Gandhe and second umpire Bruce Oxenford, who had asked his colleague to reverse his decision. After being engrossed in discussion with Rahane, Stokes and the umpires, Dhoni came back to the dugout furious.
Umpire K Hariharan slams the cricketers for trying to intimidate umpires
"Obviously star players try to pressurize umpires but it's up to the umpires to withstand the pressure. They will do what they feel but it depends on the personality of the umpire," the veteran Indian umpire K Hariharan was quoted as saying by Business Standard. Hariharan stood in two Tests and 34 ODIs apart from officiating in first three seasons of IPL.
MS Dhoni was fined 50% of his match fees for his antics and as per laws, the maximum punishment for this Level 2 offence could have been a two-match ban but even that was liable for appeal. Earlier, RCB captain Virat Kohli had lambasted the on-field umpire S Ravi for failing to call Lasith Malinga's no ball, which cost RCB the game against MI. "We are not playing club cricket. Umpires need to be smarter," Kohli had lashed out.
"For any umpire, it is necessary to have the courage to stick to his decision. Let's get this straight. As per ICC playing conditions, it was square leg umpire Bruce Oxenford's prerogative to check waist high full toss. Umpire Gandhe had no business signalling no ball. He got it wrong. Now coming to commentators and experts. No umpire can go upstairs to check for validity of a no ball if the batsman is not out. So, umpires couldn't have referred it to TV umpire," K Hariharan simplified the situation.
The BCCI admitted that only 17 umpires are officiating in the IPL. Out of them, 11 are Indian and six foreigners from the Elite Panel. Apart from them, there are six more Indians as fourth umpires.
[interaction id="5cadea7f360ad8a68da27a45"]
Follow us on Google News