IPL 2020: Aakash Chopra lashes out at KXIP management; says Jimmy Neesham is not a match-winner
He also felt that KXIP will have to get their team selection proper.
Updated - Oct 2, 2020 1:00 pm
1.8K Views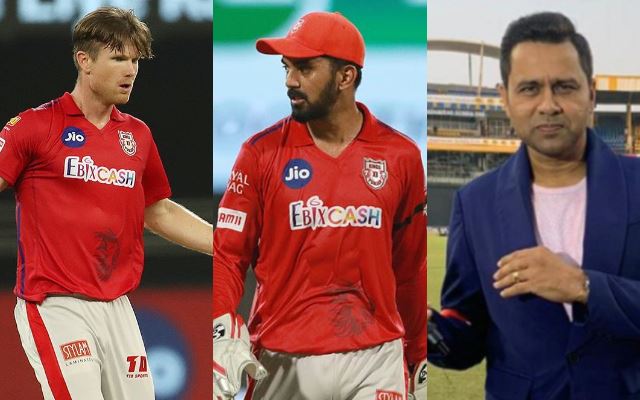 Follow us on Telegram
The Kings XI Punjab (KXIP), on Thursday, lost their third match of the season and have been at the receiving end of all the criticism for their tactics. Former India cricketer Aakash Chopra is one of those critics as he is not at happy with KXIP management. He questioned the decision to give Krishnappa Gowtham the last over of the innings where the off-spinner was smacked for 25 runs.
Moreover, Sheldon Cottrell, their best bowler of the day, wasn't given the ball in the death overs as his quota was finished earlier. Cottrell had gone for 30 runs in the previous game while bowling at the death and for the same reason, KL Rahul finished his overs it seems. But Jimmy Neesham and Gowtham bowled three of the last five overs and KXIP ended up conceding 104 runs in the last six overs.
Aakash Chopra also didn't like the idea of Neesham playing while stating that the Kiwi all-rounder is neither a proper bowler nor a batsman. "First thing is that Kings XI Punjab is not playing the right team. Honestly, they are the only team in the world where Mujeeb is not able to make it to the playing XI after being in the squad. They play Neesham, an overseas fast bowler, who neither bowls in the powerplay nor in the death overs.
"He is neither a great finisher nor a big batsman who bats in the top four or five. So why is Kings XI Punjab playing him? You are playing a player who is not really a match-winner," he said while speaking on his Youtube channel.
Shami is not India's gun death bowler, says Aakash Chopra
Aakash Chopra wasn't pleased at all with the Neesham and Gowtham bowling the death overs of the innings. He also stressed that Mohammed Shami is not a gun death bowler as well. The pacer went for 19 runs in the penultimate over of the innings. "They bowled Sheldon Cottrell at the start and finished his quota of overs before the 15th over. What sort of bowling is that, you have to get him to the death.
"Otherwise who will bowl at the death, Jimmy Neesham and Krishnappa Gowtham with Mohammed Shami. Shami is not India's gun death bowler and then they give the 20th over to Gowtham, an off-spinner in the 20th over. You don't even give that over to Sunil Narine, Ravichandan Ashwin or Harbhajan Singh nowadays and you gave it to Gowtham," the 43-year-old further added.
Follow us on Google News