IPL 2020: Anrich Nortje's 156.2 kmph delivery against RR isn't the fastest ball in IPL history
Nortje pacy deliveries were tough to play for the Royals' batsmen in the game.
Updated - Oct 15, 2020 7:33 pm
43.6K Views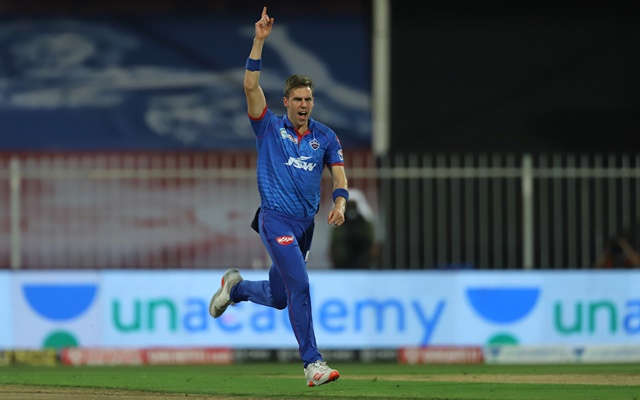 Anrich Nortje bowled at a rapid pace against Rajasthan Royals (RR) and grabbed all the headlines. The speedster breathed fire and bowled three deliveries of above 150 km/hr in his second over to Jos Buttler. The RR stumper scored a boundary on the first one but an absolute Jaffa from Nortje cleaned him up on the very next ball. His heroics earned him Player of the Match award and the ball that he delivered at 156.2 km/hr in the over became a talking point.
Nortje gave away 16 runs in the first five balls but his comeback turned the match on its head. In the next 19 balls that the Protea bowled, he grabbed two wickets and went for only 17 runs. He finished with the match figures of 2 for 33 and his outstanding bowling led Delhi Capitals to another victory.
Interestingly, it has been claimed that the 156.2 kmph delivery was the fastest ball in the history of IPL. However, you will be surprised that the claim isn't entirely factual. Anrich Nortje didn't bowl the fastest ball of IPL history against RR. Now the question comes that who has bowled a faster delivery than Nortje? It is a bowler from Rajasthan Royals itself.
Shaun Tait has bowled the fastest delivery in IPL history
Anrich Nortje's popular over started with a hammering for the bowler from Jos Buttler. The Englishman slammed six and two boundaries in the first five balls and Nortje touched 156.2 kn/hr on the last one of them. However, the pacer came back in style and hit the timber with a speed of 155.1 km/hr.
However, he still missed the fastest ball's record which was created nine years back. Shaun Tait, the former Rajasthan Royals' pacer bowled the fastest ball of IPL history in 2011. The speedster bowled it against Aaron Finch, who used to play for Delhi Daredevils.
Tait's delivery clocked up at 157.7 km/hr which is still the fastest ball of IPL history. Though Anrich Nortje bowled at a serious pace and his ball is fastest since 2012, if we talk about the fastest ball in the all-time history of IPL, Shaun Tait is right on top.