IPL 2020: Faf du Plessis stuns Hardik Pandya and Saurabh Tiwary with his acrobatic skills at the boundary
Faf du Plessis made the catches look very easy on both occasions.
Updated - Sep 19, 2020 11:43 pm
2K Views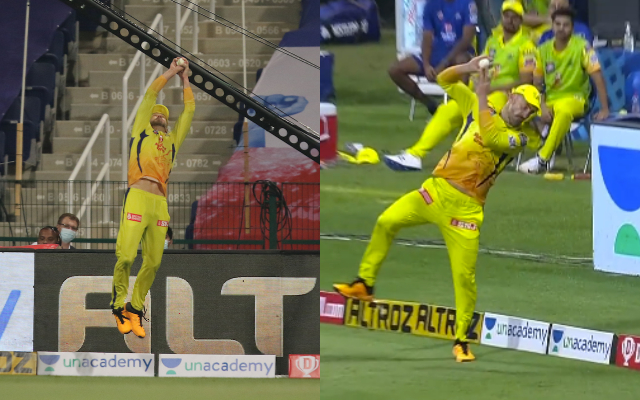 Follow us on Google News
Indian cricket resumed officially on Saturday with the 13th edition of the Indian Premier League (IPL) getting underway in Abu Dhabi. The much-awaited tournament got going with two of the most successful teams, Mumbai Indians (MI) and Chennai Super Kings (CSK), locking horns against each other. And the quality of cricket was top class from the word go from both the sides.
If Quinton de Kock and Saurabh Tiwary mesmerised the viewers with their shots, CSK were exceptional in the field thanks to Faf du Plessis. The former South Africa skipper was at long-on in the 15th over when two wickets fell off Ravindra Jadeja and on both occasions, his acrobatic skills were on show at the boundary when many felt that the ball will cross the boundary easily.
The 15th over began with CSK under a little bit of pressure and Jadeja had also gone for a lot of runs by then. They desperately needed a wicket even as Saurabh Tiwary aimed to clear the long-on boundary. But he took on the wrong fielder. Faf du Plessis was stationed there and he just timed his jump perfectly.
That was not all as he also had to make sure that he doesn't touch the boundary while going off balance. Du Plessis was aware of it and he got rid of the ball on time and came back to catch it again and send Tiwary back.
Faf du Plessis sends back Hardik Pandya too
In the same over, another opportunity came Faf du Plessis' way and this effort from the Proteas cricketer bettered the previous one. He was stationed at long-off this time and when Hardik Pandya aimed to clear the ropes off a full delivery from the left-arm spinner, Faf made sure that the ball didn't go past him.
He had to move to his right a bit this time but even then, he timed his jump and released the ball just in time before getting hold of it again. The man did it twice in the same over and literally made the catches look so easy on both occasions to stun the MI camp and keep a lid on their run-scoring.
Here's the video:
🤭🤭🤭🤫🤫🤫🤫🤫 King du plessis second time pic.twitter.com/4mvpIyC88G

— Ali_OO7_ (@Ali89430780) September 19, 2020
Here's how Twitter reacted:
Looks like only Faf du Plessis can end #COVID19!! #IPL2020 #CSKvsMI #WhistlePodu

— Tanvi Sharma (@TanviSharma_) September 19, 2020
Faf Du Plessis kicking off the IPL excellence catching campaign with two brilliant catches! 👌 #MIvCSK #IPL

— Jainam Mehta (@Jainam09) September 19, 2020
Faf du Plessis, our Superman🦸‍♂️#CSKvsMI #CSK pic.twitter.com/U5gDKYGcMG

— कटप्पा (@Katappa00) September 19, 2020
#IPL2020#ChennaiSuperKings #MIvCSK#CSKvsMI
CSK bowlers :wickets nhi milre
Faf du plessis: pic.twitter.com/fwsgJaCv6F

— Vaibhav (@vaibhav_Gorani) September 19, 2020
*Faf du plessis*
Taking 2 unbelievable catch in a over.
Mumbai Indians fans right now:- pic.twitter.com/3AgXfUoctf

— Akash (@Akash63425420) September 19, 2020
Faf Du Plessis🔥#IPL2020

— ନ୍ୟାୟପତୀ ବଂଶୀ କୃଷ୍ଣ (Nyayapati Vamshi Krishna) (@chagala_toka) September 19, 2020
Faf Du Plessis #IPL2020 #Dream11IPL #MIvCSK #CSK
😂😂 pic.twitter.com/oxq6rPSiaO

— Popeye (@Popeye70620017) September 19, 2020
Faf Du Plessis 😍🔥#CSKvsMI #WhistlePodu pic.twitter.com/UzWi1LBRui

— Suresh Raina FC™ (@CultRaina) September 19, 2020
Take a bow Faf du Plessis 👏

An early contender for IPL catch of the year, and it's the first day!@faf1307 | @IPLpic.twitter.com/boMAHs8WVn

— Catch Mate. (@CatchMate_) September 19, 2020
Faf du plessis 👏boundary line 🔥#CSKvsMI #Yellove pic.twitter.com/DM7c0lL0Ql

— TAS (@tasmanoj) September 19, 2020
*Batsman hits shot for 6*

Faf du plessis : pic.twitter.com/vXYdQYuxDE

— B🅰️rle-G 🇮🇳 (@Zero_humour) September 19, 2020
Dhoni and Faf du Plessis are flying in Abu Dhabi #Dream11IPL

— Peachy Blinders (@i_sacked_NEWTON) September 19, 2020
Faf du plessis just took 2 brilliant catches from Jadeja's overs to improve his 4- over spell of 42 runs/2 wickets.#IPLinUAE #IPL2020 #CSKvsMI pic.twitter.com/g4lydU4p23

— K_witter (@Kislay2001) September 19, 2020
Batsman hitting ball high in the air expecting it to be Six
Faf Du Plessis –@faf1307 #ChennaiSuperKings #IPL2020 #CSKvsMI pic.twitter.com/LgryO22pP9

— Mogambo ka Batija (@SagarSarcasm) September 19, 2020
Faf du Plessis pure season ab uchaal-uchaal ke he catch dikhayega kya?🤹🏻‍♂️
😂😂#IPL #IPL2020 #CSKvsMI #FafduPlessis

— SAT- Sri Bhaukaal (@ImSwastikAnand) September 19, 2020
Follow us on Telegram