IPL 2020: Fans trend #ComeBackMrIPL for Suresh Raina after CSK lose their second consecutive match
Raina pulled out of the whole season late last month.
Updated - Sep 26, 2020 12:13 pm
2.3K Views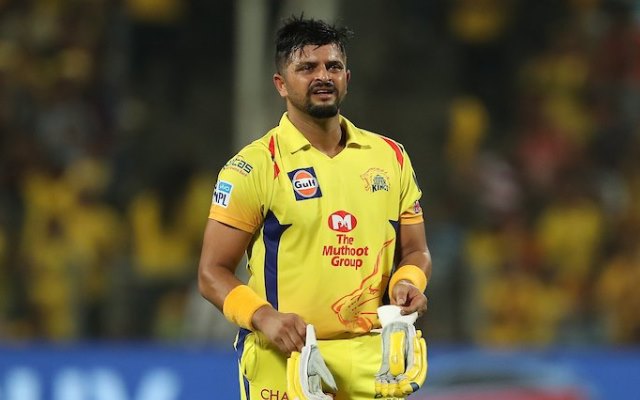 Follow us on Telegram
The Chennai Super Kings (CSK) started their Indian Premier League (IPL) campaign for 2020 season with a bang defeating the Mumbai Indians (MI). But things have gone wrong quickly for them. Since then, the team has lost to the Rajasthan Royals (RR) and the Delhi Capitals (DC). While losing isn't a problem, the way they have lost, has been an issue for the CSK.
Chasing 217 against the Royals, they never showed the intent to win the game and concentrated on reaching close to the target to not let NRR damage. However, on Friday against the DC, they couldn't even chase down 176 and fell short of the target by 44 runs. The top-order is struggling miserably and skipper MS Dhoni not batting up the order isn't helping their cause either.
Undertstandably, the CSK fans are frustrated and worried now about the team and it is clear that they are missing Mr IPL Suresh Raina. The southpaw pulled out of the whole season later last month citing personal reasons. But the man himself had later stated that there is a chance of him coming back into the side and is training hard while also being with his family.
Twitter filled with requests for Suresh Raina to come back
Meanwhile, after the loss against DC, the CSK fans have started trending #ComeBackMrIPL requesting Raina to land in the UAE and bail the team out of trouble. The CSK number three is the second-highest run-getter ever with 5368 runs to his name in 193 matches. He has been the back bone of the line-up over the years and it seems, the franchise is desperately missing their experienced player.
To make things worse, Ambati Rayudu, the match-winner of the opening game, has sustained a hamstring injury and has missed both the previous matches that the CSK have lost. His replacement Ruturaj Gaikwad hasn't looked comfortable in the middle at all while the likes of Murali Vijay and Shane Watson too are out of form.
CSK also seems to be the experience of Harbhajan Singh with Piyush Chawla and Ravindra Jadeja going for runs. Dwayne Bravo is yet to get fit as well and it will be interesting to see if comes back along with Rayudu in the next game.
Having said that, the fans are badly missing Suresh Raina only it seems and they feel, if he returns most of the team's problems will be resolved. As far as CSK are concerned, they have got a decent break now before their next match and will hope to get things sorted by then.
Here are some of the tweets:
#ComeBackMrIPL Pls comeback… This four player are base of wictory … I'm not saying that other players not do anything but this four are amazing player … Har AK cskians ki wish he ki bravo and raydu get well soon and suresh Raina Pls comeback… pic.twitter.com/a9DczWzF9s

— 😍hiya patel -msdian (@HetviPa86576289) September 26, 2020
#ComeBackMrIPL
CSK needs Mr. IPL in their batting line up! Raina should think of comeback.

Perfect fielder, very good striker and can ball in crucial time as well. pic.twitter.com/M4mx8FLCGm

— MSD 🚁 (@Cskhearts) September 26, 2020
CSK with CSK without
Chin thallla Chin thalla #Raina #ComeBackMrIPL pic.twitter.com/7r47fkGpjE

— vikash ray (@sarcasmic_way) September 26, 2020
Raina sir abhibhi time he Pls comeback…. #ComeBackMrIPL pic.twitter.com/dN8axAlm6e

— 😍hiya patel -msdian (@HetviPa86576289) September 26, 2020
#ComeBackMrIPL Comeback Raina @ImRaina Team needs u… pic.twitter.com/rwMt3KUgHc

— MASTER MoHaN (@JosephVijayyy) September 26, 2020
Raina miss this ipl it's wrong sentence I think😇….

Ipl miss the t20 legend raina🙏💯…..@ImRaina #ComeBackMrIPL #comebackRaina pic.twitter.com/VLC8nOI8Wk

— Raina Kingdom (@Rainakingdom) September 26, 2020
We need our team @ChennaiIPL for @ImRaina , pls consider toour fans response, pls ignore our problems pls #comebackMrIPL pic.twitter.com/h5IvRvuZaB

— anurag rai (@anuragr39982571) September 26, 2020
#ComeBackMrIPL Please comeback sir please sir….. pic.twitter.com/7yKZLJgqU8

— 😍hiya patel -msdian (@HetviPa86576289) September 26, 2020
To, @ImRaina ,
On the behalf Of all CSK

Respected Sir,
Please make a comeback to the team. They are badly missing. Missing your insides out shot,gun fielding & an extra bowling options. Please the middle order is not performing. So it's a request

— Abhi Raina (@abhi_roy00) September 26, 2020
• From : A team which doesn't change their playing 11
• To Trying hard making experiments to get Best 11

Debutants on
1st – #SamCurran | 2nd – #ruturajgaikwad | 3rd – #Hazelwood #ComeBackCSK | #ComeBackMrIPL | #Raina pic.twitter.com/iyqR66FqSJ

— RAINA Trends™ | #ComeBackMrIPL (@trendRaina) September 26, 2020
The major missing @ChennaiIPL 18 % runs scored in overall runs every time in to crece contribution very good #ComeBackMrIPL #comebackRaina @vishnukumarSK @ImRainaBro @gayathri170 @akasureshraina @CSK_FanTweets pic.twitter.com/EfeOw0J6AC

— Lovely Dass (@Rainadass1998) September 26, 2020
🔰 One of The Most Gentle And Selfless Player Of The Game!

🔰 One Of The Best Indian Fielder!

🔰 One of the Best Middle Order Batsman!

🔰 One Of The Best Part -Time Bowler!

Please Comeback Champ 🖤 @ChennaiIPL 🦁☝️#ComeBackMrIPL #SureshRaina @ImRaina pic.twitter.com/3g2BZhV7zj

— Upender Reddy Chitla🇮🇳 #ComeBackMrIPL 🖤🏏☝️ (@Upender_Raina3) September 26, 2020
Most Sixes By an INDIAN Player in IPL

MS Dhoni – 212 sixes ( 172 inns ) 🔥

Rohit – 200* sixes ( 185 Inns ) 🔥#SureshRaina – 194 sixes – ( 189 inns )🔥#ComeBackMrIPL @ImRaina pic.twitter.com/OueHPEwLM1

— Raina Network (@Raina_Network) September 23, 2020
Come Back Champion 🏏💥💛
We miss you..CSK Needs you!
Please Comeback @ImRaina 🙏#SureshRaina #ComeBackMrIPL#Raina pic.twitter.com/BhSwpQTREO

— Soan Raina❤️ (@Soan_Raina3) September 26, 2020
Please sir announce it officially when you are going back to UAE .
As soon as possible #ComeBackMrIPL @ImRaina https://t.co/Q9icUql5MG

— Amith Anthony (@AmithAnthony5) September 22, 2020
#ComeBackMrIPL
You have always delivered when the team needed, time for your comeback 💛🦁 #RainaTheBackboneOfCSK #Raina #SureshRaina #ChinnaThala @ImRaina ✌🏏✅ pic.twitter.com/tioiygcbPy

— Akansha(Raina Ki Deewani)❤🇮🇳 (@akasureshraina) September 25, 2020
Follow us on Google News