IPL 2020 Final: MI vs DC – Who Said What
MI's domination in the season ended only after lifting their 5th IPL trophy in style.
Updated - Nov 11, 2020 12:25 am
504 Views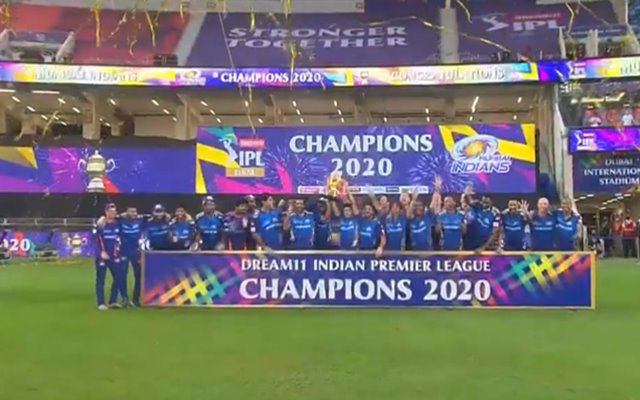 The biggest action of the Indian Premier League 2020 saw Mumbai Indians and Delhi Capitals locking horns with each other. There could not have been a better dominance in the league than what MI came up with. They defended their IPL title in the classiest manner as they brought in their 5th title home by defeating Delhi by five wickets. On the finale night, Delhi walked with their willows first, and their miseries began as stumbled on 22/3.
Trent Boult was named as the player of the match as he began his magic with the very first ball of his opening over. However, Rishabh Pant and skipper Shreyas Iyer batted maturely from that point to shoulder the responsibilities. Half-centuries from both Iyer (65 off 50) and Pant (56 off 38) became the backbone of Delhi's batting order. Jayant Yadav came up with the best economy while Boult turned lethal as he named three wickets under his wicket.
Rohit Sharma turned the star to bring 5th trophy for MI
Chasing the ordinary target of 156 runs on the board, it was Mumbai's skipper Rohit Sharma (68 off 51) who turned absolutely phenomenal on the finale night. Consistent youngster Ishan Kishan did the rest of the job again as he scored 33 off 19 balls. Anrich Nortje picked two wickets under his belt.
IPL 2020 Winning skipper, Rohit Sharma said
I'm quite happy with how things went the whole season. We said at the start that we need the winning habit. We couldn't have asked for anything more, right on the money from ball 1 and we never looked back. I think a lot of credit goes to the people who worked behind the scenes – often they go unnoticed. Our work started long before the IPL started, and we wanted to make sure we filled the gaps in previous seasons.

I had to find the balance to get the best out of them. I'm not someone who can run behind them with a stick, and it's important to instil confidence in the players. Krunal, Hardik and Pollard have done their job for a long time, they know their roles. Rahul missed out today, and we need to make sure we put an arm around him and assure him that he didn't do anything wrong and that it was a tactical move.

We made sure Ishan and Surya had confidence – just have to let Ishan loose, and Surya is a more matured player. The kind of form he was in, I should have sacrificed my wicket for Surya. But throughout the tournament he has played some incredible shots. Unfortunately we couldn't have the fans at the stadium. We missed playing at the Wankhede and hopefully we can get back there next year.
Also Read
Losing skipper, Shreyas Iyer said
Ricky, the amount of freedom he gives us is outstanding. The way he motivates players is simply amazing. His team meetings and motivational speeches it quite incredible. The IPL always amazes you, it's one of the toughest leagues to play. I'm overwhelmed to be part of it, and I'm really proud of my boys, the way they have played to reach the final, it's not easy. Winning the IPL would have been better, but we will see to it that we lift the trophy next year.  I would like to thank our fans, and we're thankful for all the support that has been showered on us throughout the season.
Player of the match and Power Player of the season, Trent Boult said
Some days I do like the powerplay. It's been a good few months, giving the franchise a good start. With everything going on, I've been welcomed in the side. To have made it across the line, it's been worth it. I wasn't aware of the talk, but I did have a niggle coming into the match. I wanted to be on the stage and happy I came through. I'd like to say I'm relatively experiened. Just another match, and I was clear what I had to do. Tried to take a few early wickets, swing the new ball a little bit, that's been my role in the side.
Emerging player of the year, Devdutt Padikkal said
It's a really great achievement for me and gives me great confidence for whatever lies ahead.
Super-striker of the season, Kieron Pollard said
It's a great feeling, means a lot. Fifth trophy.. Have been here for 11 years. We have a quiet celebration. He is a different West Indian. He goes at 6am to the gym. The amount of trophies, the amount of talent that's there, you can say MI is the best T20 team going around. The management, the support staff, the effort they put in to make. Dwayne Bravo you are behind me now (about number of T20 titles), I have to say that on camera (smiles).
Orange cap winner, KL Rahul said
A big thank you to all the supporters. Winning the orange cap feels nice, but it would've been nicer if we had gone further in the tournament. However I got to learn a lot about being a leader this tournament.
Most valuable player, Jofra Archer said
Really grateful to receive the award. It didn't go as well for the team, and hopefully this has shown what I can do and I hope it helps the team a little more later.
Mumbai Indians Coach, Mahela Jayawardene said
It was a tough tournament. There were a lot of superstitions about odd years. I have to congratulate Ricky and his team, they have had a great season and they were a tough opponent today. WE had a great preparation, and we tried to manage them well and ensure they didn't overdo or underdo any of the work. Big-hitting has been in MI's DNA for a long time. We have tried to bring in the touch play a little bit to balance it out. Credit to the management who bought into our ideas and that helped create history today. It's all about helping the team preparation-wise and explain their roles to them. We have a good leadership group out there, and a great support staff who have helped them out. The boys have seen my not-so-soft side, but the group has worked off-season, and today is the culmination of all of the hard work.
Delhi Capitals Coach, Ricky Ponting said
MI have been the best team, they've beaten us 4 times. Being coach it's a little frustrating in the dugout but at the end of the day I'm really proud of the job the boys have done. Iyer is a brilliant player, captain and person. He's definitely grown in stature in the last 12 months. Hopefully we can work together a bit more in the future.
Jasprit Bumrah said
Very happy, we have worked very hard, we started preparing much earlier before other teams, we worked through process, all of which has got us a lot of results. We wanted to break the jinx of winning every alternative years – the goal has been achieved now. It means a great deal, the pandemic has been such a shock, everyone have been stuck at home. We are just grateful to come back and play cricket, something we love. We are just happy we could bring back some smiles to the people back home, give them some entertainment (for people watching at home), it's been a tough few months. From the first game, I felt my rhythm was upbut the lat piece in the jig-saw puzzle was missing. When I bowled the super over here (against RCB), there was some anxiety going on towards the end, but when I bowled that superover, I felt I could execute against AB and Virat. Since then, my confidence went up, I just wanted to keep things simple and repeat the basics every time.
Rahul Chahar said
Feels great. Me not playing isn't important, winning is. I feel great to have contributed to us coming first. I can bowl quick, bowl slow and I have the variations as well. It takes me half an hour for this hairstyle before the match.
Quinton de Kock said
Missing the family is difficult for everyone. It's a great feeling. You see what it means to the franchise (Nita Ambani unknowingly interrupts and apologises with a smile knowing an interview was going on). There were questions around if MI can we win back to back titles. Everybody worked extra hard. The support staff and everyone, we couldn't have done it without them. It's pretty special.
Suryakumar Yadav said
It's an amazing feeling. Before coming here we had a chat in the bus and the team meetings that we have won tournaments in alternate years – odd years – we wanted to break that jinx and create history. Here it is. Backroom staff have been amazing throughout. Preparation, process and routines are very important and they just said one thing – we'll take care of all this and you just go out there, express yourself, just enjoy and do what you do best. Rohit was batting very well at that moment. Most importantly he has been anchoring the innings a lot since first game. I don't mind sacrificing my wicket for him at all.
Ishan Kishan said
I wasn't looking in good shape at the start of this season, so I had a good chat with Hardik bhai and Krunal bhai,  I wanted to work on my fitness, just keep working on my off-side game. Wanted to do what was good for the team with the bat and score big runs.
Hardik Pandya said
I enjoy what I do. For me it was about opportunity. Wasn't able to bowl this year. It's just about backing myself. As Krunal said it's all about preparation and we did really well in that bracket.
Krunal Pandya said
It's the hunger to be at the top always. We never take any game lightly and in every game there was always that 100% effort. Even back in Mumbai we prepared hard, we came one month early, everyone knew their roles and everyone was just going out there and executing what they were doing in the nets. There was never a doubt about Ishan Kishan's talent. He was ready to listen and ready to improve. All credit goes to him for how he came back in this season, It isn't easy to bat at four, then open and come back to four. Really really happy about how he has gone about this season.
Jayant Yadav said
Just happy to win the title. Great feeling to be a champion side for two consecutive years. Shows the strength of the franchise. It's the effort you put in throughout the season. It's a long tournament and you have to be professional and on your toes. It's about working constantly throughout the season. It's part and parcel of playing in this league. There'll be small-small battles you have to fight. Small matchups.