IPL 2020: Jofra Archer has bowled 16 of the 20 fastest deliveries so far; Navdeep Saini fastest among Indians
CSK's Josh Hazlewood has made it to top 20 after playing only one match.
Updated - Oct 1, 2020 3:03 pm
5.1K Views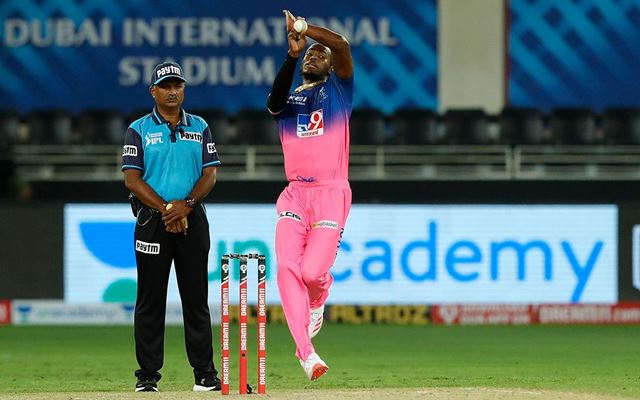 The 13th edition of the Indian Premier League (IPL) is up and running in style. The competition is fierce this time around as after only 12 matches, all the teams have won and lost at least one game. Apart from injuries, almost all the top foreign players are available this season to feature in the league and for the same reason, the quality of cricket has been top-class. Along with it, the pace bowlers are leaving their own impress with their fierce pace too.
Rajasthan Royals' bowler Jofra Archer is leading the way in this aspect. He is the only bowler to have crossed the 150 kph mark this season so far. The fastest ball he has bowled so far in this IPL is 152.13 kph while the other deliveries when he clocked beyond measured, 150.82 and 150.75 kph. So far, the teams have played only 3 matches each and the speeds are likely to increase while more bowlers are expected to cross the elusive 150 kph mark.
Interestingly, Jofra Archer has bowled 16 of the top 20 fastest deliveries in this IPL season thus far. The only other name in the top 10 in this list is of Delhi Capitals' Anrich Nortje who delivered at the speed of 148.92 in one of the matches.
Navdeep Saini clocked at 147.92 kph in one of the IPL 2020 matches.
Among the Indian bowlers, the Royal Challengers Bangalore's (RCB) Navdeep Saini has been the fastest. He has impressed a lot with his variations thus far and was instrumental in the team winning the match against the Mumbai Indians (MI) in the super over. He is at the 13th place at the moment in the fastest ball list having clocked 147.92 kph in one of the three matches he's played in IPL 2020.
Apart from the above three players, the Chennai Super Kings' (CSK) bowler Josh Hazlewood has managed to sneak into the top 20. He delivered at 147.32 kph speed in the only game he played against Delhi Capitals (DC) this season. There could be more players appearing in this list as the tournament goes on. But at the moment, Jofra Archer is leading the way clearly with his fierce pace bowling.
Here's the list of fastest balls bowled in IPL 2020 so far:
| | |
| --- | --- |
| Player Name | Speed (in kph) |
| Jofra Archer | 152.13 |
| Jofra Archer | 150.82 |
| Jofra Archer | 150.75 |
| Jofra Archer | 149.91 |
| Jofra Archer | 149.82 |
| Jofra Archer | 149.82 |
| Jofra Archer | 149.48 |
| Anrich Nortje | 148.92 |
| Jofra Archer | 148.8 |
| Jofra Archer | 148.75 |
| Jofra Archer | 148.61 |
| Jofra Archer | 147.93 |
| Navdeep Saini | 147.92 |
| Jofra Archer | 147.84 |
| Jofra Archer | 147.83 |
| Jofra Archer | 147.7 |
| Jofra Archer | 147.41 |
| Jofra Archer | 147.77 |
| Anrich Nortje | 147.33 |
| Josh Hazlewood | 147.32 |