IPL 2020 Points table, Orange and Purple cap holders after KKR vs RCB game
After RCB vs KKR match, Delhi Capitals retain their top position in the points table.
Updated - Oct 23, 2020 12:05 pm
242 Views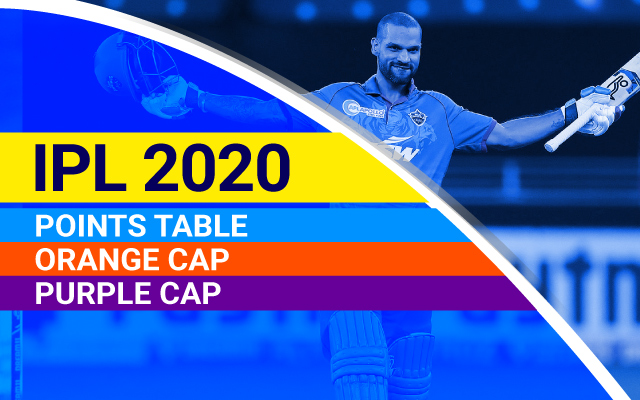 Match no. 39 of the Indian Premier League (IPL) went live from Abu Dhabi between Kolkata Knight Riders and in-form Royal Challengers Bangalore. RCB crushed KKR by eight wickets and 39 balls to spare. Kolkata walked down the field to display their batting show first and saw the utter collapse of their line-up to post the lowest score of 84 runs in IPL 2020 so far. Skipper Eoin Morgan (30 off 34) remained the highest run-getter of the team.
Mohammed Siraj was named as the player of the match as he baffled batsmen with two straight maidens. Lockie Ferguson added 19 runs from his bat towards the end. The RCB bowlers owned the game like heroes where Siraj conceded just eight runs in four overs to pick three wickets.  It was the first time in the history of IPL that a bowler bagged two straight maiden overs. Ace spinner Yuzvendra Chahal displayed his magic as he maintained an economy of 3.80 to pick two wickets.
Hunting mere 84 runs, openers Devdutt Padikkal (25 off 17) and Aaron Finch (16 off 21) maintained a decent stand. After that, Gurkeerat Singh Mann (21* off 26) and Virat Kohli (18* off 17) added their respective contributions to get over the line. Lockie Ferguson came up with the great show with the ball again from Kolkata's bowling unit as he conceded just 17 runs to pick one wicket.
Who has Orange and Purple Cap?
After RCB vs KKR match, Delhi Capitals retain their top position in the points table. Next in line are Royal Challengers Bangalore. 3rd and 4th spots are sealed by Mumbai Indians and Kolkata Knight Riders respectively.
KXIP skipper KL Rahul keeps the Orange Cap with huge 540 runs under his belt. The second player in the same race is Shikhar Dhawan, with 465 runs in his account. 3rd and 4th spots are held by Mayank Agarwal and Faf du Plessis.
The Purple Cap is with Delhi's star pacer Kagiso Rabada with 21 wickets on his name.
Following him is Mohammed Shami, with 16 wickets. Jasprit Bumrah and Yuzvendra Chahal have 15 wickets each on their name. Jofra Archer has 13 wickets to his credit in IPL 2020 so far.
List of top run-scorers in IPL 2020 – Orange Cap Holder
| | | | | | | | | | | |
| --- | --- | --- | --- | --- | --- | --- | --- | --- | --- | --- |
| Sr No | Player | Team | Matches | Innings | Runs | Average | SR | 4s/6s | 100/50s | Best |
| 1 | KL Rahul | KXIP | 10 | 10 | 540 | 67.50 | 135.67 | 46/19 | 1/5 | 132* |
| 2 | S Dhawan | DC | 10 | 10 | 465 | 66.42 | 149.03 | 51/10 | 2/2 | 106* |
| 3 | M Agarwal | KXIP | 10 | 10 | 398 | 39.80 | 155.46 | 39/15 | 1/2 | 106 |
| 4 | Faf du Plessis | CSK | 10 | 10 | 375 | 46.87 | 141.50 | 36/10 | 0/4 | 87* |
| 5 | V Kohli | RCB | 10 | 10 | 365 | 60.83 | 126.59 | 20/9 | 0/2 | 90* |
| 6 | S Iyer | DC | 10 | 10 | 335 | 37.22 | 131.37 | 24/13 | 0/2 | 88* |
| 7 | D Warner | SRH | 9 | 9 | 331 | 41.37 | 124.43 | 27/8 | 0/2 | 60 |
| 8 | Q de Kock | MI | 9 | 9 | 322 | 40.25 | 146.36 | 29/14 | 0/4 | 78* |
| 9 | D Padikkal | RCB | 10 | 10 | 321 | 32.10 | 124.41 | 31/6 | 0/3 | 63 |
| 10 | J Bairstow | SRH | 9 | 9 | 316 | 35.11 | 128.97 | 26/12 | 0/3 | 97 |
List of most wicket-takers in IPL 2020 – Purple Cap Holder
| | | | | | | | |
| --- | --- | --- | --- | --- | --- | --- | --- |
| Sr No | Player | Team | Matches | Innings | Wickets | Average | Best |
| 1 | K Rabada | DC | 10 | 10 | 21 | 14.33 | 4/24 |
| 2 | M Shami | KXIP | 10 | 10 | 16 | 20.37 | 3/15 |
| 3 | J Bumrah | MI | 9 | 9 | 15 | 17.86 | 4/20 |
| 4 | Y Chahal | RCB | 10 | 10 | 15 | 18.33 | 3/18 |
| 5 | J Archer | RR | 10 | 10 | 13 | 20.61 | 3/19 |
| 6 | A Nortje | DC | 9 | 9 | 12 | 23.25 | 3/33 |
| 7 | T Boult | MI | 9 | 9 | 12 | 24.91 | 2/26 |
| 8 | Rashid Khan | SRH | 9 | 9 | 11 | 18.09 | 3/12 |
| 9 | R Chahar | MI | 9 | 9 | 11 | 21.54 | 2/18 |
| 10 | T Natarajan | SRH | 9 | 9 | 11 | 26.81 | 2/24 |
Here's the IPL 2020 points table in detail:
| | | | | | | | |
| --- | --- | --- | --- | --- | --- | --- | --- |
| Position | Team | Matches | Won | Lost | NR | Points | NRR |
| 1 | DC | 10 | 7 | 3 | 0 | 14 | 0.77 |
| 2 | RCB | 10 | 7 | 3 | 0 | 14 | 0.18 |
| 3 | MI | 9 | 6 | 3 | 0 | 12 | 1.20 |
| 4 | KKR | 10 | 5 | 5 | 0 | 10 | -0.82 |
| 5 | KXIP | 10 | 4 | 6 | 0 | 8 | -0.17 |
| 6 | RR | 10 | 4 | 6 | 0 | 8 | -0.59 |
| 7 | SRH | 9 | 3 | 6 | 0 | 6 | 0.008 |
| 8 | CSK | 10 | 3 | 7 | 0 | 6 | -0.46 |