IPL 2020: Rashid Khan given hit-wicket and not caught in SRH vs CSK game; What does the law say?
The fans were confused after Rashid Khan was given hit-wicket and not caught.
Updated - Oct 14, 2020 8:00 pm
769 Views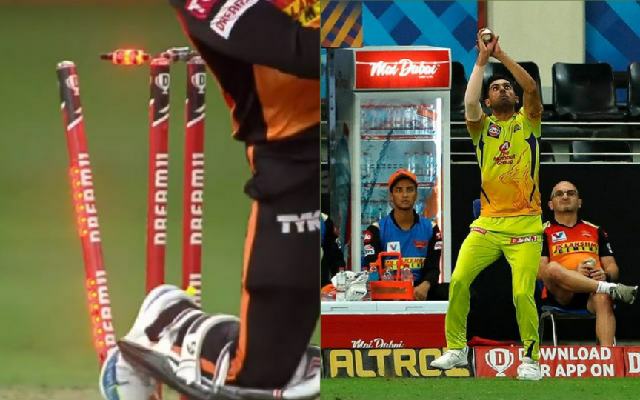 Sunrisers Hyderabad (SRH) lost to Chennai Super Kings (CSK) by 20 runs on Tuesday in match 29 of the ongoing Indian Premier League (IPL). The fact that they got so close to the 168-run target was due to Rashid Khan who scored some quick runs in the death overs to get them close. However, his dismissal has left many confused as Rashid was hit-wicket and was also caught in the deep in the 19th over of the innings.
Facing Shardul Thakur, he went deep into his crease and tried to hit a six over long-on. He connected well only to get holed out at long-on. However, in the process of hitting over the top, Rashid Khan put his own backfoot on the stumps to get hit-wicket. On the same delivery, the batsman got out in two ways and eventually, the scorecard showed as hit-wicket which has left the fans baffled.
Here's the explanation
MCC's Laws of Cricket states that 'caught' dismissal takes precedence over any other type of dismissal over 'bowled'. According to the law 33.1, "If […] the striker is not out Bowled, then he/she is out Caught, even though a decision against either batsman for another method of dismissal would be justified."
The reason why Rashid Khan was given out hit-wicket was, the moment his backfoot pegged back to hit the stumps, the square leg umpire Anil Chaudhary declared him out and according the rules, whatever happens after that, is not considered. "The ball is "deemed to be dead from the instant of the incident causing the dismissal," according to the Law 20.1.1.3.
Interestingly, another interpretation of the rule is mentioned in Tom Smith's Cricket Umpiring & Scoring according to ESPNCricinfo, which states that a batsman can be dismissing in two ways theoretically. But if the onfield umpire rules the batsman though one of the those methods before the other is completed, the first decision is deemed final.
In Rashid Khan's case, umpire had spotted him to be hitting his stumps before getting caught and for the same reason, the Afghanistan leg-spinner was given out hit-wicket and not caught.