IPL 2021: Fans criticise Mumbai Indians' Kieron Pollard for running before the ball is bowled
Despite Pollard's presence in the death overs, Mumbai managed only 131 against Punjab.
Updated - Apr 23, 2021 10:04 pm
8.7K Views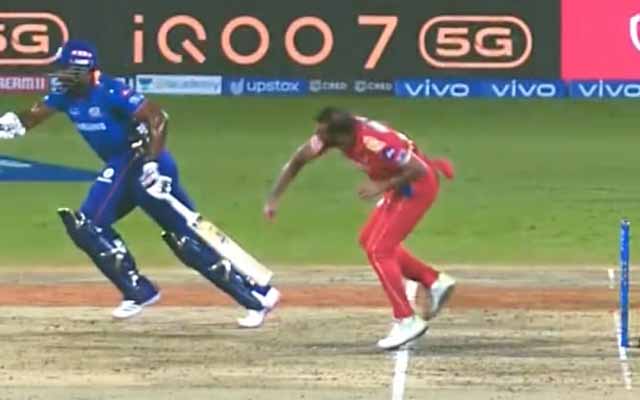 Follow us on Telegram
Cricket is a game of gentlemen and it is played with a sense of honour. There is a spirit of the game which every player has to follow on the field. Often there is a debate about one such thing, which opens about the discussions regarding the spirit of the game. Mankading is one of the examples. This form of dismissal caused by a bowler is considered disrespectful towards the spirit of the game. 
However, the counter argument for people who say that mankading is against the spirit of the game is the question of how is it fair if the batsman is trying to take advantage by running a little extra before time. Something similar happened during the IPL 2021 match between Punjab Kings and Mumbai Indians. 
Kieron Pollard, the middle-order batsman of Mumbai Indians, during the death overs of his team's batting did something which was criticized by the fans on Twitter. The West Indian batsman was seen walking on the pitch, trying to take advantage by running a few meters before the ball was being released by the bowlers. 
Harsha Bhogle had made a similar observation earlier
When it was caught on the cameras by the broadcasters and shown during the telecast, fans quickly started reacting to this incident. Pollard received some criticism because of this. A couple of days before, during another match in Mumbai, commentator Harsha Bhogle pointed out this same thing about another West Indian. Bhogle pointed to Dwayne Bravo trying to run ahead of the time to gain a few meters while taking a single. 
Pollard backing up again on Shami. Commentator wants more than a warning, wants penalty runs. #IPL2021 #PBKSvMI pic.twitter.com/odRtaqeoK1

— Paul Watson (@paulmwatson) April 23, 2021
Kieron Pollard started running even before the ball was released from Mohammad Shami's hand. pic.twitter.com/dfzUXzN9x6

— Mufaddal Vohra (@mufaddal_vohra) April 23, 2021
Other day Pollard was looking to Mankad Shikar Dhawan vs DC, now this.🤷

— Satish Kumar (@imsatishkumar39) April 23, 2021
Bowler should stop in his delivery stride and mankad Pollard….I would laugh so much…. #IPL2021

— Innocent Bystander (@InnoBystander) April 23, 2021
The way Pollard was leaving crease before even ball was bowled, it raises a question whether there be 'No Run' similar to No ball…It would be fair to bowlers #IPL2021

— Bsh (@bmhora) April 23, 2021
The way Pollard left the crease twelve years ago 🤣 #MIvPBKS

— Brown Kudi 💁🏽‍♀️ (@NutanShelar) April 23, 2021
No point going after Pollard there calling it 'stealing'. Bowler is free to run him out.

— Transition Time (@Anonymized3V) April 23, 2021
#Pollard today pic.twitter.com/3dkTXOZCA9

— Khobra Archer (@KhobraArcher) April 23, 2021
Batsman started running even before Bowler released the ball.

Is this is not against "Spirit of the game" ??#IPL2021 || #PBKSvMI pic.twitter.com/QlLUcb9R7l

— Abhi. (@Abhicricket18) April 23, 2021
Pollard running even before shami delivers the ball(19.2)#PBKSvsMI

— Rohith Fedex (@rohith_fedex) April 23, 2021
Hypocrite Pollard 👎 https://t.co/p2SfS60rbL

— Dhärméndra (@D_One6ix) April 23, 2021
#Pollard today pic.twitter.com/3dkTXOZCA9

— Khobra Archer (@KhobraArcher) April 23, 2021
According to the senior commentator, batsmen who try to take a step or two to have an advantage in running a single, should not complain about the spirit of the game, when they are ran out at the non-striker's end. He opined that bowlers should more often Mankad batsmen who try to steal these singles by running ahead. 
Speaking of the match between Mumbai Indians and Punjab Kings, the five-time champions struggled to bat on the Chennai pitch yet again. They ended with a score of 131 for 6 from their 20 overs. Rohit Sharma scored 63 runs from 52 balls while Suryakumar Yadav made 33 runs from 27 balls. Mohammed Shami and Ravi Bishnoi got two scalps each, bowling economically. 
Free Hit with Sandeep Warrier
Follow us on Google News