IPL 2021 Season Fantasy – Mumbai Indians Team Preview
In this article, let us analyze the Mumbai Indians team from IPL 2021 Season Fantasy League perspective.
Updated - Apr 7, 2021 11:06 am
1.2K Views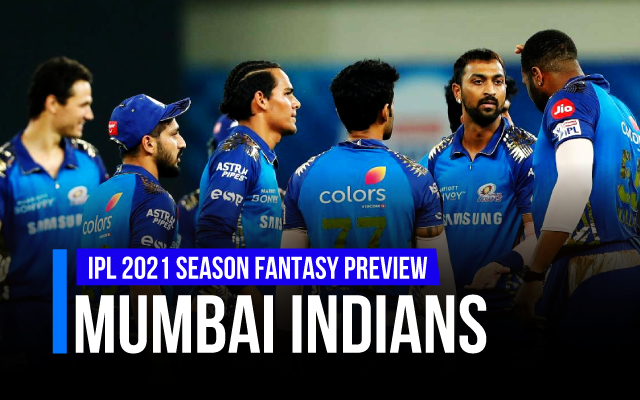 In IPL 2021, Mumbai Indians are going to play the first five matches in Chennai, the next four in Delhi, the other three and two in Bengaluru and Kolkata respectively. Traditionally tracks in Chennai and Delhi have been assisting more for spinners and slow ball bowlers/hitters. So Mumbai has to adapt slightly different strategies to perform at their best.
In this article, let us analyze the Mumbai Indians team from IPL 2021 Season Fantasy League perspective. The number given next to the player in brackets is the number of credits value in the fantasy league.
Expected Playing XI: Rohit Sharma, Quinton de Kock, Surya Kumar Yadav, Ishan Kishan, Hardik Pandya, Krunal Pandya, Kieron Pollard, Adam Milne/Coulter Nile, Rahul Chahar, Trent Boult, Jasprit Bumrah
Ishan Kishan(9): Quinton de Kock is likely to miss the first game. In that case, Ishan Kishan will be taking the gloves, also he is likely to open considering the LHB-RHB combination and spin-friendly Chennai track which suits his game. In that case, he is a steal at 9 Credits.
Surya Kumar Yadav(9.5): Surya Kumar Yadav showed his class in the recently concluded England series. He is the most reliable run-getter, playing in first down.
Jasprit Bumrah(11): The best death bowler in the world now. At the price tag of 11 Credits, it will be difficult to get Bumrah for every match. But when Mumbai plays more than one match in a short span, he is a must-have.
Rohit Sharma(12): No doubt, hitman can give plenty of fantasy points on his day. However, at 12 Credits, it is difficult to carry him for more games.  Surya Kumar Yadav could be a budget-friendly batter available instead of Rohit Sharma. But when Mumbai plays consecutive matches in a short span, he should be part of the fantasy team.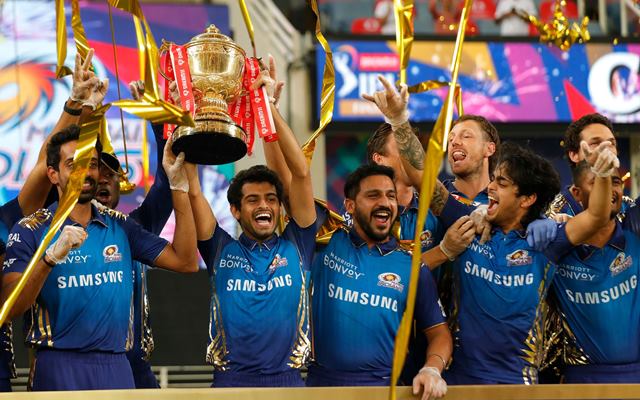 Follow us on Telegram
Hardik Pandya(10):  Hardik Pandya is in great form and batting suits the Chennai tracks, so he is likely to come up the order and cause destruction. Watch out how many overs he is bowling and accordingly pick him in the team and choose for captaincy option.
Krunal Pandya(8.5): Since Mumbai is playing the first 9 matches on relatively slow surfaces, Krunal is likely to bowl his full 4 over quota unless there is an extra spinner in the team in addition to Rahul Chahar. At 8.5 Credits, he offers great value to the team due to his all-round abilities and he could be a permanent part of the fantasy team.
Quinton de Kock(10.5): Quinton de Kock adds great fantasy value due to his dual roles as Batsman, wicketkeeper. However, his weakness against spin on slow decks could force him out of the team. Mumbai can promote Ishan Kishan up the order and include James Neesham in the middle order.
Rahul Chahar(8.5): Rahul Chahar will be the key for Mumbai due to the nature of the decks the team will be playing. At 8.5 Credits, he adds great value to a fantasy team.
Kieron Pollard(9.5): His role is in Mumbai Indians is to finish the matches. He often gets to play less number of deliveries and especially in chasing, he comes way down the order, only when the required run rate is soaring up.  Due to his batting position and overseas limitation, he is less attractive purely from the fantasy team perspective.
Adam Milne(8): Adam Milne adds great value at death bowling in addition to Bumrah. Despite his batting skills, he might not get many opportunities with the bat in the mighty Mumbai Indians.
Trent Boult(9.5):  Due to the availability of Adam Milne this season, Boult might not get to bowl at the death. Won't be surprised if he finishes his full quota before 10 overs. That makes him slightly less attractive from the fantasy perspective.
Other Players: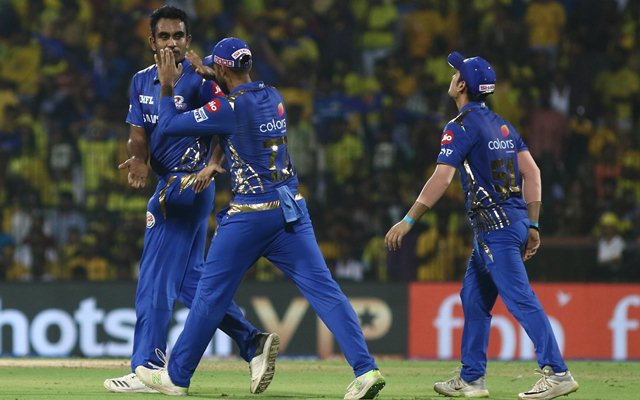 Nathan Coulter Nile(8)/Marco Jansen(6.5)/James Neesham(8) can be part of the team if there are any issues with the bowling unit and also if Mumbai want to rest some pacers.
Piyush Chawla(7.5): If Rahul Chahar is not doing well or if Mumbai wants to beef up their spin attack, Piyush Chawla could come into the final XI.
Jayant Yadav(7): He might get a chance to play in matches with more left-handed batsmen, like Delhi Capitals.
Uncapped:  The chances of having an uncapped player in Mumbai XI are very less. Mostly, free uncapped substitutions will have to be used with the players from other teams.
Follow us on Google News