IPL 2021: Twitter reacts after Varun Chakravarthy and Sandeep Warrier's COVID positive report
Due to their test reports, the match between KKR and RCB has now been postponed.
Updated - May 3, 2021 1:45 pm
3.7K Views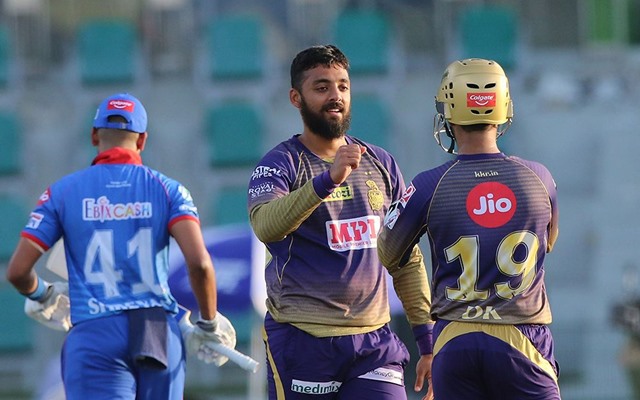 The Indian Premier League 2021 match between Kolkata Knight Riders and Royal Challengers Bangalore on Monday, May 3, has been rescheduled due to the sudden crisis which hit the camps. According to the reports which are emerging from Ahmedabad, two Kolkata team players have been tested positive with COVID-19, while some of them have been isolated. 
The match which was scheduled to be played at the Narendra Modi Stadium on Monday will now be played later. The updates suggest that the Gujarat Cricket Association will take a call on Monday afternoon regarding the match and its scheduling. It was reported that Varun Chakravarthy, the mystery spinner of KKR, and up-and-coming fast-bowler, Sandeep Warrier have tested positive for COVID-19. 
There were rumors which were indicating that Pat Cummins could be one of the players who has been tested positive, however, it was later reported that the Australian media reported the news as members of Cummins' team have been tested positive, but it came out that the pacer was not part of the group that had tested positive. 
Varun Chakravarthy went out of the bubble to get shoulder tests done: Reports
The sudden COVID scare has halted the proceedings of this match, but it seems at the moment that the IPL will continue. There have been rumors running on social media that indicate that there was a potential bio bubble breach. But, there hasn't been an official statement from the Kolkata Knight Riders franchise or the Board of Control for Cricket in India, or IPL's governing council. 
However, in a report by ESPNCricinfo, it was revealed that Chakravarthy had gone to get a few tests done for his shoulder injury, which is where he might have contracted the virus. It was also reported that the rest of the KKR players have tested negative, other than Warrier and Chakravarthy. 
Kolkata's 2021 season has not been ideal so far. They have lost five out of their seven matches and are struggling in the league. Chakravarthy was one of their important players, and with him now ruled out for at least a week or two, KKR will be in search of a player from their set-up to replace the spinner. It remains to be seen when Kolkata will play their next match. 
Here's how Twitter reacted:
Natarajan was rested coz he had to leave the bubble for taking scan… So why was the same thing not applicable to Varun C or whoever from KKR who had to get scans. Case of ignorance to the bio bubble rules? Hard to understand. pic.twitter.com/I4xZP5Uzrg

— Akshay S (@AkshaySubraman1) May 3, 2021
IPL fans after finding out 2 KKR members tested positive pic.twitter.com/cKY9hf2Dgx

— Sagar (@sagarcasm) May 3, 2021
The track and trace investigation begins, along with daily testing for KKR. https://t.co/iSEmhTbsSw

— Melinda Farrell (@melindafarrell) May 3, 2021
Varun left the bio bubble through the official green channel to carry out his scan, KKR followed all the protocols. It isn't their fault. pic.twitter.com/3Q936o5TTa

— akshar (@_iamakshar_) May 3, 2021
Sourav Ganguly to KKR team manager- #KKRvsRCB pic.twitter.com/VtUI7Z1Hwx

— Aj (@AjAypanwar3242) May 3, 2021
Mood after KKR news. #IPL pic.twitter.com/kZyzGLXwrH

— Silly Point (@FarziCricketer) May 3, 2021
If Varun Chakravarthy left bubble for hospital then he should put into quarantine for week or 2 . Why did he rejoin in bubble ? KKR absolutely unprofessional man .

— Sai (@akakrcb6) May 3, 2021
Me thinking about how I'm going to spend the evening now.. #KKRvsRCB
(Get well soon Varun Chakravarthy & Sandeep Warrier) pic.twitter.com/oC050B5DqN

— Aman💫 (@shubhashis15) May 3, 2021
Me thinking about how I'm going to spend the evening now.. #KKRvsRCB
(Get well soon Varun Chakravarthy & Sandeep Warrier) pic.twitter.com/iaD4nb4AhY

— RCB 👑 (@viratian18183) May 3, 2021
Well Varun Chakravarthy left the bio-bubble to get a scan on his shoulder and then on joing the bio-bubble tested positive. But as far as I remember he did not quarantine after joining bio-bubble since he didn't miss any match. Questions about KKR's management putting IPL at risk

— Ayushman singh (Ayush) (@Ayushman2251187) May 3, 2021
#COVIDisAirborne and Sandeep warrier, Varun chakravarthy tested +ve

Not the news one wanted to see pic.twitter.com/i4hCjI7XK9

— PK Sachinist (@pksachinist) May 3, 2021