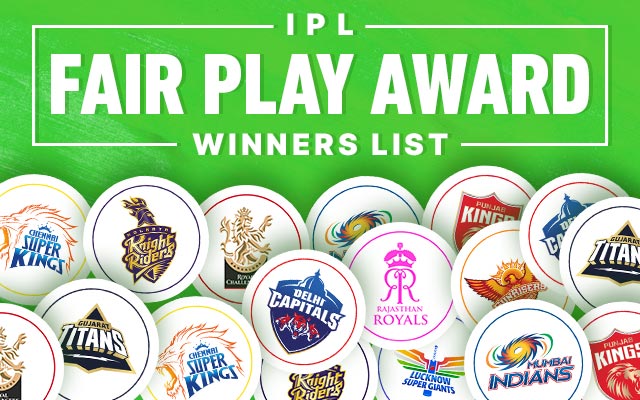 The Indian Premier League 2023 has changed the way cricket is played ever since its inception in 2008. The batting, bowling, and fielding standards have only been going up each season which has encouraged the introduction of many awards for rewarding individual and collective excellence.
At the same time, equal importance is given to ensuring the smooth conduct of the matches fairly and honestly with the best team being adjudged the "Fair Play Award" winner at the end of the tournament. The teams get some valuable points for adhering to certain rules -respect towards fellow players, opponents, and more importantly the match officials.
The points are distributed based on three criteria. Two points for a team signify that their performance is good while one or zero points fall into average and bad categories respectively. The teams receive 10 points per match. Four of which are awarded based on how a particular team maintained the spirit of the game in the opinion of all the three umpires.
Who has won the Fair Play Award the maximum number of times in the IPL?
The most successful team in terms of having won the maximum number of Fair Play Awards is the four-time IPL winners, Chennai Super Kings led by the talismanic Mahendra Singh Dhoni. In the last 14 seasons, CSK has won this award a record six times in the 2008, 2010, 2011, 2013, 2014, and 2015 editions respectively.
The Rajasthan Royals (2012 & 2021), Sunrisers Hyderabad (2016 & 2019), and Mumbai Indians (2018 & 2020) have won this award twice. The Punjab Kings and the now-defunct Gujarat Lions had won in the 2009 and 2017 editions.
As far as the IPL 2022 Fair Play Award table is concerned, it is the Chennai Super Kings who occupy the pole position with 140 points from 14 matches. The new entrants Gujarat Titans, Punjab Kings, and the Rajasthan Royals also have the same number of points.
IPL Fair Play Award Table 2023
| | | | | |
| --- | --- | --- | --- | --- |
| POS | TEAM | MATCHES | PTS | AVG |
| 1. | Gujarat Titans | 17 | 173 | 10.18 |
| 2 | Delhi Capitals | 14 | 141 | 10.07 |
| 3 | Sunrisers Hyderabad | 14 | 139 | 9.93 |
| 4. | Chennai Super Kings | 16 | 158 | 9.88 |
| 5 | Mumbai Indians | 16 | 158 | 9.88 |
| 6 | Punjab Kings | 14 | 138 | 9.86 |
| 7 | Lucknow Super Giants | 15 | 146 | 9.73 |
| 8 | Rajasthan Royals | 14 | 133 | 9.50 |
| 9 | Royal Challengers Bangalore | 14 | 130 | 9.29 |
| 10 | Kolkata Knight Riders | 14 | 128 | 9.14 |

*Last Updated on 30th May 2023 after the match between CSK vs GT
IPL Fair Play Award Winners List From 2008 to 2023
| | |
| --- | --- |
| SEASON | WINNER TEAM |
| 2008 | CHENNAI SUPER KINGS |
| 2009 | PUNJAB KINGS |
| 2010 | CHENNAI SUPER KINGS |
| 2011 | CHENNAI SUPER KINGS |
| 2012 | RAJASTHAN ROYALS |
| 2013 | CHENNAI SUPER KINGS |
| 2014 | CHENNAI SUPER KINGS |
| 2015 | CHENNAI SUPER KINGS |
| 2016 | SUNRISERS HYDERABAD |
| 2017 | GUJARAT LIONS |
| 2018 | MUMBAI INDIANS |
| 2019 | SUNRISERS HYDERABAD |
| 2020 | MUMBAI INDIANS |
| 2021 | RAJASTHAN ROYALS |
| 2022 | RAJASTHAN ROYALS & GUJRAT TITANS |
| 2023 | Delhi Capitals |