IPL has absolutely changed my career: Aditya Tare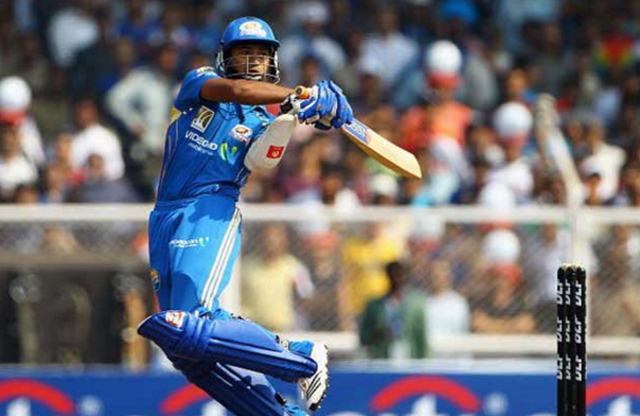 Follow us on Google News
Wicketkeeper-batsman Aditya Tare first came into the picture with Mumbai Indians picking him for the third edition of Indian Premier League (IPL). Since then he has been a part of the squad during the franchise's title-winning campaigns in 2013 and 2015 – though the presence of Parthiv Patel in the squad often denied him a place in the XI in 2015. In the 2016 auction, Tare was bought by Sunrisers Hyderabad for Rs 1.2 crore.
From making his debut for the Mumbai Ranji team in the year 2009 to being appointed the captain of the Mumbai Ranji team in the year 2014, he will this week lead his team into the final of the Ranji Trophy 2015-16.
In an interview with WisdenIndia the Mumbai skipper talked about his family and early interest in sports: "My father used to work at a pharmaceutical company. He retired when the company moved out of Bombay, because he didn't want to move or leave the family behind. Now, he stays at home and takes care of the family. My mother is a yoga teacher. You see, when you have something at home, you usually don't use it! She teaches yoga in my colony. My sister's into finance and my wife handles international travel for her company."
"I was born and brought up in Mumbai, in Chembur, not some fishing village (laughs). I was a very active kid, so I was enrolled into a football camp in Our Lady of Perpetual Succour High School. I played a lot of school tournaments, my first paper cutting is of me scoring a goal. I was a striker before I decided to become a midfielder; I played a lot of age-group football. Then my school started taking part in the Harris Shield, and that's how I got into cricket. In my second game, I scored a hundred. That's when I realised that I should focus more on cricket. I loved cricket even when I was playing football, so it wasn't a tough call."
Tare feels his life changed completely after making his mark in the IPL. "The IPL has absolutely changed my career. I have Mumbai Indians to thank for everything. I had great guidance from all my coaches. Some are just stalwarts of the game. I made my (first-class) debut in 2009 as a batsman in a rain-affected game. I didn't get to bat, I just fielded for a day and a half. I got a contract with Mumbai Indians in 2010, which is where I met Kiran More. That's when I realised that I was short on wicketkeeping skills. I had the skills as a batsman but not as a 'keeper."
Unleashing his wicketkeeping skills and shows his gratitude towards his coaches. "No, I used to bowl offspin in school. Clearly, every serious batsman bowls offspin (laughs). My coach (Austin Coutinho) encouraged me to start keeping. I always loved being involved in the game. When I used to play with my colony friends, when I got out I used to stand as the 'keeper'. In gully cricket, when you get out, you either do nothing or stand behind the stumps. That's how my love for wicketkeeping started. Austin sir was the one who told me to stop focussing on bowling and start working on my keeping. He has been my coach since childhood. RCF (Rashtriya Chemicals and Fertilizers Limited) was close to my home and he used to work there. Though I was an outsider, he asked me to come and train with his team."
He also stated that he wasn't that good a wicketkeeper until his stint with the Mumbai Under -19 team. "I wasn't a natural keeper, I needed guidance from a wicketkeeper. When I played for Mumbai Under-16 and Under-19, we didn't have a wicketkeeping coach until I came in contact with SulakshanKulkarni (the former Mumbai 'keeper). He was our Under-19 coach and we won the Cooch Behar Trophy in 2006-07. He took the initiative, helped me improve my skills and got me into IOC (Indian Oil Corporation). He was the one who saw my improvement as a keeper and picked me for the Ranji side. That's when I played my first full season for Mumbai (in 2012-13), when we won the Ranji Trophy."
He has always been a regular of the Mumbai Ranji team and has played under/with the stalwarts of the game. About the legend, Sachin Tendulkar, his involvement with the Mumbai Indians and his impact Tare said, "He's an inspiration to everyone, not just me. I'm glad that he shows a lot of interest in Mumbai cricket. He still comes and helps us out when we ask him to. He talks to the guys. He's like an encyclopedia of cricket. A fast bowler or a 'keeper or anyone can talk to him because his knowledge of cricket is so vast." he said.
Chasing 190, the Mumbai Indians had to get there in less than 15 overs, to qualify for the playoffs he hit a last ball six to take MI home. "A lot of people know me because we qualified for the playoffs with that six. It was a very interesting game (against Rajasthan Royals). To score 180-190 in 15 overs was… you'd never give any team a chance but Corey Anderson (95 not out) played a blinder that day with (Ambati) Rayudu (30). We needed a boundary off the fourth ball of the 15th over and I was fortunate to get that ball into the stands. It was a big stage and at that point it's always 50-50, you either hit or you miss. Fortunately I hit. I don't think I slept the whole of that night." A proud moment for any cricketer he said.
Taking responsibility has always been a positive side of Tare, who was named the captain of the Mumbai Ranji team in the middle of the tournament, "It was a tricky situation last season. I took it positively because I believed that we could turn it around. We were fighting relegation when I was made captain, but the team reacted really well to my captaincy. We showed a lot of character. To make it to the semifinal after the situation we were in, it took a lot from the boys. A lot of credit goes to the boys."
Leading the team from the front, he is a happy captain now as his team will be taking on Saurashtra for the title clash of the Eighty-Second edition of the Ranji Trophy. "It's just a matter of pride and honour. I never imagined that I would be the Mumbai captain. I never imagined when I started playing cricket that I would play Ranji Trophy, but once you put in a lot of hard work and a lot of effort, you start seeing the results. It (captaincy) has also helped my game. It's a challenge because if you do well, people talk about you and if you don't also, they talk about you but in a negative way." He said.
Talking about Mumbai's young batting sensation and the leading run scorer of this year's Ranji Trophy – Shreyas Iyer, Tare said, "It's great. When Shreyas is there, I just hope that he plays for 40-50 overs because when he does so, the team ends up scoring 200-odd runs during that period. It's important because every time we are in a fix, he comes and takes it to the opposition and scores at a brisk pace. He immediately ensures pressure on the opposition and he keeps the batsman at the other end relaxed. It's a simple thing with him, he's going to score runs so you don't have to do anything out of your game. He has been scoring a lot of good runs over the past couple of seasons; touch wood, he continues to." Being a little superstitious he said.
Playing cricket at the highest level is the dream of every cricketer, he sums up saying, "Obviously, it's a childhood dream to play for India and it's important that we follow our dreams. I want to follow my dream and the dream is to play Test cricket for India. I believe I have the ability but it depends on how I go out and deliver on the field. I have to keep working hard and keep adding to my game."
Follow us on Telegram