IPL: The first ever happenings of Chennai Super Kings in the league
Here we look at the happenings of the Chennai Super Kings for the first time in the history of IPL.
Updated - Apr 21, 2020 1:57 pm
372 Views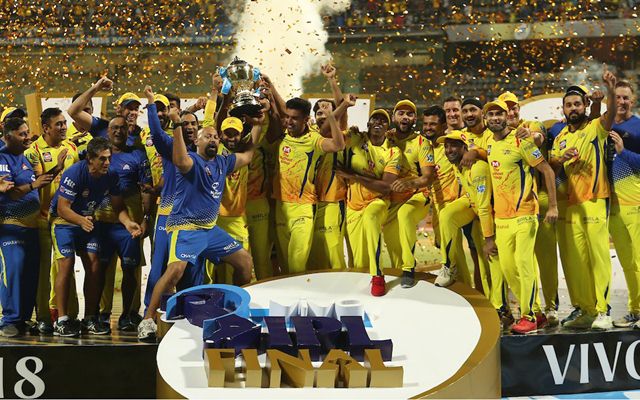 Follow us on Telegram
The Chennai Super Kings (CSK) have got a special place in the Indian Premier League (IPL) history having qualified to the knockouts and playoff rounds in all the ten seasons they played. Moreover, they further made it to the finals in as many as eight editions. Though their record in the finals has been underwhelming, the Super Kings remain as the only side to defend their title in the league's history (2010 and 2011). With their 3rd title in 2018 edition, the CSK team stands as the 2nd most successful IPL team.
Here we look at the happenings of the Chennai Super Kings for the first time in the history of IPL:
First ball:
Parthiv Patel faced the first ball in the IPL for CSK in the bowling of Brett Lee. Parthiv shouldered his arms and let it go to the keeper Kumar Sangakkara. (Over 0.1 – Inns No.1 vs KXIP in Mohali on April 19, 2008)
---
First run:
Parthiv Patel scored the first run for CSK off Brett Lee with a single towards mid-off region. (Over 0.3 – Inns No.1 vs KXIP in Mohali on April 19, 2008)
---
First four:
Matthew Hayden hit CSK's first four of the IPL as he smashed Brett Lee towards the mid-wicket in their first over of the league. (Over 0.5 – Inns No.1 vs KXIP in Mohali on April 19, 2008)
---
First six:
Matthew Hayden also hit the first six for CSK in the bowling of James Hopes when he hit one over the long-off. (Over 5.2 – Inns No.1 vs KXIP in Mohali on April 19, 2008)
---
First wicket and catch:
The first wicket picked by CSK was of Karan Goel who skied one off Manpreet Gony and was caught by Parthiv Patel. (Over 5.5 – Inns No.2 vs KXIP in Mohali on April 19, 2008)
---
First stumping:
MS Dhoni affected first stumping for CSK in the IPL during the 2009 season. David Warner was stumped in the bowling of Shadab Jakati. (Over 15.5 – Inns No.2 vs DD in Johannesburg on May 2, 2009)
---
First runout:
S Badrinath completed CSK's first runout in their 2nd match of the 2008 edition to dismiss Luke Ronchi. (Over 0.6 – Inns No.2 vs MI in Chennai on April 23, 2008)
---
First 50 and 100:
Mike Hussey scored the first fifty and also the first century of CSK in their maiden IPL game. He scored 116 from 54 balls with 8 fours and nine maximums. (vs KXIP in Mohali on April 19, 2008)
---
First maiden over:
Manpreet Gony bowled CSK's first maiden over of the IPL during their home game against MI. Robin Uthappa failed to score a run of the ball during the 2nd over of the MI's innings. However, the first ball yielded four runs through leg byes. (2nd over – Inns No.2 vs MI in Chennai on April 23, 2008)
---
First 5-wicket haul and hat-trick:
Lakshmipathy Balaji took 5/24 in his 4 overs against Kings XI Punjab during the inaugural edition which was the first-ever 5-wicket haul for CSK in the IPL. In the same match, he also took a hat-trick with the wickets of Irfan Pathan, Piyush Chawla and VRV Singh. (in Chennai on May 10, 2008)
---
First win:
CSK won their debut IPL game by 33 runs against KXIP. (in Mohali on April 19, 2008)
---
First title:
CSK qualified to the final for the first time in 2008 season where they lost to Rajasthan Royals. (in Mumbai on June 1, 2008)
They clinched their first title in the 2010 edition by defeating Mumbai Indians in the final. (in Mumbai on April 24, 2010)
Follow us on Google News