Irani Trophy 2019: Faiz Fazal ruled out belatedly by the umpire after consulting his partner
Faiz Fazal had no option but to walk back to the pavilion.
Updated - Feb 14, 2019 11:04 am
3.1K Views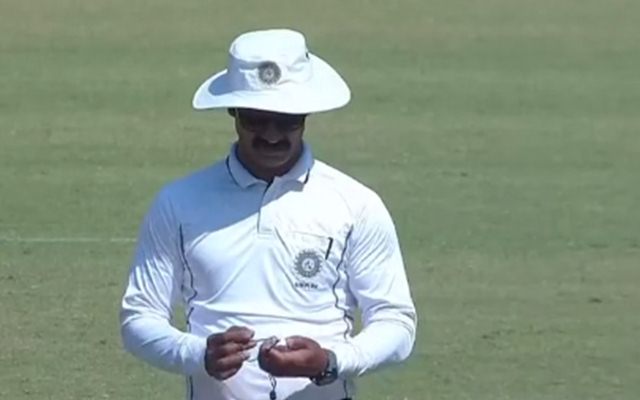 Follow us on Google News
The umpiring standards have come under the scanner during the ongoing domestic season in India. On the second day of the Irani Trophy encounter between Vidarbha and Rest of India, there was yet another glimpse of a questionable umpiring decision. The on-field umpire CK Nandan delayed a decision which left both teams perplexed, especially the batsman, Faiz Fazal, who was given out.
Speaking of recent blunders, a couple of questionable decisions in favour of Cheteshwar Pujara was subject to a lot of repercussions. Coming back to the incident, it was certainly bizarre as the on-field umpire first denied dismissal and then reversed it, much to the batsman's contempt.
The umpire in question, CK Nandan is lauded as one of the best umpires in the country. This simply displays how much low the overall standard is of the Indian umpiring scene. The umpire's job is to remain alert at all times and throughout every situation. However, in the process of Nandan's decision-making, he was casual about denying a wicket to Krishnappa Gowtham, the bowler.
This incident occurred in the 21st over of the game when Gowtham delivered a one from outside off to Faiz Fazal. The Vidarbha captain tried to launch it with soft hands. The ball, however, touched the batsman's outside edge and settled into the hands of the wicketkeeper Ishan Kishan.
What happened next?
On hearing a clear sound of touch between the bat and ball, Kishan appealed for a wicket when the bowler joined in.  But Nandan had already denied the wicket. The bowling side and the commentators were deeply disapproving the decision when the umpire suddenly reversed it as the camera caught him raising the finger.
A replay revealed that the reversed decision was the result of Nandan's consultation with the leg-umpire Nitin Menon. The angle of the edge was as such that it was fairly impossible for the leg-umpire to discern. Menon reassured Nandan that there was a glove-ball contact, and that led to the much-criticized reversal of the decision. In the end, Faiz Fazal had to walk.
Here's the video:
Follow us on Telegram