Irfan Pathan's nephew Raiyaan plays an AB-esque shot
The 2 and a half years old is already showing his cricketing skills.
Updated - Aug 26, 2018 6:24 pm
548 Views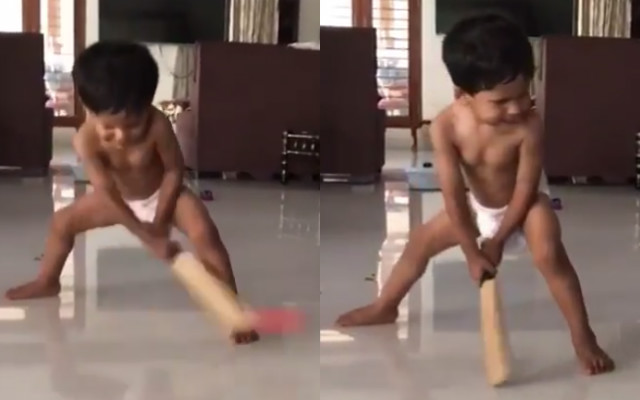 Follow us on Google News
Cricket is that one sport in India, every child learns to play first. Kids as young as 3 and 4 start to play cricket and that's how millions in this nation aspire to become cricketers at any point in time. If one comes from the family in which the sport runs in the blood the possibility that the next generation will follow the trend just doubles up. Though very early it appears as if the Pathan family has another cricketer in making.
Raiyaan the youngster son of Indian cricketer Yusuf Pathan is just two and a half years old but is already inclined towards the sport. His chachu Irfan Pathan who also represented India in all three formats shared a video of the toddler playing cricket in their house. He played a shot that reminded Irfan of South African great AB de Villiers and he put that video up on Instagram for the world to see.
In the video, Raiyaan is standing with an open stance, both his legs split and the bat held in the middle ready to smash the ball in any direction. He is, of course, playing with a miniature bat and a plastic ball which is rolled towards him. He just swats the ball onto the leg-side and though not as exotic as de Villiers Raiyaan certainly is an unorthodox batter.
Irfan in his post wrote that at such a young age he is already playing shots of this kind, he tagged AB de Villiers the man who popularised 360º batting at the highest level. Irfan asked him if he was watching.
"Two and half year old RAIYAAN playing this shot AB DE VILLIERS r u watching? #nextgeneration #acricketer #surely @yusuf_pathan," he wrote on Instagram as a caption along with his video.
Here is the video of the toddler playing cricket:
Follow us on Telegram