Irish domestic cricketer redeems himself after letting go a sitter in the slip
The batsman didn't quite learn from his mistake and again went for the ambitious stroke.
Updated - Jul 27, 2018 4:48 pm
438 Views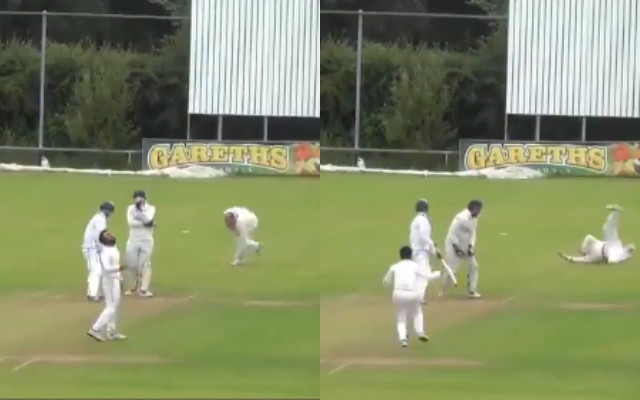 Life doesn't always provide a second chance to human beings. Hence it's paramount that one makes utilisation of the first chance. Often we have seen fielders spill catches in the outfield and then helplessly see the batsman pounce on the lifeline given to him. All the fielder can do is wait for the batter to commit another mistake. Ireland's domestic cricketer Junior McBrine's case is different though.
The incident occurred during a top-of-the-table clash between Donemana and Coleraine last year in July. McBrine, the 54-year-old from Omagh, Co Tyrone representing Donemana, grassed a dolly at first slip. Medium pacer Imran Butt dished out a juicy half-volley outside the off-stump. Scott Campbell, who was batting brilliantly on 56, had the measure of the bowling and the playing conditions.
His eyes lit up on detecting the opportunity to score some runs. He trotted on to the front foot and slashed at the leather. He wasn't quite balanced while playing the stroke and hence, the ball took the outside edge of his willow and traced into McBrine's hands. However, the ball went to the fielder at the rate of knots for the reason that the batsman slashed at the ball with all his might.
McBrine makes amends
McBrine was beaten for pace, he put out both hands and yet couldn't latch on to the delivery. Quite expectantly, Butt was disappointed at the missed opportunity. McBrine also vented his anger by smacking the ball on the turf and also kicked the ground thereafter in utter disgust. Butt gathered himself to bowl the next delivery and he churned out a similar full-pitched ball.
The batsman didn't quite learn from his mistake and again went for an ambitious drive. This time around, the leather flew to the right of McBrine. The fielder showed tremendous reflex actions and dived full length on to his right. He stuck his right hand out and fortunately, he latched on to the leather. Following the stupendous take, McBrine's teammates rushed towards him in ecstasy.
Here is the video  
This is bloody brilliant.

Via Stephen McCartney. pic.twitter.com/RHKhHbOwjH

— Cricket Shouts (@crickshouts) July 26, 2018
[interaction id="5b59a4c396df42db7eb01c9c"]
For more news and developments, stay tuned on CricTracker.com.