Ishant Sharma opens up about his conversation with Steve Smith in Bangalore Test
I followed MSD's instructions, and claimed seven wickets, says Ishant
Updated - Jul 17, 2017 6:47 pm
4.4K Views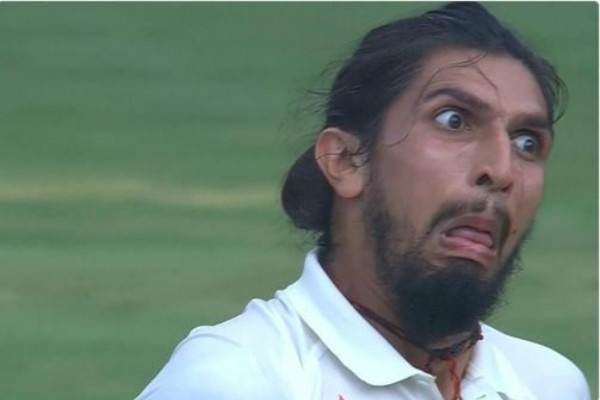 Indian Test bowler, Ishant Sharma, who gained all the limelight in the Second Test against Australia after imitating Steve Smith, finally revealed about the conversation he had with the Australian captain during the series. He also looked back at the famous victory at Lord's where he picked up a seven wicket haul, running through the batting line up of England.
The famous incident happened during the second day of the Second Test match at Chinnaswamy Stadium, Bengaluru. India lost the previous match at Pune comprehensively and was dismissed cheaply in the first innings of the second Test match. India crawled their way back into the match and eventually levelled with the visitors. Ishant tried to imitate Smith for his idiosyncrasies by making a hilarious face which is still doing rounds all over the internet.
Sharma on conversations with Smith
"He (Smith) kept saying 'well-bowled mate' whenever he sneaked a single against me during Pune Test, initially I wasn't able to understand what he was saying because of the Australian accent it not easy to understand. It was after some time when I asked him what was he saying. He then told me that he was praising my bowling. Hearing this I told straight in his face 'you never praised me when I bowled at you in Australia, only now you find my bowling good and praising my effort'," stated Ishant Sharma in the long interview at the popular chat show "What The Duck".
India managed to win its first Test at Lord's during their 2014 tour to England, under the leadership of Dhoni. Ishant Sharma played his part in the match as the lanky pacer ran through the English side with his seven wicket haul in the fourth innings of the match. It was MS Dhoni's masterstroke of asking the Delhi pacer to pitch the bowl short to the English batsmen which worked wonders for India.
Sharma on his seven wicket haul at Lord's
On being asked about the occasion, Sharma said, "We weren't getting wickets and the ball was 80-overs old and we weren't getting any wicket, then Mahi bhai (MS Dhoni) asked me to bowl short in the final over before lunch. I asked Mahi bhai what good it will be to bowl bouncers to English batsmen that too in English condition. But he persisted me to at least give it a try. "I followed his instructions and we got the wicket of Moeen Ali on the final ball before lunch." added Sharma
"Matthew Prior next came to bat, he again asked me to ball bouncers with the same old ball and he opened the field for me to bowl freely. It seemed as if we were playing in Asia and not in England. That is how I got the wickets in that Test and learnt a lesson that changing plans as per situation is very important in cricket," concluded Sharma.