'It shouldn't be altered' – Virat Kohli is not a big fan of four-day Tests
Kohli has been an avid supporter of Test match cricket.
Updated - Jan 4, 2020 4:10 pm
533 Views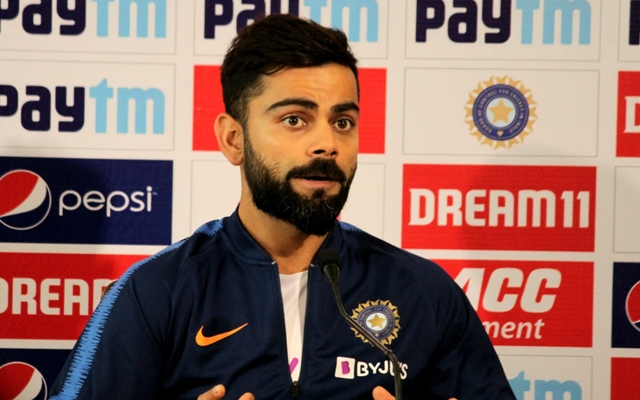 Follow us on Telegram
One of the many beauties of Test match cricket is it tests your patience, perseverance, skills, and character to the hilt. Each and every day of the five-day Test tests different skills. While the first day is where the fast bowlers rule the roost, the second and third day are usually the best ones to bat on, while the spinners come into play on a wearing 4th and 5th-day pitch.
That fifth day could, however, be chopped off from Test match cricket in the coming days as the International Cricket Council mulls over scrapping the 5th day in the wake of proliferating franchise-based leagues and the financial viability of staging a five-day Test.
Ever since the news broke out that ICC is considering to scrap the fifth day, World Cricket has been divided. While the likes of Glenn McGrath, Vernon Philander, and Nathan Lyon have voiced their displeasure at the move, Joe Root and Jos Buttler have come out in support of the idea.
And, now Indian captain Virat Kohli, who has championed the cause of reviving Test cricket in India has expressed his displeasure at the ICC's decision. When asked about his views on the ICC mulling to scrap off the fifth day on the eve of the opening T20I between India and Sri Lanka, Kohli said, "I don't endorse that at all. I don't think that is fair to the purest format of the game, how cricket started initially. Five-Day Test matches are the highest of Tests you can have at the international level. According to me, it shouldn't be altered."
'Test cricket should not be tinkered'- Virat Kohli
Kohli has been an avid supporter of Test match cricket. And, he feels that the introduction of D/N Tests was the most that could be tinkered with the purest format of the game.
"D/N Test is the most that should be changed about Test cricket according to me," he said. "I am purely only talking about getting the numbers in and the entertainment. The intent otherwise won't be right. Then you'll speak of three-day Tests, where do you end? Then you will speak of Test cricket disappearing .. D/N Test is another step on commercializing Test cricket and creating excitement around it but it can't be tinkered with too much." Kohli said as quoted by Cricbuzz.
Meanwhile, Team India will kickstart the new decade with a 3-match T20I series against Sri Lanka, the first of which will be played in Guwahati on January 05, 2020.
Exclusive: 16 Questions with Kerala Skipper Sachin Baby
Follow us on Google News