'It's about humanity' – Shoaib Akhtar after fans blast Yuvraj Singh and Harbhajan Singh for supporting Shahid Afridi
The former Pakistan pacer then went on to say that he has got a lot of love from India.
Updated - Apr 9, 2020 4:08 pm
6.5K Views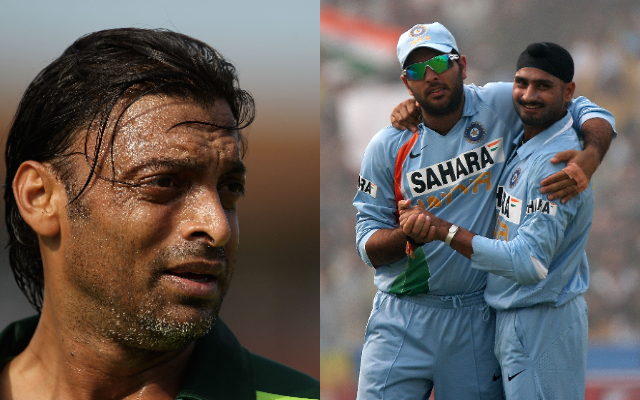 Follow us on Telegram
Due to the outbreak of the coronavirus, the situation in both India and Pakistan have been quite tense in the last few days. In this hour of need, several famous celebrities have come forward and done their bit by doing something for society. Some of them are also trying to spread proper awareness regarding the COVID-19 threat while others have contributed to the relief funds.
During this time of crisis, fast bowler Shoaib Akhtar has been trying to spread awareness among the society. He has also tried to make people informed about the precautions which are needed to be taken in order to avoid this disease. Recently, he spoke about a controversy regarding Harbhajan Singh and Yuvraj Singh which had happened.
Shoaib Akhtar criticizes fans for being hostile
The two Indian cricketers had promoted "The Shahid Afridi Foundation" set up by the former Pakistan captain, Shahid Afridi. The two Indian players also urged their fans to contribute to the cause. However, the fact that Yuvraj and Harbhajan were asking fans to contribute to the Pakistani foundation, didn't go down well Indian fans. Several Indians on Twitter criticised this move by the two former Indian cricketers.
Speaking on this issue, Akhtar said that it was inhumane for people to criticise the duo. He also said that this is not the time when people should think about religion or country as it is a situation of crisis for the entire human race. "It was inhumane to criticise them (Yuvraj and Harbhajan). It is not about countries or religion at the moment, it is about humanity," Akhtar said as quoted by India Today.
The former Pakistan pacer then went on to say that he has got a lot of love from India. He also revealed he distributed most of the money which he used to earn from India while working on TV to people who needed it more than him.
"I am forever grateful for the love I have received from the people of India. For the first time I am revealing this, whatever I used to earn from India, I made a significant amount there, thirty per cent of it, I used to distribute among the low-income staff who used to work with me in the TV," Akhtar recalled. "From drivers, runners to my security guys. I took care of a lot of people. I was like if am earning from this country, I have to help my colleagues also."
Follow us on Google News