It's about time Suryakumar Yadav finally gets his due that he so richly deserves
Yadav is at the peak of his powers in the past two seasons and is doing everything one can do to warrant a place in the national side.
Updated - Nov 28, 2019 4:25 pm
2.4K Views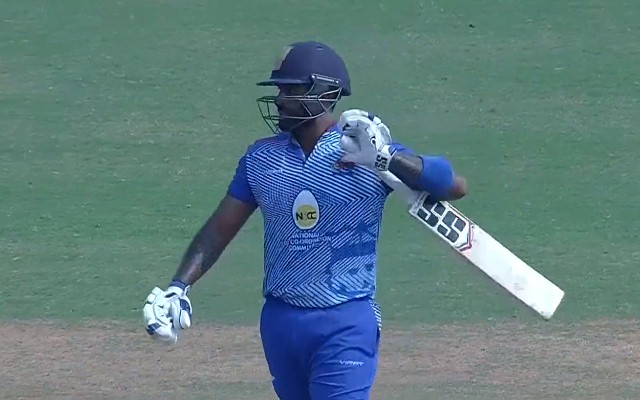 Follow us on Telegram
Team India recently announced their squad for their white-ball series against the West Indies. The Men in Blue will lock horns with the Caribbean team in three T20Is and as many One-day Internationals. And, then there was a major uproar, you know! And, it wasn't really a surprise. Every Indian team selection is preceded by an uproar by fans of a particular cricketer who according to them was hard-done-by the national selectors and the team management.
And, it is not something that has started to happen in the social media age. Naah! It has always been there. Time and again, fans voice their dissent against the selection policies. It is just that the manner in which they stage their outrage that has changed. Earlier, it used to be via effigies, staging protests on the streets, now it is through social media.
So, when the team was announced, the biggest intrigue- which suddenly changed into shock and then anger- was around the selection of Sanju Samson. Samson, who, when on a song, looks like a Ferrari driving on a Fastlane! Samson, who bamboozles attacks for fun; of-course when in the mood! Samson, who shellacked India's fastest List-A double-hundred in the recently concluded Vijay Hazare Trophy.
How could they drop him, that too without giving him opportunities to prove his credentials? Fans outraged; hell! They even talked about boycotting the Thiruvanthapuram T20I. Even prominent public figures like Shashi Tharoor expressed his displeasure, so-much-so that he took to Twitter to express the same. To be fair to Samson, he shouldn't have been dropped in the first place especially after all he had done in the Bangladesh series was warm the bench and look at his incumbent drop catches, miss stumpings and fail with the bat.
But, what about the record-breaker Suryakumar Yadav? 
As all of this happening, a certain Suryakumar Yadav was doing what has been doing for some time now. Score runs- truckloads of them- at a fast and furious rate, and repeat it over and over again, till someone finally takes note of him. 
And, oh God! Didn't he just do that in the recently-concluded T20 fixture against Punjab? Coming into bat after Mumbai had got off to a swashbuckling start thanks to Prithwi Shaw's half-century, Yadav continued from where he had left in the last game where he had shellacked the Karnataka bowlers to the tune of 94 from 53 balls, an innings which included 11 fours and four sixes, and in an amazing display of power-hitting tonked Punjab for 80 off just 35 balls.
This innings against Punjab was just another addition to his long-run of consistent scores in the ongoing SMAT. Yadav's last eight scores in the Syed Mushtaq Ali Trophy read: 81*, 20*, 57, 22, 28, 10, 94*, 80- that's 392 runs at an average of 56 and a strike-rate of 169. In-fact, the swashbuckling Mumbai batsman has created the record of being the only batsmen to score 350+ runs in two consecutive editions- each coming at a strike-rate of more than 140. 
Yadav is at the peak of his powers in the past two seasons and is doing everything one can do to warrant a place in the national side. The tearaway batsman has become one of the four Indian batsmen after Virat Kohli, Suresh Raina, and Rishabh Pant, to score 1000+ runs (1176 in 37 matches in 2019) at an average of 40+ and a strike-rate in excess of 145. 
It's time he gets what he deserves
One of Suryakumar Yadav's greatest strength is he is one of the few Indian players in the current era who can be a floater; he can bat at almost any position between 1-7 and has the ability to tee-off from the very first ball; something which the current Indian T20I side wants badly. And, the time to do it is now, when he is scoring runs and is at the height of his powers.
But, Suryakumar isn't the one to lose sleep on whether he will get a national call-up. It's not in his personality., As he had once said, "Well, currently I'm just enjoying the brand of cricket I am playing. I have always loved playing fearless cricket, for any format. So, instead of thinking of 'justice' or 'injustice', I feel rather I should enjoy my cricket more, keep scoring runs, keep winning games," Yadav had said as quoted by ESPNCricinfo when asked whether he is doing justice to his talent.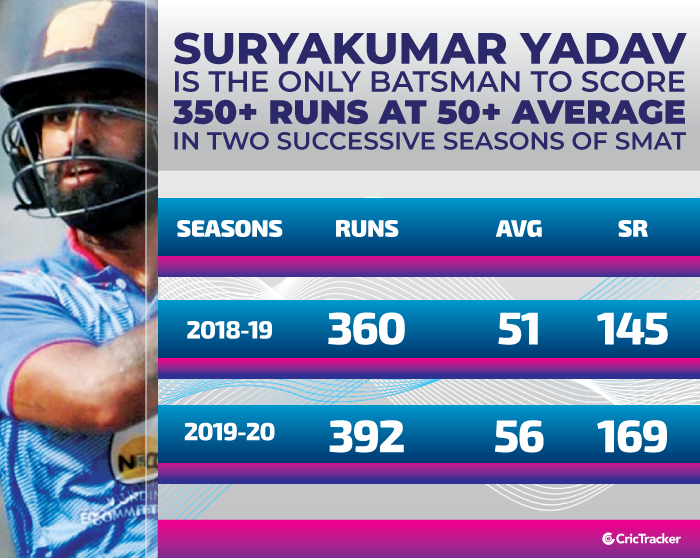 Imagine, the mindset of a guy, who despite doing everything that is in his control who replies "No problem" every time his father says that his name is not there in the team list, and still carries on and bludgeoned attacks for fun. That's unrelenting zeal, passion, temperament and the astuteness of his character- to try and try and try until you get the eventual reward. It's about time that he gets that reward.
Follow us on Google News